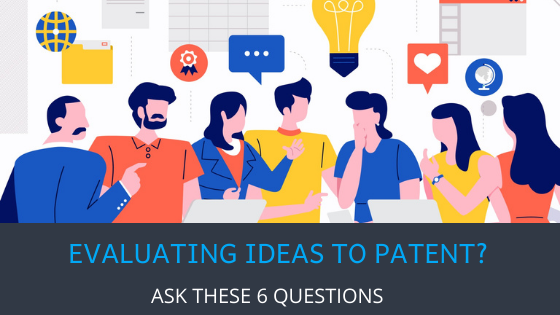 Is your ideas to budget ratio usually skewed – in favor of ideas? Evaluating ideas for patentability becomes a brain-drain exercise in such a scenario. However, selecting the right ideas will most efficiently put your budget to work. This post lays out a framework to help you choose ideas for patenting that have the most potential.
Most enterprises choose to evaluate patents after they issue, which is much easier than at the beginning of the process where ideas are selected for patenting. The ideas that will be the most valuable as patents require speculation. The ultimate claim scope and importance of an innovation to market success requires educated guesses at the beginning of the process. The risk factor is almost always high.
So how do you make sure to minimize the risk while evaluating ideas for patentability? Ask these 6 questions:
What is the value of your idea in the marketplace?
How core is it to your business and its revenue?
Is it already in a product or in a roadmap for commercialization?
How 'observable' is your idea if a competitor were to copy it?
What is the likelihood of a successful patent grant on your idea?
How enforceable will your patent be?
Value of your idea in the marketplace
Imagine your product on a shelf next to similar products – would the innovation get someone to buy your product? Is it easier to use, cheaper, faster, or better in a way that would motivate a purchase?
Select the idea, if you can visualize that it would make your product the preferred choice for customers. To determine this, ask if your patent is going to cover a key feature of the product? Ask if it is useful or game-changing enough to be a steady contributor to your business revenue. Will the unique product drive over the next twenty years?
A great way to assess how much value your idea has is by working backward from what your marketing team has to say about it. For example, the tagline for your product might be, 'It's twice as fast as the competition!' Work back to the innovation that enables that boast to the market. If you find that the patent if issued would protect that innovation, you know you have a winner. Having a market-driven approach is the right one to have when assessing ideas for protection. If your marketing team can't say much about your innovation, there might be another idea more worthy of your budget.
How core is the idea to your business?
Some ideas in your repository may be revolutionary. Some of your broadest innovation may happen in parts of the business that may have little market potential. These revolutionary ideas are not always synonymous with big profits. On the other hand, there may be ideas that don't seem revolutionary but can protect large portions of the company's profits. So, it becomes imperative to weigh ideas against potential profit and growth of the business that they would protect.
Imagine this. A leading company sells inkjet printers. But they generate the largest chunk of their revenue from ink sales, not the printers which are sold at a loss. They may have revolutionary ideas for their printers without any corresponding profit. So ideas in this space are not as valuable. However, if they were to come up with an idea to make the ink in the disposable cartridge cure quicker…knock-off replacements would smear or otherwise not have the performance of the genuine product. Not the most revolutionary idea, but definitely one that is great for the business as it protects a higher margin product.

Apart from revenue building, there are some ideas that may be an intrinsic part of your business identity. One that is important to dominate for your brand. Ask if this is one of them. What value, if any, will it have over the next couple of decades without that product anchoring your business? For example, a car brand may sponsor a competitive racing team and protect their winning edge even if it may never be used in the production automobiles. Winning races drives customers to want your cars even if they bear little resemblance.
Is the idea going to be commercialized?
There may be a ton of great ideas from your innovators, but not every idea will be an important product/addition for the next 20 years. If you cannot imagine how to put your innovation into a product, it is almost certain that there is no revenue that it will generate. Investing resources in acquiring a patent for such an idea is of no value. But an idea that contributes to a product your business currently offers or something that is just to be released automatically becomes a frontrunner. Here's a threshold test – Are there plans to put your innovation into a product? If yes, spend your IP budget trying to protect it.
Timing is everything in the innovation to patent journey. The closer the release date of the product your idea is related to, the more valuable it is as a patent. Once your product is released in the market, the idea that it carries becomes subject to duplication and any innovation starts becoming part of the public domain. So the release of an idea into the market without patent protection could be hazardous. The bottom line is if innovation cannot go into a product, any patent would only be wall art.
How 'observable' is your idea?
Observability is a big factor as you're thinking about ideas to choose for patent protection. Prioritizing the ones that can be observed allows ascertaining infringement should that be necessary. For instance, your company has developed a chip that goes deep into a data center used in an enterprise. Say your competitor is using this chip. How likely are you to find it out? Consequently, will you be able to assert your patent against them? The answer, highly unlikely.
When you are looking to build your patent portfolio, look for ideas that will be readily identifiable. So if you are looking at internal processes or small innovations like the chip, it may be a better business decision to treat them as trade secrets. Unidentifiable innovation should not eat into your budget.
How likely is a patent granting on your idea?
It's important to be aware of the kinds of patents being issued by patent offices. There are some technology areas in which patent offices are wary about issuing patents. For example, patent offices are reluctant to issue patents for business methods, some therapeutics and certain kinds of software. Then there are things that are not patentable at all. Genes, human-performed medical procedures, tax optimization schemes, etc. It is thus imperative to know beforehand what is patentable before investing in a patent for your idea.
There are tools available to help you ascertain these statistics. At Triangle IP, the TIP Tool has it on the feature roadmap! With this feature, the TIP tool predicts the Patentability Score on your innovations. This score will be based on how likely similar technology gains allowance as a patent. Knowing the patentability score shall ease out your decision-making process.
How enforceable will a patent be for your idea?
Certain technology is difficult to enforce, generally, even where a patent is issued. Courts are likely to overturn patent claims in certain cases. Software, especially abstract software concepts, business methods, and the like are difficult to enforce presently. Knowing that a patent will be difficult to enforce should be considered.
The cost of the patent should always be outweighed by the volume of profit that the patent can generate. Patenting cost includes all the resources that you will need to invest in the patent journey. Protect something valuable enough such that damages models will support enforcement of the patent. Some innovation although great, can never overcome the cost of getting the patent.
Thinking about what damages might be enforced if it ever reaches such a stage could also be a deciding factor. The amount of damages will also be largely dependent on how your patent claims are constructed and other legal issues. A great idea that has all the potential to be a powerful patent in your arsenal can be broken if the claims are constructed improperly or if there is some other legal flaw. Read this for tips and tricks to draft a high-quality patent application.
Evaluating Ideas For Patentability | Wrap Up
While this is not an exhaustive list of questions for you to consider when evaluating ideas for patentability, it's a good place to start. More specific questions will be born from the specific needs of your business that may change from time to time. Think long term (at least 20 years) when evaluating ideas for patentability. Channel resources wisely so that money spent can result in revenue that contributes to your resource pool for the future.
At Triangle IP, we have a value field to score ideas. The value field can be 1 to 10 based on the answers to these questions.  Many of these factors can be considered and weighted according to priorities within your enterprise.
On a side note: Would you want to know how your patent application is progressing at the USPTO compared to other applications in the same domain?
The TIP tool offers statistics of the law firm and the examiner handling your case. Once the application is filed at the USPTO, and an examiner is allotted to your case, the tool indicates the relative performance of the law firm handling your case. The statistics revolve around the number of arguments, grant rate, and grant time. The tool also indicates the case health, for instance, it can tell you if a case needs your attention. There is a whole bunch of insights that you can gather from the TIP tool for strategic patent prosecution.
Request insights for any of your cases at the patent office using the form below.
Note: The preceding is general business advice and not to be construed as legal advice. IP laws vary by country and retaining licensed legal counsel is advised to confirm this information. Any expressed or implied opinions are of the author and do not necessarily reflect the views of Triangle IP or any other entity who might be associated with the presenter. We hope this content is helpful to you, but should not be relied upon without confirming the advice and accuracy with local legal counsel. Any comments or inquiries are not confidential so please discuss your issues directly with counsel.