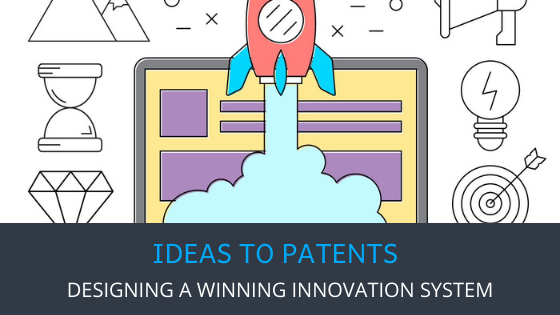 A winning innovation management software for your journey from ideas to patents!
The 50 Most Innovative Companies Of 2020
As per a research conducted by BCG (Boston Consulting Group), listed below are 50 most innovative companies of 2020.
Do you aspire to see your company make it to this prestigious list of most innovative companies?
One of the criteria for ranking the above listed companies was the innovation management systems used by these companies. What were these systems that set them apart? Let's find out.
Designing A Winning Innovation System
As per the BCG report the leading innovators pay a lot of importance to following five things:
Talent
Ambition
Governance
Innovation Funnel management
Project management
Portfolio Mindset: 
Leaders pay close attention to the shape and quality of their innovation funnel—and the processes to manage it.
Leaders tend to have broader funnels. This is to increase their capacity to generate more potentially valuable ideas. This also allows them to invest in their best ideas as scalable products or services.
Innovation funnel management comes down to:
1. The quality of decision making in a few critical go or no-go decisions.
2. The ability to take both a project and a portfolio perspective at the same time.
Winners take better decisions by establishing a set of tools and criteria to make the right call. Additionally, leaders find the ideal balance between hands-off and hands-on involvement. They set the right incentives to encourage innovation.
Also, leaders continually analyze to make sure that they learn from their mistakes. The best innovators don't do this only for failed projects. They also review funding decisions that look like false positives or false negatives. This ensures better-quality decision making going forward.
From Ideas & Innovations To Patents
"Each production is an idea that grows and gathers other ideas until the final event (read patent). The management of this creative process is the challenge." – Don Mischer 
Every project starts in someone's mind before it begins a complex path. Most ideas do not survive the journey. They die because the person who thought of the idea fails to properly capture it. Without these ideas finding a place in a system to study, analyse and vet, they are mostly forgotten and ultimately shelved in a hidden recess of the mind of the thinker. Ideas have the potential to be your biggest assets. When an enterprise invests in human resources to find the best it is largely for their minds and their promising ideas. 
Source: giphy.com
With great ideas, comes great responsibility! 
The more the ideas, the more difficult they become to capture and catalog. With improper cataloging and idea storage systems, path altering ideas are sometimes lost at the bottom of the pile. If IP creation is a goal, these ingenious innovations need systematic management to convert them into IP. 
And what helps is a good innovation management software. 
In this article, we share with you
how to determine if your organization needs an innovation management software
the informal ways in which you can catalog your ideas with its pros and cons
why you should use an innovation capture program 
how your company and employees will benefit from well-cataloged ideas
how TIP Innovation Management Tool can help you take the first step towards winning innovation system
Do You Need An Innovation Management Software?
Here are two factors to consider before you decide to invest in an innovation management program:
1. The size and structure of your company
2. The inclination of your company towards innovation
If you are a small enterprise that is not innovation-driven, an informal system to catalog your ideas may work for you. Here are some ways to develop that system for your enterprise:
Capturing ideas on an idea capture form that is made available on your company's intranet
Training programs conducted from time to time to explain the process
Creation of bonus programs to incentivize innovation
Tracking of ideas through a spreadsheet or database
If you are an innovation-driven enterprise, you may find the need for a more formal structure to capture ideas. Here are some markers to help you decide:
Filing more than a few patents each year?
Is your company large? Is innovation happening in different areas?
Are you working towards strategic intellectual property creation?
Is it too difficult for one person to manage all these ideas?
Have you set monthly/quarterly/yearly goals for patent filings? Or do you wish to?
On a side note: Would you want to know how your patent application is progressing at the USPTO compared to other applications in the same domain?
The TIP tool offers statistics of the law firm and the examiner handling your case. Once the application is filed at the USPTO, and an examiner is allotted to your case, the tool indicates the relative performance of the law firm handling your case. The statistics revolve around the number of arguments, grant rate, and grant time. The tool also indicates the case health, for instance, it can tell you if a case needs your attention. There is a whole bunch of insights that you can gather from the TIP tool for strategic patent prosecution.
Request insights for any of your cases at the patent office using the form below.
Why Use A Tool For Ideation Cataloging?
An innovation management tool records all your ideas in one place. Not only does this serve as a centralized repository for the company, but it also provides transparent access to all to spur complementary innovation.
 Source: giphy.com
A good tool is a companion through the entire innovation management process. We, the human race, are very visual. A platform that provides clearly viewable ideas, and allows one to quickly recognize the precise stage in the pipeline is a great tool. Not only does it encourage innovation in the organization, but it also provides an opportunity to transparently assess the idea from various perspectives including assessing the prospect for an issued patent, alignment with business strategy, feasibility, etc. 
Innovation Management Software For Charting Growth Trends 
Also, with all ideas in one place, it is easier to strategize. Charting a course for your company and the direction you wish to grow it in becomes clearer. A good innovation management software will give you access to all your ideas at a glance. Now, instead of rummaging documents and notes, you have them all in one place. Whether you are a large company or a start-up looking to grow/build a patent portfolio, the right tool will empower that process. With all your ideas organized and transparently shared in a pipeline of stages, legal coordination and management are easy. 
How An Innovation Management Software Builds Workplace Idea Fertility
"Innovative enterprises often see their patentable ideas inadvertently ceded to the public domain unless there are business processes and capture systems in place." – Thomas Franklin, Founder @ Triangle IP.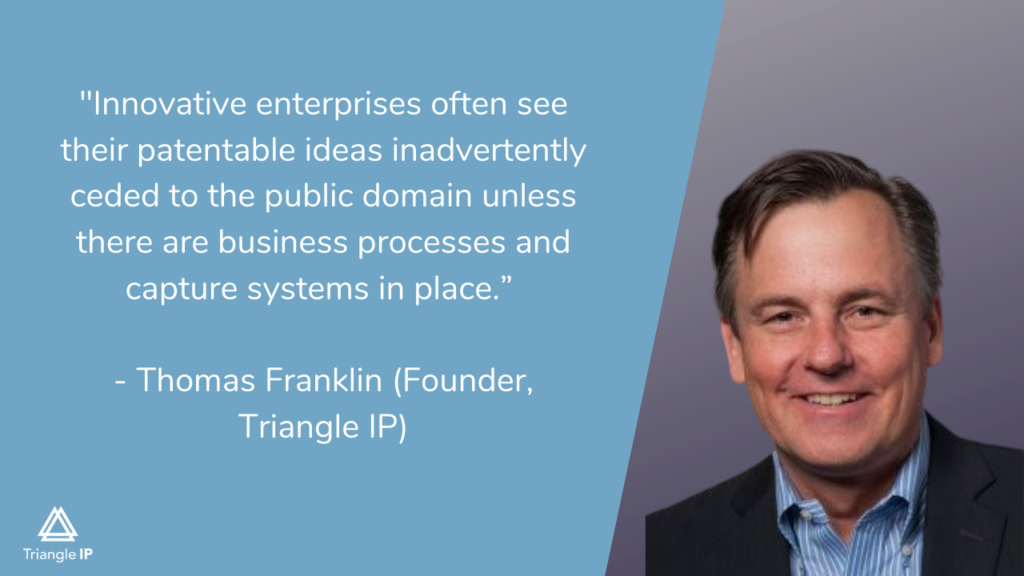 Another advantage of using a tool is that it creates the right environment to promote innovation. Not only is ideation with a tool time-effective, it is also resource-effective. With all ideas being freely available, there will be less duplication of ideas and a faster timeline for development.  Also, this brings people from different parts of the company together to leverage each other's innovation. Synergy happens between employees when working on similar ideas from different perspectives. This cross-pollination leads to more brilliance! Two heads are always better than one. 
Source: giphy.com
Ford launched a program within the company to encourage innovation a few years ago. In the words of the Ford Global Technologies chief executive Bill Coughlin, "We weren't targeting just an increase in inventions, we were targeting an increase in Ford inventors. Once you start thinking like an inventor, you cannot turn that off. Problems become opportunities, and it's a fun game that you can play in your mind on how to solve this in a new and different way." In 2016, Ford employees submitted over 8,000 ideas for patents within the company. To deal with the numbers, Ford had to come up with an internal vetting and quality assurance process for which they set up a panel for internal review and even roped in external counsel. Without an internal review system, the innovation program would have been a complete failure. 
The Innovation Management Software from Triangle IP
The Triangle IP Innovation Capture Tool ("TIP Tool") is an intuitive drag-and-drop tool to take control of your patent mining and capture process.
We believe that innovation needs management like any other company asset. Enterprises often overlook effective idea management. But the TIP Tool simplifies the process, as easy as A-B-C! The tool gives you the most straightforward single-page view into a patent capture program for your company – the complete innovation management pipeline. 
The TIP Tool has been developed with years of algorithm research directed by thought leaders having a half-century of experience in intellectual capital management. Four patents have already been awarded to Triangle IP on data science to provide clear analytics with many more in progress while using the same TIP Tool freely available to any enterprise.
Not only is this tool user friendly, but it also provides a four-stage pipeline with visual tracking of the mined ideas through to their filing as a patent:
Idea Capture / Mining
The Idea Capture Form is designed for the inventors, in particular. Intuitive and easy to fill, this form has fields ideal for those who come up with new ideas. The simple form is designed to capture your ideas while avoiding confusing questions and complexity. 
Once the IDF is filled in and saved, it displays a  summary of the idea, key contacts, and any attachments. A manager may be assigned to the idea who can help in reviewing and refining the idea to take it to the next stage. The tool also allows any inventor to edit or embellish the idea at any time by accessing the saved form.  Inventors will collaborate virtually to add sufficient detail to the IDF.
Like the innovation at your company, the TIP tool is constantly evolving too! We have three exciting new features to make idea logging easier and more fulfilling. The TIP tool also plans to provide the users the capability to customize its already-friendly IDF to add customized fields to support your internal process. And you don't have to worry about remembering to save your additions to the form each time. The TIP tool does it for you. It even gives you the option to upload drafts and images separately for easy distinction and access. Want contributions to your ideas from someone specific in your organization? TIP tool plans to provide the capability to the users to add comments as ideas and notes within the form and also tag specific people within your organization for their inputs. 
Internal Vetting
Once ideas are captured using the IDF, they are selectively moved to the internal vetting stage. During this stage in the TIP Tool, these ideas become open to input from a patent committee or other decision makers. With persons from different parts of the organization viewing an idea, it becomes easy to vet the same from different perspectives. For example, the R&D team can suggest refinement over an idea, the finance team could give its perspective on how financially viable this idea could be for the company, the marketing team could study the demand for the potential product in the market.  This is the point at which the IP counsel or the legal team also steps in to give its inputs on whether the idea is a good candidate for patenting. Patentability searches at this stage will save resources for the company too. 
Patent Drafting
Once an idea is vetted to qualify for patent drafting, it is moved to the next phase. For a patent to be successful, it must have the idea fully captured in the application. For this, the input of the inventor is essential through the drafting process, or at the very least during the review of the draft. The TIP Tool provides for the details of the prosecutor assigned to draft a patent application for the idea. This allows for the prosecutor and the inventor to be connected through the process with all ideas including underlying ideas made available in one place through the tool. The TIP Tool allows exchanging drafts securely while avoiding email.
Patent Filing
Once the patent application has been drafted and approved, the TIP Tool even provides for a section that sets out all the patents that have been filed. It allows all interested parties to have access to the application after filing.
Patent Portfolio Management
The TIP tool also allows the company to manage its patent portfolio from within the tool. Details of filing dates, office actions, renewal dates etc. are all made available on the tool which will make it easy for the internal legal team to liaison with its external patent attorney. (This feature of the tool is currently a work-in-progress, stay tuned!)
Here is a video showing the complete workflow process:
Additional Key Features Of The TIP Tool
Years of research and the best minds have created this tool to simplify and energize the innovation process in your organization. Here's a quick look at some of the features that make this tool the best in the business:
It allows you to define user roles for the people in your organization and gives access to different areas of the tool based on the roles assigned.
It details the ideas that have been approved within the company in a separate space and even allows you to lock them for an additional layer of security.
If you think ideas, when merged, will make for stronger patents and/or better products, it allows you to create a filing with any number of ideas. Also, the same idea can be included in multiple filings.
All ideas can be scored on different parameters in the tool. Use these scores to prioritize and rank the patentability of each idea. 
This tool understands that passwords are hard to remember for SaaS tools. Use the magic link login which comes straight to your inbox, and don't worry about having to remember the password again! 
If you think an idea doesn't suit the market you are currently targeting or the needs of the company at the moment, or if the idea doesn't score too highly, the tool allows you to archive it for later consideration.
The tool understands the importance of having a system of organization. So it provides you with the option to tag, group, and filter ideas.
Let's Sum It Up
Economists estimate that innovation in its various forms accounts for 30 percent to 40 percent of the gains in growth and productivity by the American economy during the 20th century, more than any other factor. Moreover, in recent years, the pace of innovation and its impact have increased. The successful capture of innovations does not occur by chance; rather, it requires a well designed capture process. As evidenced earlier, innovation management is just as important if not more important than generation of new ideas.
With these fantastic features, the TIP Tool by Triangle IP is the best in the business. The TIP tool is available as a demo version that gives you some pre-populated data that helps you explore the tool and understand its features for a month. After the passage of 30 days, you can enjoy a completely free version of the TIP Tool for free by registering with your email address. 
So, what are you waiting for? Get on the TIP bandwagon and make innovation capture happen! 
If you like this article, join us where we share patent information that matters to you. Don't worry, we only send emails that we feel are highly relevant for you. ?
Note: The preceding is general business advice and not to be construed as legal advice. IP laws vary by country and retaining licensed legal counsel is advised to confirm this information. Any expressed or implied opinions are of the author and do not necessarily reflect the views of Triangle IP or any other entity who might be associated with the presenter. We hope this content is helpful to you, but should not be relied upon without confirming the advice and accuracy with local legal counsel. Any comments or inquiries are not confidential so please discuss your issues directly with counsel.
TIP Tool is free for your whole team
No credit card required. No setup fees. No need to download.