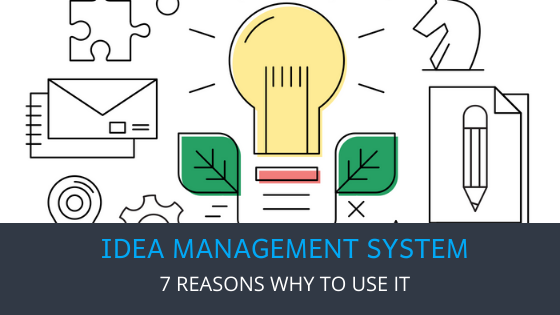 For businesses to excel in existing markets and penetrate deeper into new marketplaces, they need to utilize the capabilities of their workforce to the optimum. By fostering cognitive stimulation and development of employees' ideas surrounding efficiency and innovation, the application of an idea management system extends the participation of employees in an organization. Such enhanced participation benefits not only the business but increase the employees' morale as well – a win-win situation.
Historically, businesses relied on the 'suggestion box' systems to collate ideas and feedback from employees, but these systems failed due to structural flaws, such as:
As the interaction is generalist, suggestions are often of low-quality or not relevant.

After idea submission, often, an employee never hears about the outcome of the idea. Eventually, employees tend to start considering this as a futile exercise.

Paper-based suggestions made it difficult for the management to promptly evaluate recommendations, thereby, leading either to a loss of opportunity or redundancy of an idea.
In contrast, idea management software accounts for a well-defined process that allows employees to provide suggestions on specific business objectives alongside ensuring a closed-loop evaluation process.
Advantages of Idea Management Software
There are several benefits that idea management software offer to the businesses; they are:
Efficient and faster evaluation
Idea management software aid businesses to lower the turnaround time of an idea between an ideation stage to the patent stage. The best ideas are identified, implemented, reviewed, and evaluated, whereas the poor ones are discarded.

Divergent thinking
The best ideas are those that take inspiration from various sources. To ensure a consistent flow of creative juices, employees need mental freedom to indulge in divergent thinking without worrying about the consequences. In essence, this is the bedrock for a true "light bulb" moment.
Enhanced Collaboration
How often a brainstorming discussion between team players turn into an ego-clash? Way too often.
An idea management system makes it easier for employees to engage in a collaborative effort without transforming the discussion into a chaotic communication.
By inputting data into an idea management software, participants can keep track of the progress of the idea, any reservations to the idea, and potential avenues to improve the idea further.
Better Focus on Employees' Efforts
By guiding employees' creative energies towards the fulfillment of business aims, a business can improve the quality and relevance of the suggestions. An idea management system allows a business to highlight specific business goals and even specific business processes to gather suggestions or feedback.
The innovation program introduced by Altice Portugal (formerly known as Portugal Telecom) resulted in a 44% improvement in employee engagement over four years (58% in 2008 to 84% in 2012) and annual savings to the tune of $38 million due to business process improvements from employees' ideas.
Also Read: 7 ways to Encourage Innovative Thinking at Your Workplace
Foster Innovation
A vital ingredient in R&D is ideas as they form the backbone of the significant, radical innovations that can fundamentally change as to how a business runs or the birth of new products. Ironically, for specialized departments like R&D to be successful, they require feedback and suggestions from all other departments to be able to mold a prototype into a patentable product.
A prime example of how an idea management system can foster innovation is Toyota Creative Idea and Suggestion System (TCISS). Since its inception in 1951, TCISS has received more than 40 million creative ideas (and counting), which enabled Toyota's products to be world-renowned for quality, reliability, and durability.

Thought Mapping
Through standardization and automation of the documentation side of the ideation process, an idea management system can enable faster, comprehensive, and more dependable search as well as storage of information.
Such thought-mapping of ideas through an idea management system can potentially save a business from loss of quality data or critical processes or technical expertise.
Ease in Patent Filing
When filing for a patent, it is necessary to provide steps that led to the evolution of a particular product or process. Through an idea management system, a business can capture the various inputs and outcomes that went into building a prototype, a marketable copy, and, eventually, the product itself.
A journal article in Santa Clara High Technology Law Journal concluded that patent documentation could be a vital tool in planning development, producing statistical information, and even for allocation of funding – an idea management software can work as a repository serving this function.
The application of an idea management system results in numerous benefits that translate into better functioning of business alongside enhanced employee engagement and morale.
Many businesses have understood the importance of capturing productive ideas to gain a competitive advantage and are increasingly investing in a good idea management software to enable such mapping.
If you like this article, join us where we share patent information that matters to you. Don't worry, we only send emails that we feel are highly relevant for you. 🙂
Note: The preceding is general business advice and not to be construed as legal advice. IP laws vary by country and retaining licensed legal counsel is advised to confirm this information. Any expressed or implied opinions are of the author and do not necessarily reflect the views of Triangle IP or any other entity who might be associated with the presenter. We hope this content is helpful to you, but should not be relied upon without confirming the advice and accuracy with local legal counsel. Any comments or inquiries are not confidential so please discuss your issues directly with counsel.
TIP Tool is free for your whole team
No credit card required. No setup fees. No need to download.