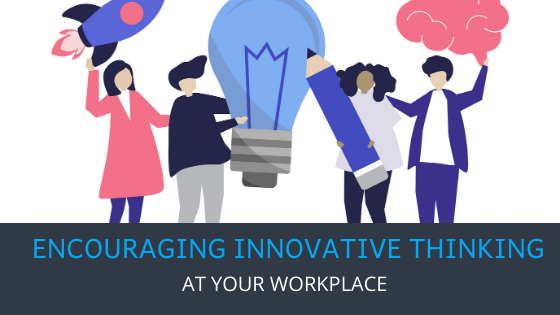 The start-up culture is on a boom, and with the launch of several innovative steps, many concepts unimagined a few years earlier have forayed in the market (such as tableware turning into the soil, green plastic, smart waste, etc.).
But many malicious practices (cyber attacks due to lack of/no cybersecurity) have also surfaced with the boom of this culture. Many ideas or ventures that seemed practicable have doomed terribly with no signs of recovery.
Why do you think some ideas don't make it to the finishing line?
What is your opinion? What are the steps we are not taking to curb this issue?
Where do you think we are lacking?
Encourage innovative thinking using the following ways to find answers to these questions. They may even help you or your business get out of the mess or launch an idea successfully.
The seven ways to encourage innovative thinking are:
Think Tank
Mixed Culture
Adequate Staffing
Experimentation Zone
Reward & Recognition
Shut down
Flexible Environment


Think Tank
This is not the real think tank where you get paid to do only research, study, and research. An organization can create a think tank of employees' expertise in a particular subject or field. This can also have a discussion panel. Whenever an idea strikes, he/she should directly approach the concerned panel.
This way, the culture of innovation will flourish seamlessly. This approach will help departments to launch a creative solution to challenges.
Mixed Culture
This might sound a bit tricky but bore long-lasting results. Teams with diverse academic backgrounds, gender, and age groups make an organization fertile and successful.
Mixed culture gives a character, a personality to any organization. It creates a healthy work environment where give-and-take of ideas takes place without any hurdles. It also makes an office highly productive.
Imagine an organization with only older people, or only youngsters, or only female or only male employees. Clients often find organizations like these less approachable.
Offices have a limited scope of development if they do not have a mixed culture. Many clients might not take organizations like these seriously or might find them less inventive.
To make your organization avoid getting into this trap and run smoothly on the grounds of innovation and creativity, incorporating mixed culture is a must. Embracing diversity and encouraging different perspectives is key.
Adequate Staffing
Supposedly in an organization, employees are overloaded with work. Where will ideas thrive, if they do not have time to think on them? Employees should have adequate work, but not get bogged down by workload.
This builds an atmosphere of hate, anxiety, and indecisiveness that brings down the organization. Organizations should hire adequate, qualified, and well-trained staff.
Experimentation zone
This is like a play area, where you play with your ideas than any games. The HR team has a crucial role to play in setting up experimentation zones in their organization. Here you get leverage to discuss your ideas freely without any hesitation. This zone will enable people to hang out, discuss ideas, troubleshoot, and get a bird's eye view of their plan. This will make innovation the new normal. It will imbibe trust in employees for their organization for contributing not just in its personal growth, but also in the growth of the employees.
Reward & Recognition
This is by far the most important step. Anybody wants to get rewarded or recognized for their contribution to any task they do. The type of award does not matter. What matters is the recognition. This creates a positive work environment. It also encourages other employees to follow suit and perform better.
Shut down
All work and no play makes Jack a dull boy. Working 24*7 will make you successful is a wrong notion. You need to unwind and shut a few times a day or maybe at least once in a week. Offices should encourage this culture to thrive. Constant work challenges your brains' thinking abilities. A power nap after lunch, outing with colleagues, coffee break, stroll after lunch or in the evening are some of the many ways that take you out from the monotony. Who knows shutting down can give you a new perspective of a problem that is bothering you for long!
Flexible environment
Gone are the '9 to 5' days. People love to work in an environment where they are heard. A grumpy boss, gossiping and jealous colleagues and tight working hours make the work environment hazardous. Will innovation thrive in such an atmosphere?

Of course not!

A flexible and relaxed environment increases productivity 10 fold. Employees won't get Monday blues for sure if they are provided a positive work environment.
To make your office a safe haven, you might try incorporating all these steps. This way employees will not hesitate in taking that necessary leap. Some plans might fail. But with discussions and interactions, all the problems will be easily dealt with.
To build in a healthy work environment, employers should carry out regular surveys and set up the organization accordingly. They should make sure every resource hired is valued.

In the present time, an agile innovation management tool like TIP tool can transform the way your business fall, collect and implement various ideas.
Also Read: How to control patent costs without compromising on your patent?
Richard Branson has rightly said, "Clients do not come first. Employees come first. If you take care of your employees, they will take care of the clients."
If you like this article, join us where we share patent information that matters to you. Don't worry, we only send emails that we feel are highly relevant for you. ?
Note: The preceding is general business advice and not to be construed as legal advice. IP laws vary by country and retaining licensed legal counsel is advised to confirm this information. Any expressed or implied opinions are of the author and do not necessarily reflect the views of Triangle IP or any other entity who might be associated with the presenter. We hope this content is helpful to you, but should not be relied upon without confirming the advice and accuracy with local legal counsel. Any comments or inquiries are not confidential so please discuss your issues directly with counsel.
TIP Tool is free for your whole team
No credit card required. No setup fees. No need to download.