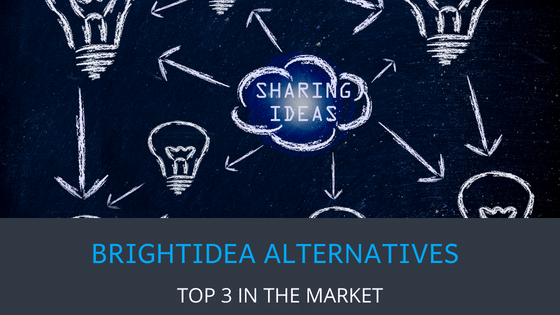 Brightidea is a top idea management platform with 2.5 million users that connects and manages innovation initiatives, facilitates collaboration over ideas, and allows tracking progress.
Despite its popularity, innovation managers look for an alternative to Brightidea for their enterprise's unique needs.
Your quest for Brightidea alternatives to crowdsource ideas from your entire workforce for effective patent mining ends at this post. This post introduces three options with similar features and insightful reviews.
What to Look For in Brightidea Alternatives
When considering alternatives to Brightidea, it is important to make sure you know the key features of an idea management tool that's valuable to you.
Offers a holistic view of the idea and patent pipelines to identify bottlenecks
Provides role-specific dashboards enabling inventors and managers to stay aligned with their KPIs.
Your reasons for considering a Brightidea alternative will vary based on your required level of sophistication.
However, the need to protect your ideas by obtaining a patents, preventing others from stealing your concept, and bringing your product to the market will likely remain constant.
Check out what Thomas Franklin, founder of Triangle IP, has to say about the right time to patent an idea.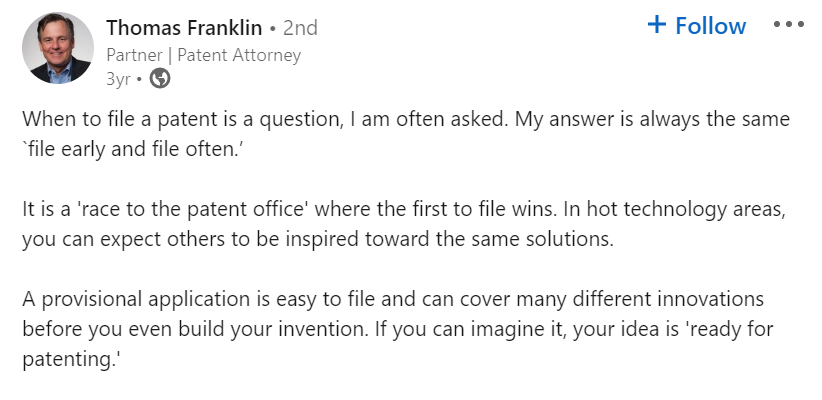 Source: LinkedIn
Top 3 Brightidea Alternatives to Try in 2023
We're here to assist you in exploring and selecting the most appropriate idea management software to help you crowdsource ideas from employees more effectively, starting with the TIP ToolTM by Triangle IP.
The TIP ToolTM by Triangle IP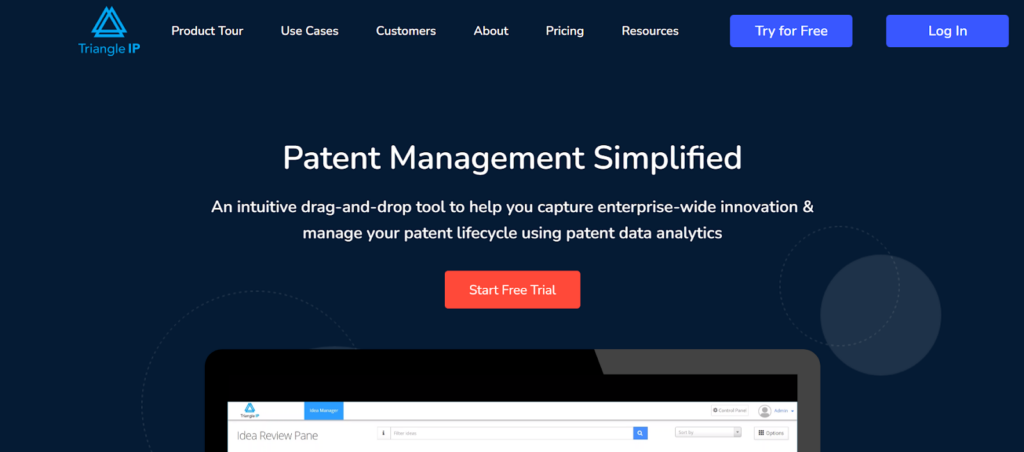 The TIP ToolTM by Triangle IP makes managing the entire intellectual property lifecycle from ideation to patenting hassle-free. This tool provides a user-friendly solution that enables anyone in the organization to submit and track innovative ideas effortlessly.
Key Benefits Offered by the TIP ToolTM
#1 – Capture Ideas Enterprise-Wide
The root cause of empty innovation funnels is typically not a lack of ideas. Instead, organizations often need help to ensure that good ideas are acknowledged and acted upon.
Since valuable ideas can emerge from anyone in the organization, be it front-line employees or the R&D department, the idea submission platform by the TIP ToolTM can be made available to all employees across the enterprise.
The TIP Tool™ enables the entire organization to participate in patent mining while keeping IP-related data confidential. This safeguarding feature ensures that patentable ideas can be shared without the risk of unintentional public disclosure.
#2 – Optimize Employee Engagement in the Patent Process
The TIP ToolTM facilitates active engagement with innovators by providing a user-friendly idea capture form.
The TIP ToolTM's versatility is apparent in its ability to download idea capture forms in both Word and Excel formats, which can be imported back into the tool after filling it. The tool also allows users to customize the forms to meet their enterprise-specific requirements.
The tool allows users to track their ideas' progress, whether they are undergoing evaluation or awaiting drafting or filing by a patent attorney.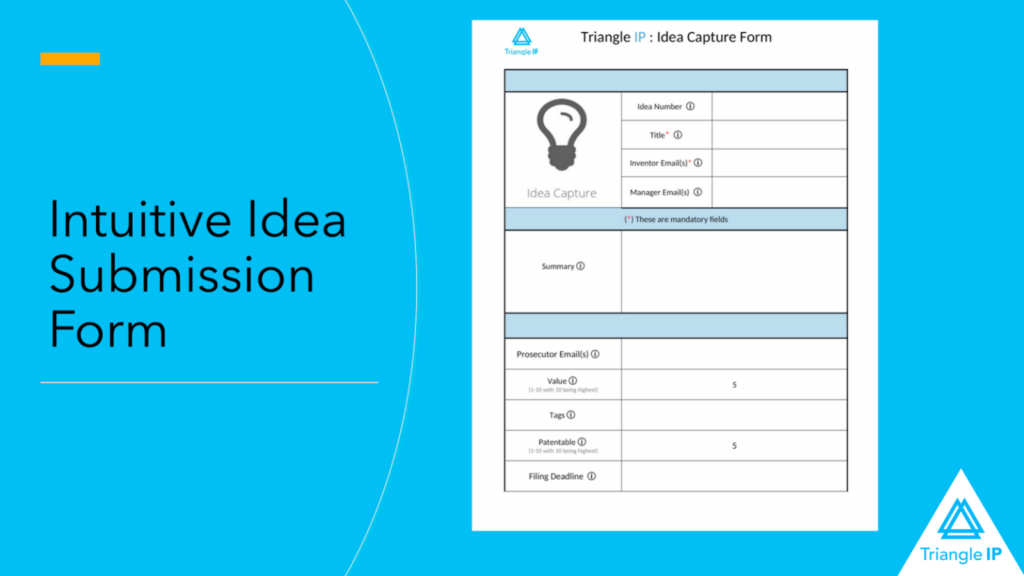 #3 – Categorize Ideas Related to a Product, Technology, or Campaign Using Tags
The TIP ToolTM provides a seamless way to engage with innovators through tags and comments. With tags, users can organize and filter ideas by criteria like technology, product, or function.
The TIP ToolTM also allows users to filter ideas based on information such as inventor, manager, serial number, examiner, prosecutor, firm, and others.
The TIP ToolTM's tagging system is a game changer when searching for ideas belonging to a particular group.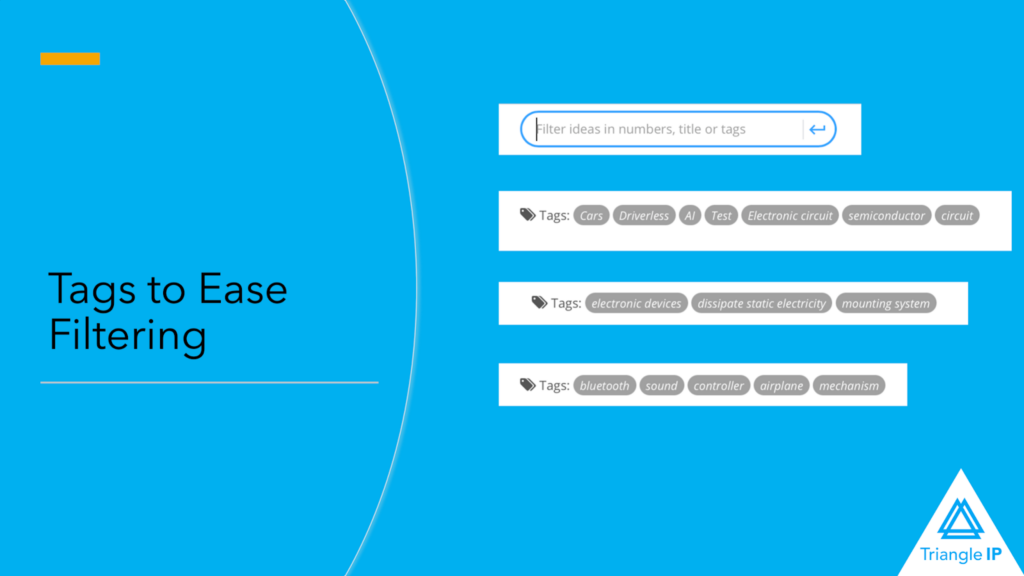 #4 – Drag-And-Drop Ideas with Ease Across Different Stages
The TIP ToolTM simplifies idea management throughout the IP lifecycle, from idea capture to patent filing. The tool's drag-and-drop feature enables users to seamlessly move ideas from one stage to the next, instantly informing all stakeholders of any updates or changes.
The TIP ToolTM gives users full control of their innovation management process, promoting employee participation in the patent process and encouraging inventors to keep their innovation funnel full.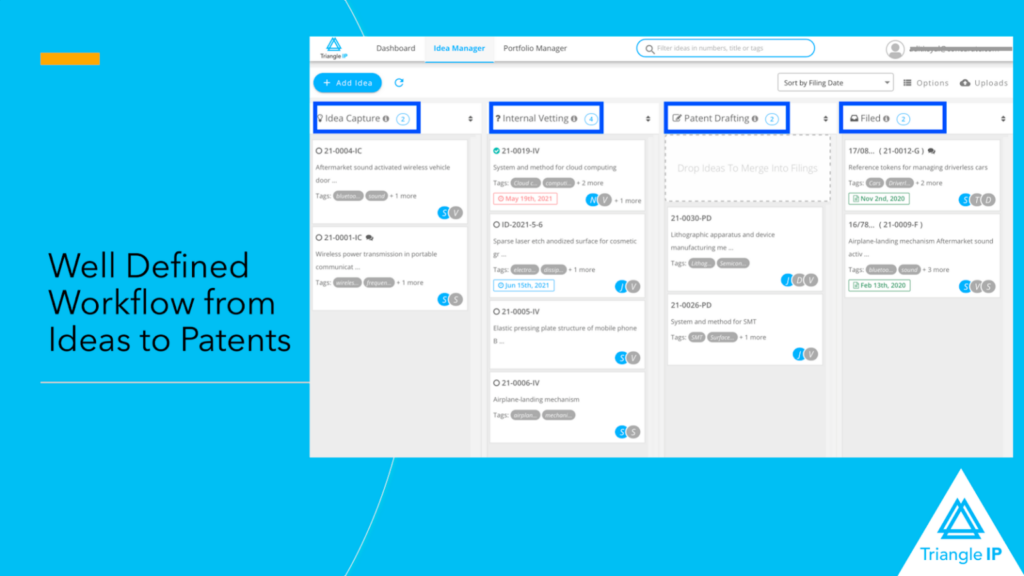 #5 – Collaborate in Real-Time for Thorough Vetting of Ideas
The TIP ToolTM lets subject matter experts collaborate and communicate in real-time, just like they would do in person.
During online brainstorming meetings, collaborators can use the tool to update idea summaries, add tags, and read comments to capture the best ideas from your company. It's a lot like working with Google Docs.
The TIP ToolTM also tracks who made changes to the idea summary and when they were made. By giving your team the right tools for working together, you can encourage a thorough review of ideas and select the most promising ones to patent.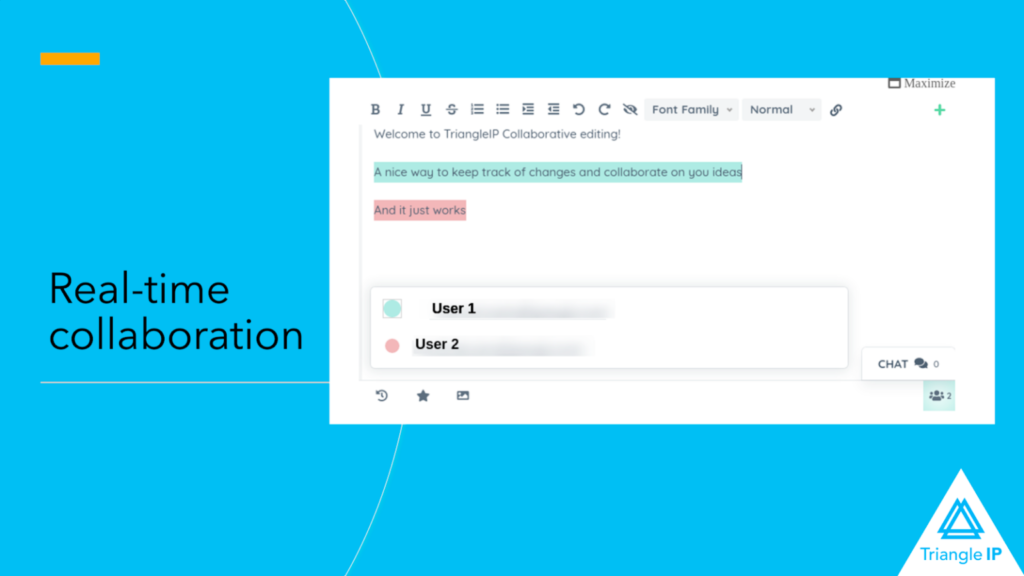 #6 – Keep a Tab on Idea and Patent Pipelines
The TIP ToolTM provides you with a holistic view of ideas, inventor activity, manager activity, filed patent applications, and patents through informative and customized dashboards.
Stay on top of the innovations at your enterprise – Access a comprehensive list of ideas and patents submitted by your team in one central platform. Easily track which innovators are working on which projects with just a few clicks.
Identify Promising Inventors & Managers – With the TIP ToolTM, you can monitor the IP-related activity of your inventors and managers. This includes identifying which innovator has submitted the highest number of ideas or filed the most patents.
Give Role-Specific Access – To ensure that inventors and managers stay aligned with their KPIs, and the TIP ToolTM offers role-specific dashboards that enable them to track their IP-related activity.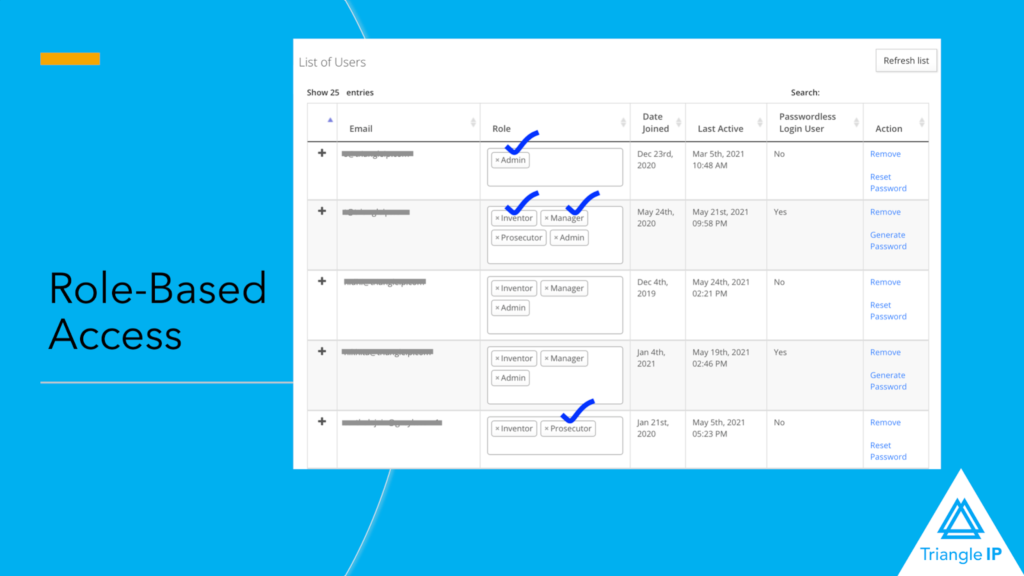 Identify Bottlenecks – If an idea remains in the ideation and vetting stages for an extended period beyond expectation, it signals that it requires your attention.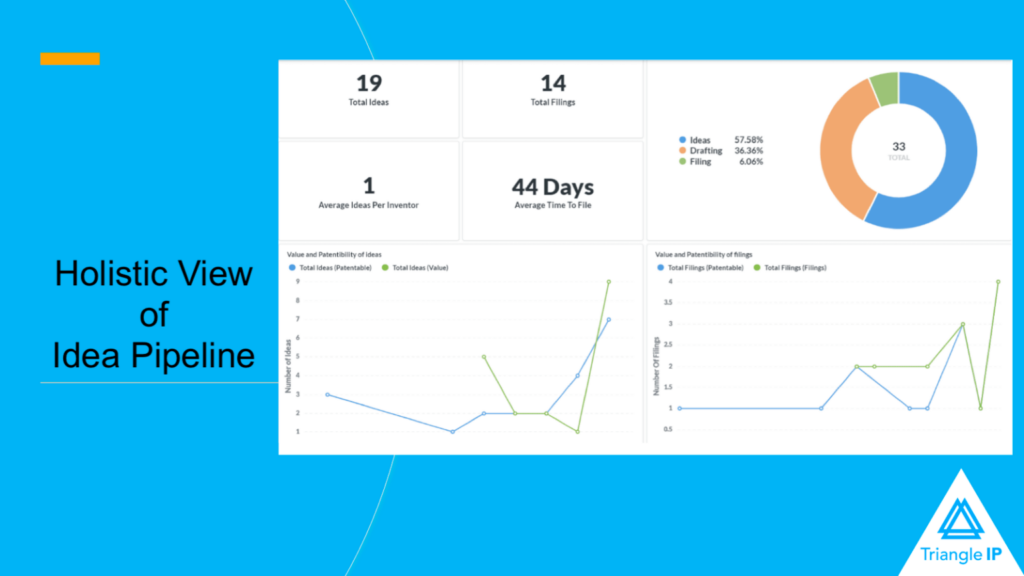 Key Differentiators
The TIP ToolTM adopts a comprehensive strategy beyond merely gathering and analyzing ideas. The tool covers every step, from managing ideas to patent portfolios. It also strengthens your IP decision-making by providing patent analytics.
The TIP ToolTM by Triangle IP was started to address the basic problems with managing a patent portfolio.
With the help of the TIP ToolTM, innovation managers with non-IP backgrounds can also easily manage the enterprise's innovation funnel and patent pipeline.
User's Perspective
According to a review, the TIP ToolTM is very user-friendly and has a useful drag-and-drop capability that makes it simple to move ideas between stages. The idea form is simple and intuitive, making it easy for innovators to complete.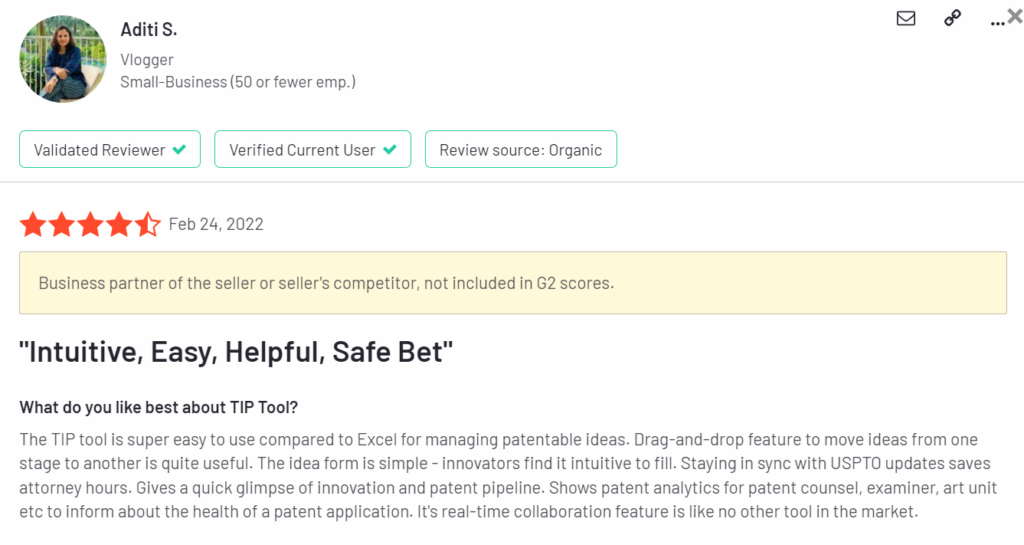 Who Is This For?
Startups, individual inventors, small-to-medium-sized enterprises, and patent practitioners greatly benefit from using the TIP ToolTM.
Pricing
The TIP ToolTM provides a free tier (forever, up to 10 users). Its premium tier costs $50 per month and $495 per year. The TIP ToolTM has a custom tier as well. To learn more, visit its pricing page.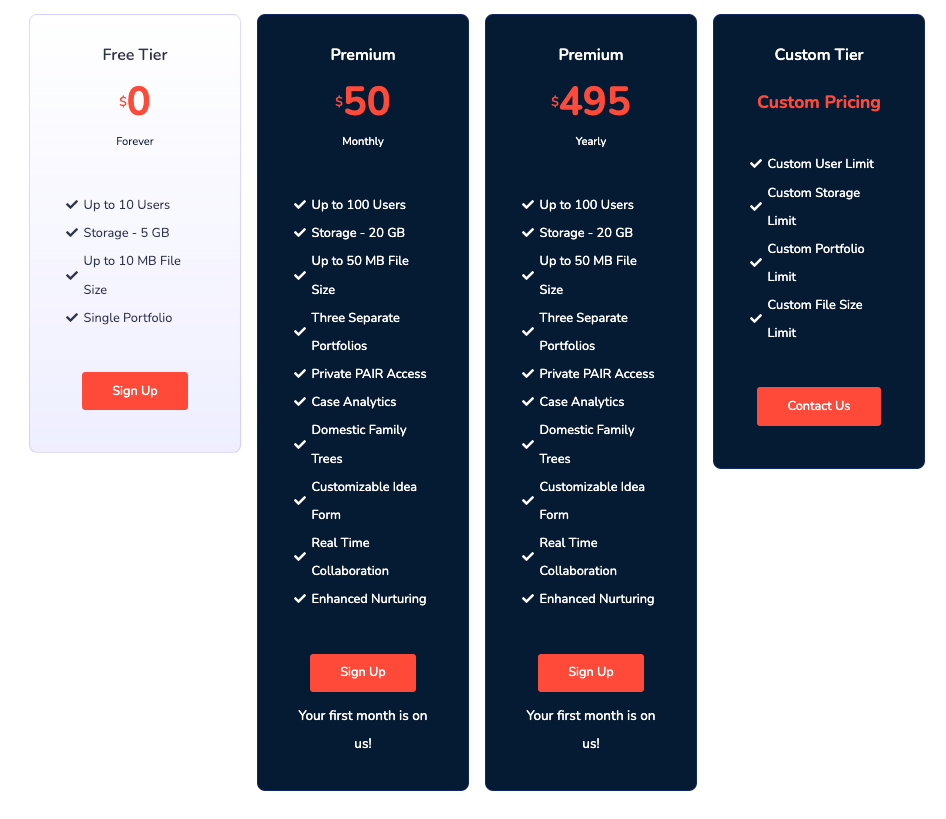 Website: To explore further, check Triangle IP
Demo: Sign up for an interactive product demo to experience the TIP ToolTM's features.
Wazoku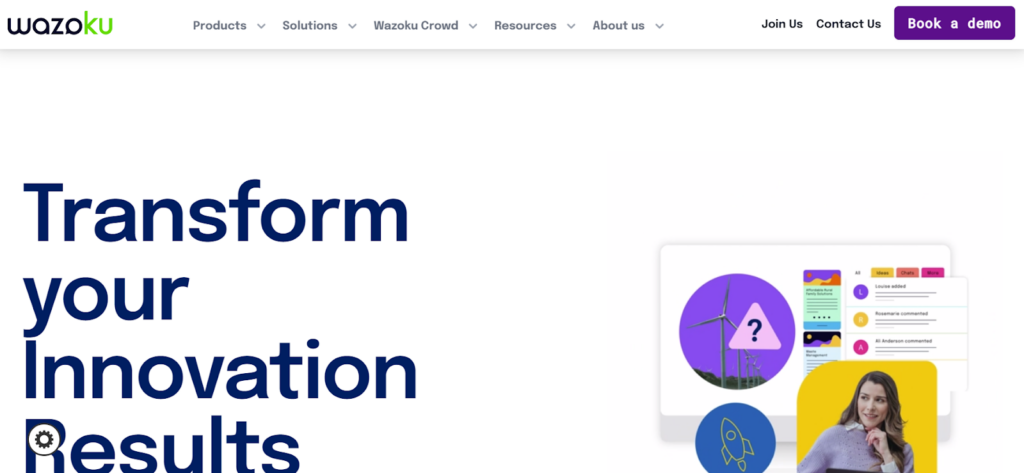 Wazoku is collaborative idea management software that allows organizations to collect, evaluate, rank, and choose the best ideas from users in a structured way.
Key Differentiators & Benefits
#1 – Collaborate and Innovate
Wazoku helps you create private groups and forums within Wazoku's platform to collect ideas from internal contributors and external audiences. The platform also allows commenting, voting, and adding suggestions to collected ideas.
#2 – Review Ideas and Execute
Wazoku's review boards enable stakeholders to evaluate and discuss the shortlisted ideas, then decide which ones to pursue and execute.
#3 – Track and Analyze Performance
Users can visualize and assess innovators' activities using dashboard and reports. Moreover, they can export this data for further analysis.
User's Perspective
The latest G2 review reports that Wazoku streamlines the process of gathering ideas, making it simple and structured for anyone with a company email to participate flexibly and intuitively.
Who is this For?
Mostly large enterprises
Pricing: Users need to submit this form to know the pricing details.
Website: You can explore further by visiting Wazoku
Demo: Click here to book a demo with them
Miro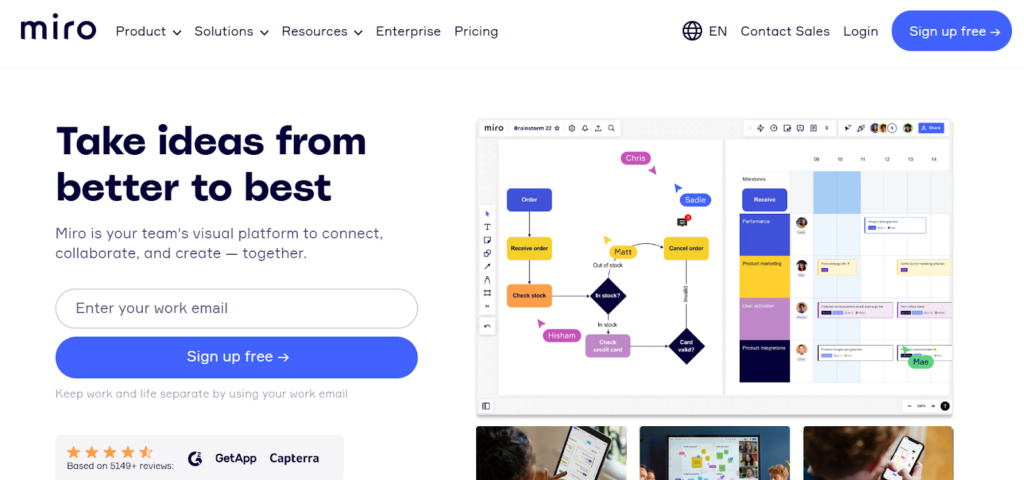 Miro enables teams of all kinds to accelerate innovation and unlock creativity by providing an online visual collaborative whiteboard platform.
Key Differentiators & Benefits
#1 – Real-Time Collaboration with Miro
Miro helps users to collaborate in real-time with its powerful visual tools. Users can communicate and discuss projects and ideas using board chats, tagged comments, and voice and video calls, perfect for remote teams.
#2 – Gain a better understanding
Gain a better understanding of the big picture with Miro. Instead of emails and text chats, users can see projects as a whole and quickly zoom in for more details, saving time on unnecessary communication.
#3 – Streamline Creative Workflows
Miro enables users to organize creative workflows with ease. The tool is perfect for design thinking and creative concepts, allowing individuals and teams to collect ideas, use post-it notes and wireframes, and share them with team members and clients.
User's Perspective
As per the recent review on G2, Miro provides a user-friendly set of wireframing tools suitable for individuals who wish to quickly sketch their ideas without using complex design tools such as Figma or InVision.
Who is this For?
Large Enterprises, Mid Size Businesses, and Small Businesses
Pricing: Free to use. Premium price starts at $8 per user/month.
Website: You can explore further by visiting Miro
Demo: Users need to contact the sales team at Miro to book a demo.
A Quick Wrap Up
In this article, we have provided thorough information to help you choose an alternative to Brightidea tailored to your business needs. Whether you're a startup, a Fortune 500 company, a corporate IP team, or an individual inventor without an IP background or patent expertise, there is a suitable tool available for you.
If you are a medium-sized enterprise and innovation manager without an IP background, it's essential to look for tools that provide the following:
An easy-to-use, customizable idea capture form
Collaborative features to work with stakeholders and track idea modifications asynchronously
Dashboards to visualize the idea-to-protection journey and monitor IP activity within your company
Estimations of end-to-end patenting costs to better manage IP budgets
Patent analytics to make informed patenting decisions and calibrate patent prosecution strategy
About Us
Triangle IP's TIP ToolTM is an easy-to-use drag-and-drop tool that assists you in managing the whole IP lifecycle, from concepts to patents. The technology was developed with the intention of democratizing patents. The patenting process is often opaque, and many businesses need enterprise-wide invention capture methods and procedures.
With the TIP tool, anyone in the company can submit and follow the development of their creative ideas. The TIP ToolTM also helps manage your patent portfolios using deep learning to calibrate your patent prosecution strategy for better results.
Take patent mining at your enterprise to the next level with the TIP ToolTM. To explore further, register on the tool now. The tool comes with a pre-loaded dummy patent portfolio to make it easy for you to explore its capabilities.
Disclaimer: The information in this article/review is sourced from the internet and may not be entirely accurate or up-to-date. We recommend visiting the respective software websites for the most current and reliable information. The opinions expressed here are those of the author and may not reflect the views of Triangle IP. We are not liable for any consequences that may arise from relying on the information provided in this article/review.