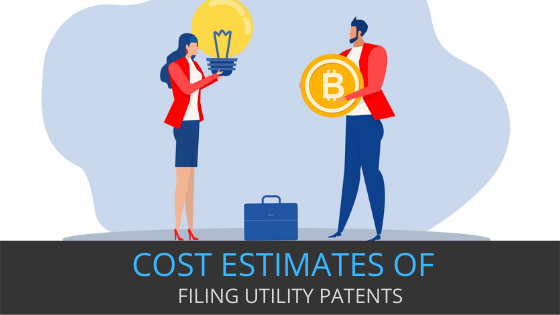 One of the core considerations in developing an international patent portfolio strategy is the cost of patent filing. The cost of patent filing varies per country. There are two basic components of the cost – government fees and attorney fees. We have created this guide as a one-stop list of the various costs involved in filing a patent in seven key jurisdictions that have the highest number of patent filings in the world:
USA
Europe
China
Japan
India
South Korea
Canada
At a glance, you will be able to assess a rough estimate of the cost of patent filing in each jurisdiction. Bear in mind that the final cost you incur in each jurisdiction will also depend on the complexity of your innovation, whether you are making an international or domestic patent and the number of claims in your application.
USA
The USA is a hotbed for patent registrations. The United States Patent and Trademark Office (USPTO) has been receiving nearly 700,000 patent applications each year for the past five years. The cost of preparing and filing a patent application in the USA significantly depends on the type of innovation, the degree of complexity, and the type of entity applying for a grant of the patent.
Below is a table showing the breakdown of costs of a utility patent filing in the USA: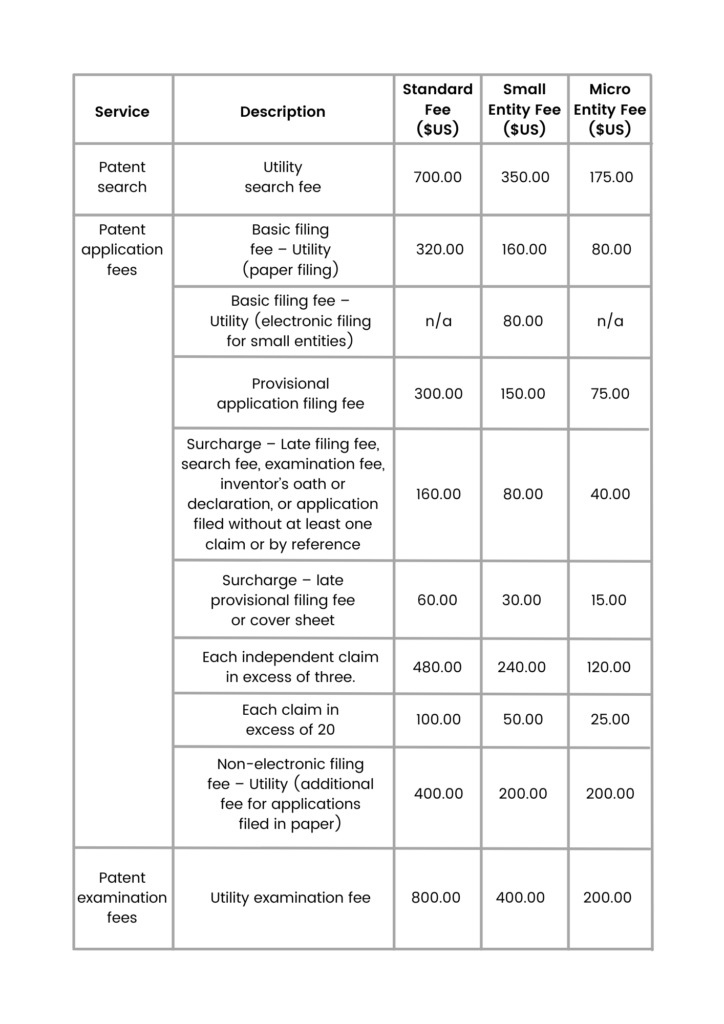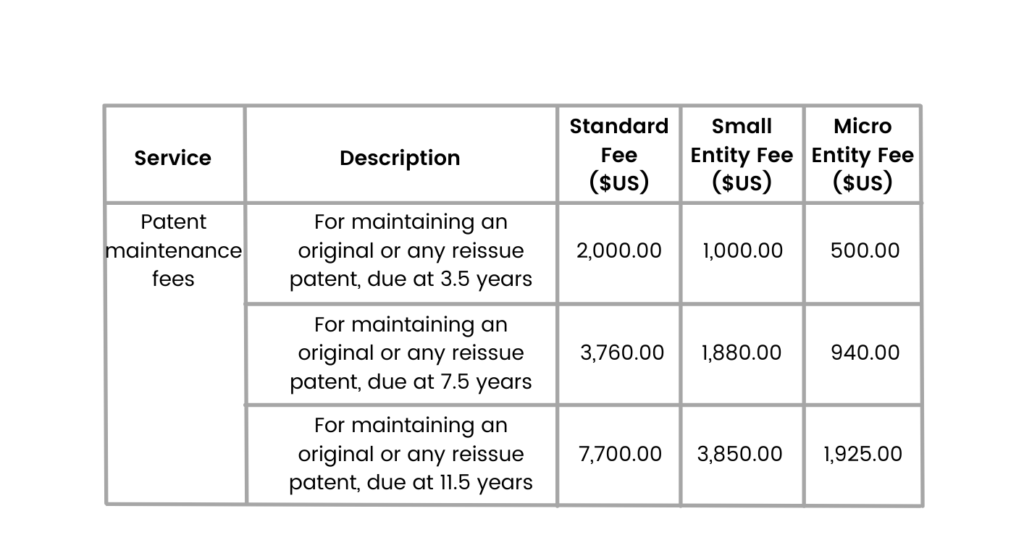 In addition to the above fees, other official fees, including an extension of time, administrative charges, issuance fees, and post-issuance charges may apply. Professional drawing fees will cost between $300 and $400, while attorney fees will cost between $5,000 and $10,000, depending on the complexity of the patent.
If filing an international patent under the international patent system of the World Intellectual Patent Organization (WIPO), through the USA, you should expect to spend a minimum of $8000.
Europe
As an alternative to filing a patent in each European country, a European patent gives its owner the same rights as a national patent in each country for which it is granted. It covers registration in 38 member states of the European Patent Convention – 28 member states of the European Union (EU) and 10 other non-EU member states. Once the European patent is granted, it needs to be validated in the designated states for it to be enforceable.
Below is a table showing the breakdown of cost for filing a European patent at the European Patent Office (EPO):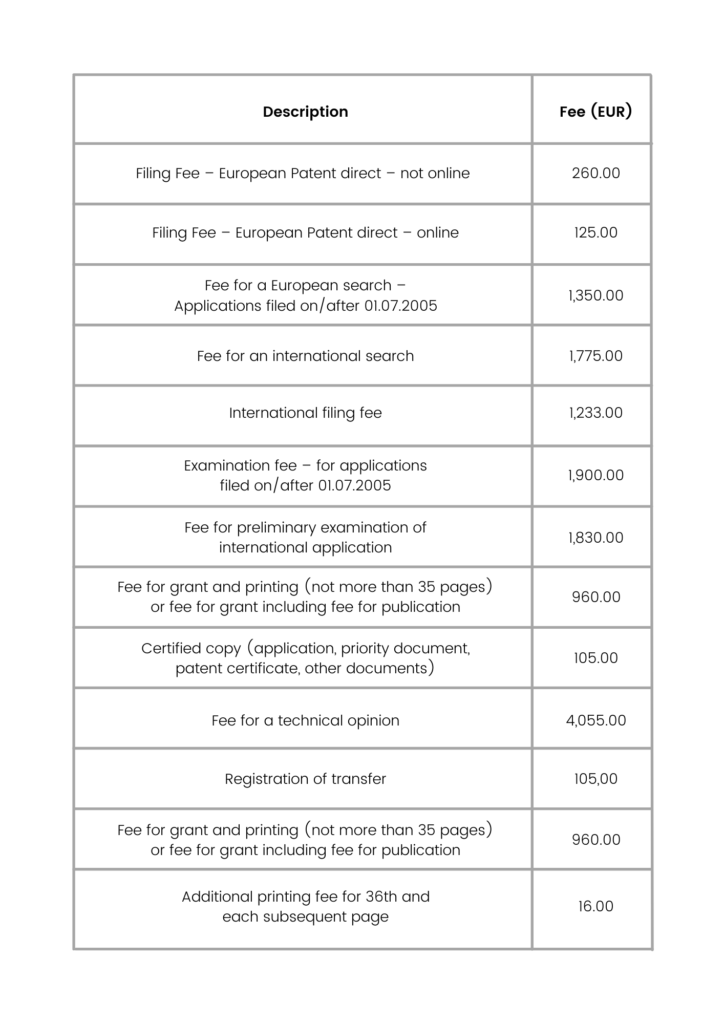 In addition to the above fees, note that additional costs may be incurred for translation of documents or appointment of national agents in designated states. Meanwhile, filing an international application through the EPO will cost at least €10,000, excluding attorney fees. Such costs will include a search fee (€1,775), an international filing fee (€1,233), and a transmittal fee (€135). You may refer to the EPO's schedule of fees, for additional information on applicable fees.
Patent attorney fees for European patents depend on the scope and complexity of your invention. Attorneys may charge either a lump sum or an hourly fee, although the latter is more common. Fees for simple applications may range from €1,500 to €3,000, while more complex applications may attract a fee between €3,000 and €6,000. In summary, the total costs for filing a European patent can sum up to €15,000.
China
China is one of the most important global markets and innovators will often file their innovations in China, even where such innovations have not been introduced to the Chinese market.
The fees for filing a patent with the China National Intellectual Property Administration depend on the category of patent and the filing route. Generally, there are two ways of filing a patent application in China: a direct application through a licensed Chinese Patent Attorney and an international patent application under the Patent Cooperation Treaty (PCT).
Below is a table of the patent filing fees and estimated attorney fees in China.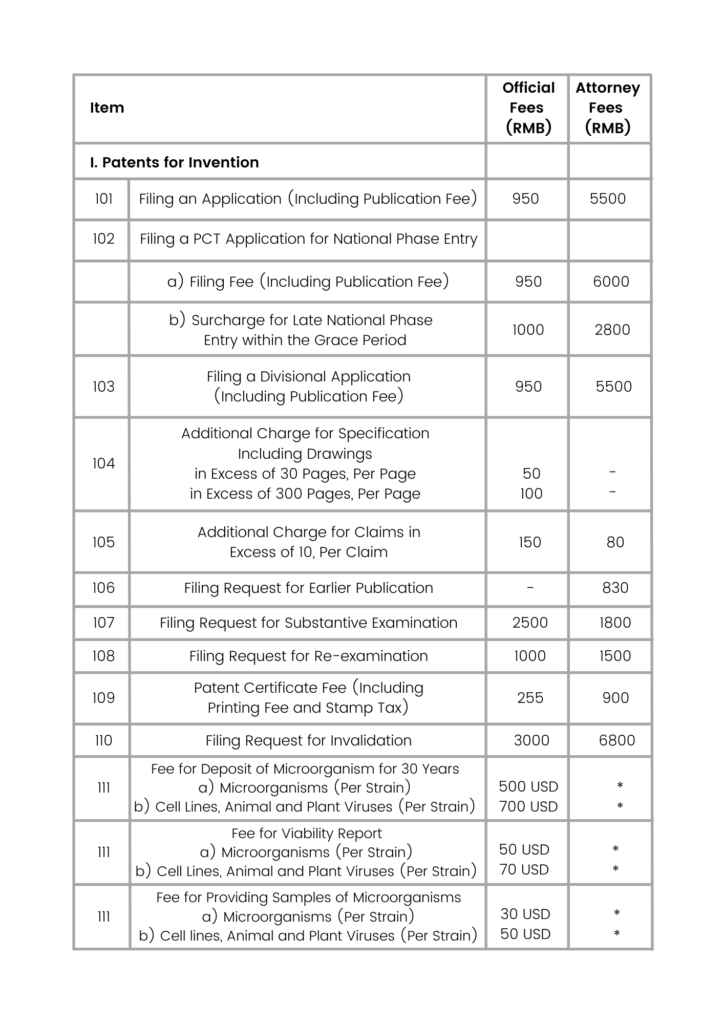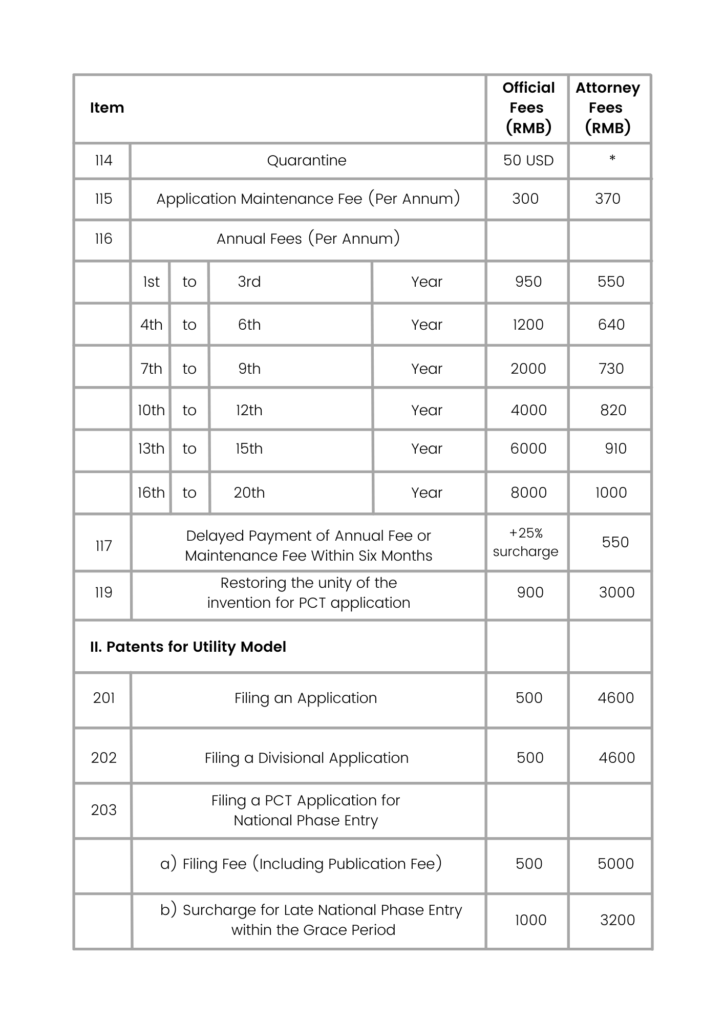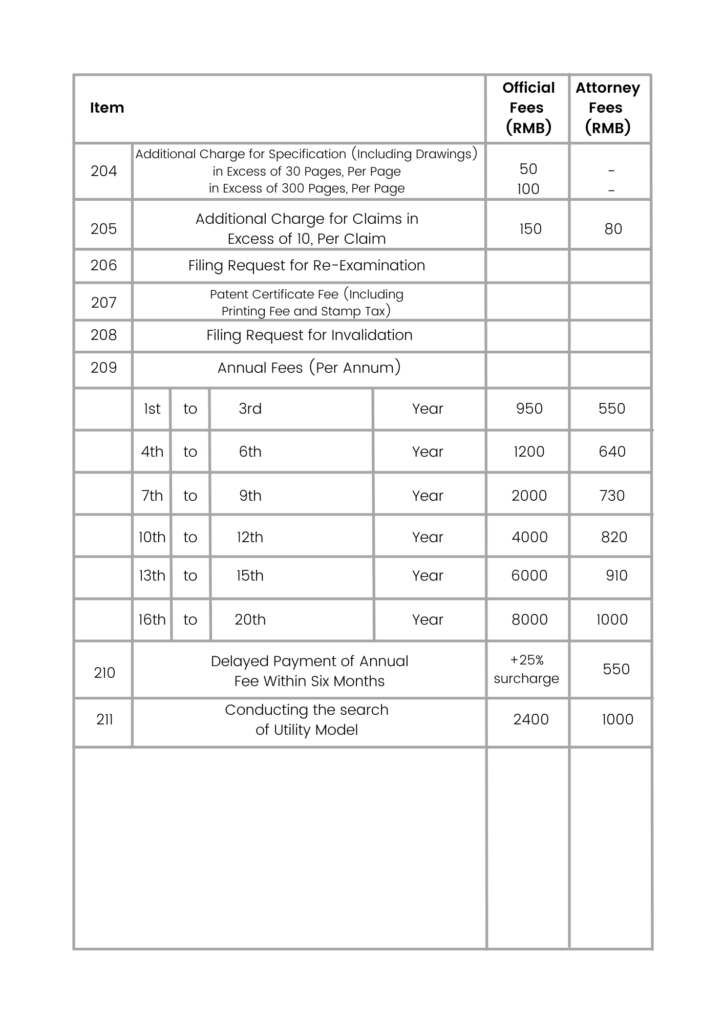 For more information on patent filing in China, here is a guide for SMEs published by the European Union.
Japan
Similar to other countries, the cost of filing a utility patent application with the Japan Patent Office depends on the route: direct filing or international filing under the PCT.
Additionally, if you do not have a permanent address or residence (office, if the applicant is a legal entity) in Japan, you are required to appoint a representative such as a patent attorney, in Japan. An attorney will charge you between 100,000 and 250,000 Japanese Yen (JPY) for preparing, filing, and registering a patent application in Japan.
The official patent application fees in Japan are as follows: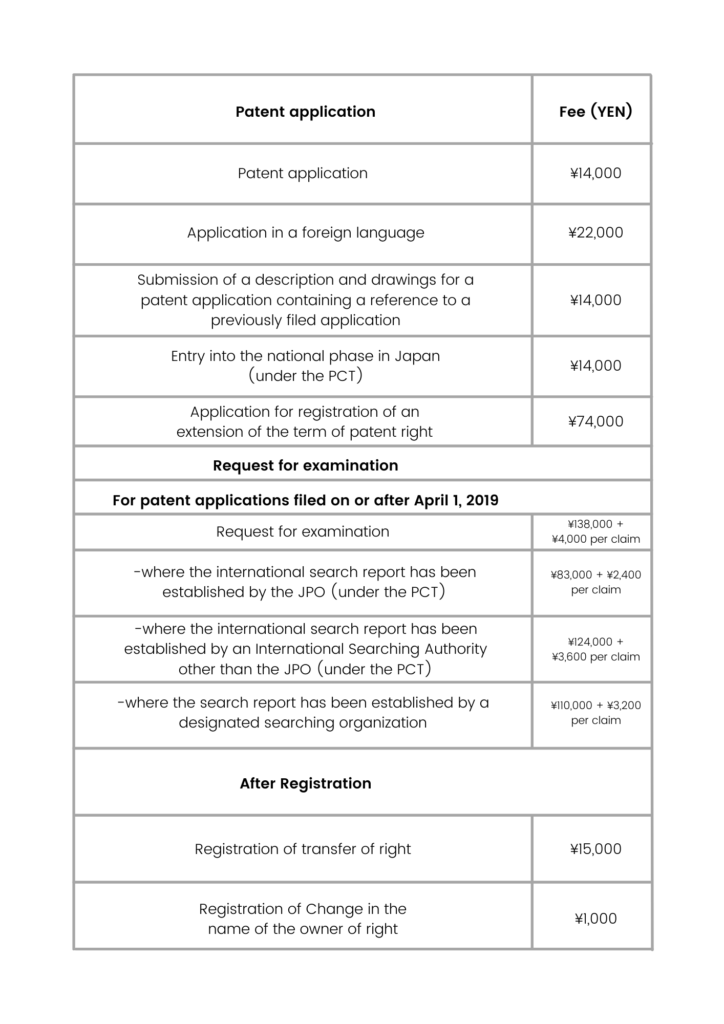 In addition to the above, annual registration/renewal fees are required to be paid for each patent. If the patent application is opposed, opposition, appeal, and trial fees may also be required. Generally, a patent application in Japan will range from ¥200,00 to ¥500,000, excluding attorney fees. A complete schedule of these fees may be accessed at the Japan Patent Office.
India
The cost of filing a patent in India is dependent on several factors, including whether the patent is being filed by an individual or a legal entity, the number of claims and pages in the specification, whether the normal or expedited process has been chosen, and whether the application is a provisional patent application, an international patent application or a plain application.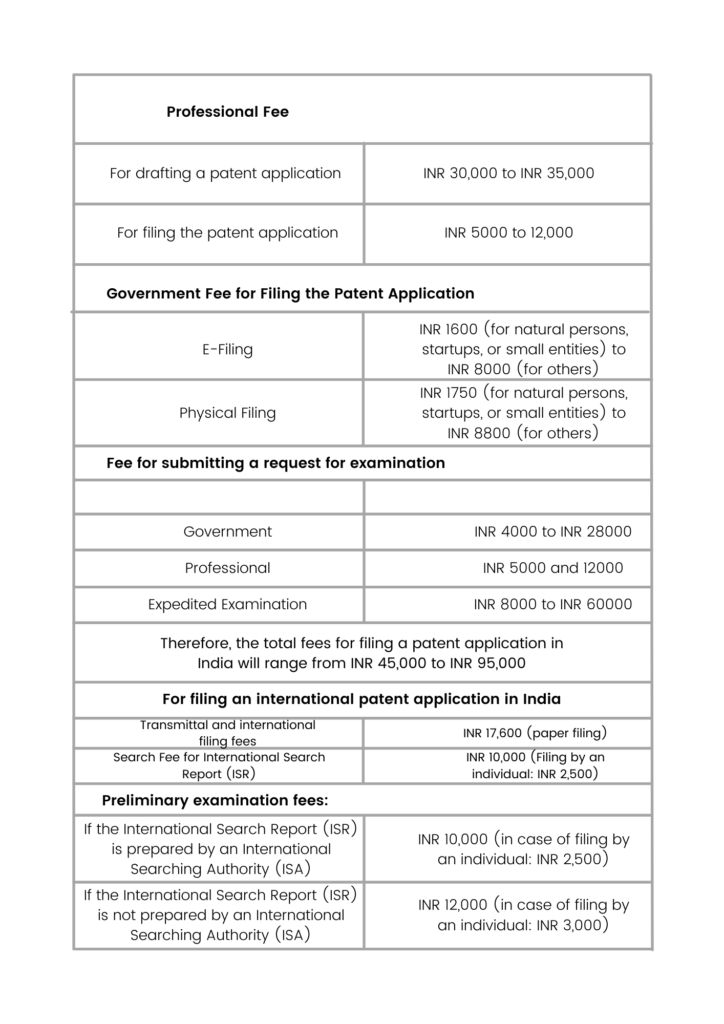 Therefore, the total fees for filing a patent application in India will range from INR 45,000 to INR 95,000. For more details on the patent fees in India, see the schedule of fees on the Government website.
South Korea
The legal fees for preparing and filing a patent application in Korea range from 2,360,270.00 KRW to 4,130,472.50 KRW, depending on the complexity of the innovation. Below is a table of government fees for filing a patent in Korea: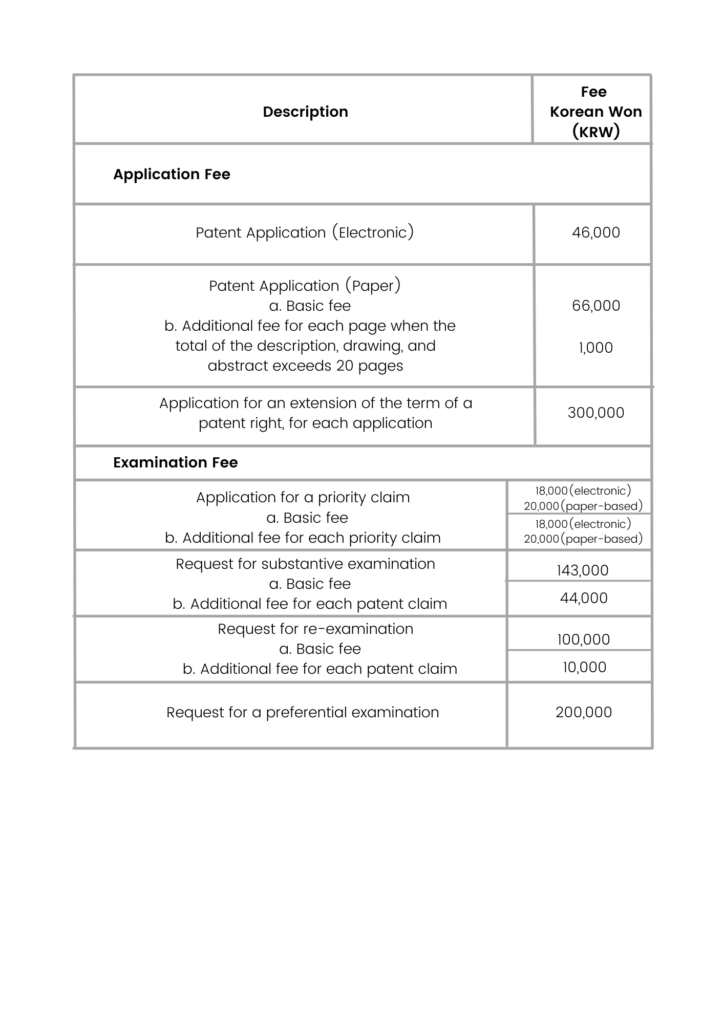 If you're filing an international patent in Korea, the examination fee and handling fee for a request for an international preliminary examination will cost 450,000 and 253,000 KRW respectively. A request for an international application search will cost 450,000 KRW in Korea and 1,200,000 KRW in English.
Canada
Canada is a relatively inexpensive jurisdiction, compared to other countries in which patents are commonly filed.
The professional cost of drafting a new patent application in Canada may range from $5,000 to $15,000, depending on the complexity of the application. The actual sum will depend on several criteria, such as the complexity of the technological field covered by the patent, the completeness of the technical disclosure you give to your patent agent, and the number of different innovative conceptions that must be covered in the application.
Details of the government filing fees in Canada are as follows: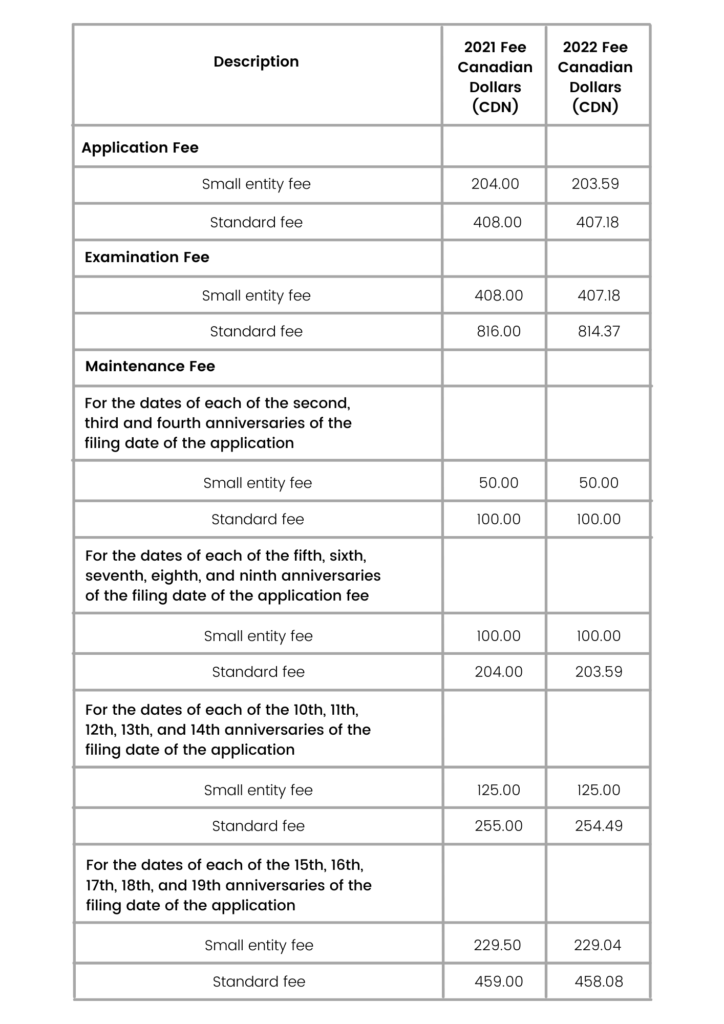 Additional fees may apply, such as fees for correction of an error, fees to advertise an application, and fees for requesting a re-examination of a patent. Full details of these additional fees may be accessed on the Canadian Intellectual Property Office's website.
The official fees for filing a PCT application are typically in the range of $3,500 – $4,500, depending on the size of the application.
Conclusion
We have provided the costs for filing patents in multiple countries, with a focus on the top countries of the world where patents are commonly filed. We have also included estimated attorney fees and the cost of filing an international patent in each of these countries.
With this guide, you have more information to design your patent strategy and the cost implications of your filing decisions. Here is how you can make the most from a global patent portfolio strategy.
Also read: How to control patent costs without compromising on your patent?