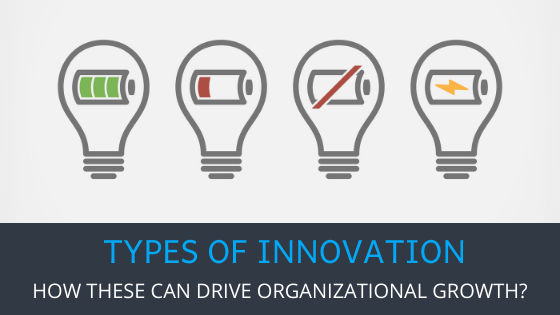 "80% of executives think that their current business models are at risk."

– according to McKinsey.
Executives also feel a lack of clarity on what the problem is and how to improve. If you feel the same way, read on for some ideas that can help you drive growth at your company by innovating.
"Innovation is the only way to win." – Steve Jobs
As a business that is looking not just to stay afloat but be relevant, one is continually looking for different ways to innovate.

Innovation can happen at so many different levels. It can be new ideas leading to new products, old ideas in a new market space, or new ideas in an old market space. It can also be new ways of reaching customers; whether by services or packaging. Or even a change within the company structure to result in a change in company ethos.
Here is a list of 10 types of innovation for you to ignite the spark of innovation in your organization:
1. Product Performance Innovation
"There is a way to do it better – find it." – Thomas A. Edison.
This is a great place to start, for it focuses on product features and value offered to customers. This innovation will allow you to focus on making your products better without much other change. It will also give you the option to create new products. Also, updates and line extensions that add substantial value. Features, functionality and design are the core of this type of innovation.
Let's take a look at the evolution of Toyota Prius, which set a trend for hybrid cars 15 years ago. And has constantly improved fuel efficiency with each generation:
| | | |
| --- | --- | --- |
| Timeline | Generation | Innovation in Fuel Efficiency (Improved Performance) |
| 1997-2003 | First | 28.0 km/L in Japanese 10-15 test cycle |
| 2003-2009 | Second | 35.5 km/L |
| 2009-2015 | Third | 38.0 km/L. |
| 2015- | Fourth | 40.8 km/L in Japanese JC08 test cycle |
2. Structure Innovation
Structure innovations aim at reorganisation of company assets. These assets can be hard, human, or intangible. This kind of innovation challenges you to make them work in unique ways that create value. Tapping your human resources to develop a new talent management system or configuring your heavy equipment in a manner that increases production are a couple of ways of innovating structurally.
In sum, this is how you structure and organize your assets. This type of innovation is usually the most difficult to copy. These unique changes are particular to your organization and they go on to provide a foundation for your Company to build a sustainable future.
Vertical farming (an urban farming solution) used in Singapore is a perfect example for structural innovation. Singapore is a small island and scarce in natural resources as required for farming.
Sky Urban Solutions, a Singapore based company, took upon themselves to solve this challenge in 2009. As the land is scarce, Sky Urban came up with the innovative idea of vertical farming, farm over a farm. In concept, it is similar to a multi-storeyed building which is a vertical arrangement of house over a house.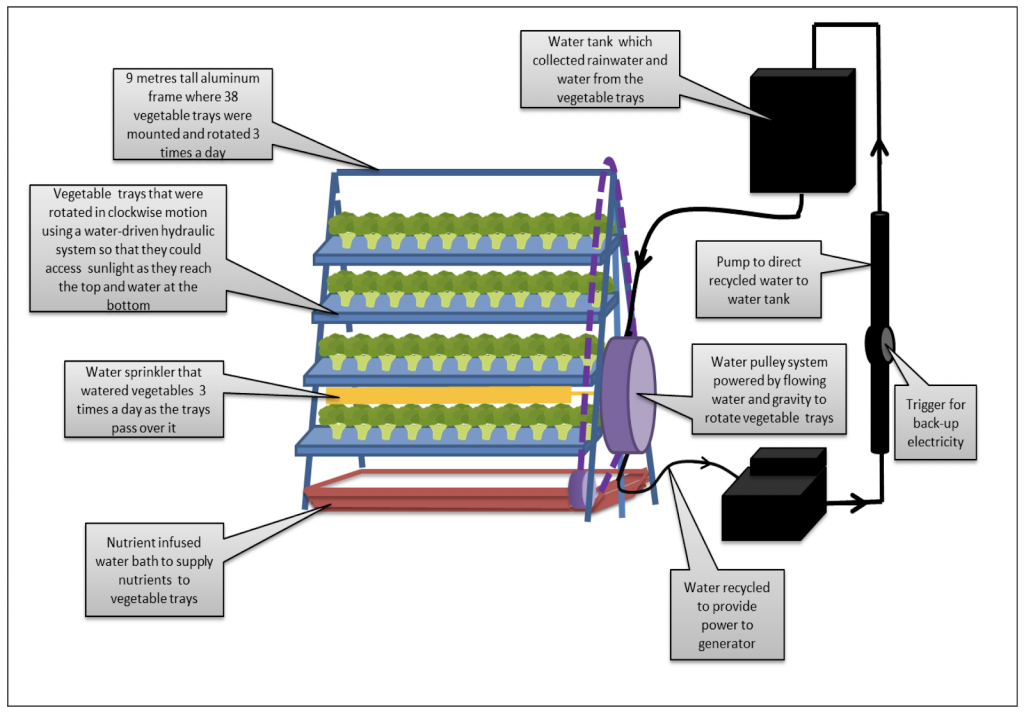 3. Channel Innovation
One interesting way to differentiate a good and great product is a way how it is channeled to the customer. Channel innovations focus on how you connect your company's offerings with your buyers. The challenge is to find ways of giving your customer the most innovative delivery experience.
A great example of channel innovation is the Subscription Model that a number of companies have recently adopted. Offering products to your consumers in a 'curated' form, with special goodies reaching them every month is an exciting way of broadening customer base.
I would like to share a personal experience here that I had when I subscribed to Mel Science. Mel has brought monthly experiment kits for young minds to experience the wonders of chemistry. My son absolutely loves it. And I think his amazement translates into successful channel innovation at Mel.

4. Profit Model Innovation
Your approach to profit model innovations can be many. As the name suggests, this innovation is driven by profit as the motive. A good profit model will find a new way to convert your company's offerings and other sources of value into cash. A great one is born of an understanding of what your customers value about your company. This understanding of what is cherished by your market is where new revenue or pricing opportunities can be found.
AirBnB was born in a rented accommodation when the founders couldn't afford paying their rent. What started out as a rental of air mattresses cum breakfast, has today become AirBnB. With little, to no capital investment, AirBnB has given billions of people great holiday experiences.
Understanding what customers want, they have aced the minimal input – great return game. Besides, it's exemplary to see how beautifully they have pivoted with "online experiences" when the pandemic hit.
5. Incremental Innovation
Incremental innovation is about taking baby steps towards your goal! It is a series of small improvements or upgrades made to your existing products and/or services. It challenges you to increase your product's value to the customer. You may do this by upgrading features, design, etc. while playing your own market. These changes focus on improving an existing product's development efficiency, productivity, and competitive differentiation.

Developing a product in increments is the way most tech companies function. Whether it is Amazon and its range of Echo or One Plus and its range of phones.
Utilizing their existing technology, these companies play their own market encouraging and enticing their customers to upgrade and keep up with their innovation.
6. Process Innovation
Process innovations are in a way similar to structure innovations – both these kinds of innovation involve changing the way things work inside your company. The process innovation challenges you to think of ideas out-of-the-box so as to bring out what is unique to your company. These innovations call for you to modify your core competency, as a company.
Process innovation happens by changing the activities and operations of your company. Unlike other innovations that push you towards revolutionizing a product, this pushes you to make the journey more rewarding. Some of the ways in which process innovation may occur is in IP strategy or a shift in the method and process of building a certain product.

Fast fashion has revolutionized the industry. An industry that was essentially driven by seasons and ramps. H&M, by working on collections that were not dictated by these terms but the needs of the market escalated its growth by a small change in business as usual.
7. Red Ocean Innovation
The market and industries as they exist today is the Red Ocean. It gets its name from the cut-throat competition in existence to grab a greater market share. With all things being equal, this kind of innovation can be the easiest, but also the most difficult.
How can you revolutionise a product in existence?
This is the challenge of red ocean innovation. Urge your company to pick up something old, a product you may already have floated in the market, and shake it up to change the user experience. The user needs to feel like your product is the only one that (s)he MUST use!
Creating a no-frills, low-cost airline was a masterstroke in the crowded airspace. AirAsia by introducing tickets and prices that made flying affordable caused a stir in the ocean.
8. Blue Ocean Innovation
Contrary to the Red Ocean, the Blue Ocean is an unchartered territory. Innovation in the blue ocean encourages you to create a new market space and leave the old, bloody market space behind.
Hence, in the Blue Ocean you don't compete over existing products instead you rather create a new market space altogether.
With this, you also set the benchmark for a market space that may have a future, thanks to your product.
New market, new product, new pioneer!
This is perhaps the most exciting innovation because it requires you to think like there is no box!
Cirque de Soleil is the greatest example of Blue Ocean Innovation for not only did it bring back the circus, it made it a luxury! By eliminating animal involvement and adding theatrical elements, Cirque has created a loyal audience and a brand in itself. It hurts to see how pandemic has hit them hard.
However, we all look forward to seeing how they pivot themselves.
9. Disruptive Innovation
A step further in the unchartered direction is disruptive innovation. Here, you ring out the old and ring in the new.
When you innovate to disrupt, you tap that boredom and turn it into something exciting for the consumer.
A simple idea with maximum impact would work like a charm. But, in the right market. So, once you identify the market that has bored its consumers, all you need to do is come up with an idea to revolutionize it. Value creation will follow closely behind.
Netflix has been a great disruptor. Understanding that there was a market of customers who were used to online shopping, Netflix tapped into this. Creating an OTT platform, it overlooked ardent DVD subscribers and targeted the "new normal" instead.
10. Service Innovation
"Never ever compete on prices, instead compete on services and innovation." – Jack Ma
Service innovation is about how you make your product easier to use. Making your product more enjoyable for your customer – servicing his/her needs. Helping your customer get better value from your product.
These are what will set you and your product apart. The challenge with service innovations is going above and beyond.
A product is not all R&D. Here, the goal is to reach the very heart of your customer.
Nike has long been known for its customer experience, but it has taken things to the next level at its new New York City flagship store.
The Speed Shop allows customers to order shoes online and try them on in-store. Customers use a special entrance to find their shoe locker, which is unlocked via smartphone. After trying the shoes on, they can check out on mobile without having to interact with a person.

Hope these 10 types of innovation shall give a head start to your innovation program. Innovating within your company is as essential as innovating your offerings. All good ideas need interaction, conflict, debate. Encourage that within your organization.
Last but not the least, I wish to recommend to you a great tool that can help you in tracking your innovations – TIP by TraingleIP.
It offers an intuitive invention disclosure form to capture ideas and collaborate over them to pursue selected ones for patenting.
You might also like to read "7 Ways To Encourage Innovative Thinking In The Workplace".
Note: The preceding is general business advice and not to be construed as legal advice. IP laws vary by country and retaining licensed legal counsel is advised to confirm this information. Any expressed or implied opinions are of the author and do not necessarily reflect the views of Triangle IP or any other entity who might be associated with the presenter. We hope this content is helpful to you, but should not be relied upon without confirming the advice and accuracy with local legal counsel. Any comments or inquiries are not confidential so please discuss your issues directly with counsel.
TIP Tool is free for your whole team
No credit card required. No setup fees. No need to download.