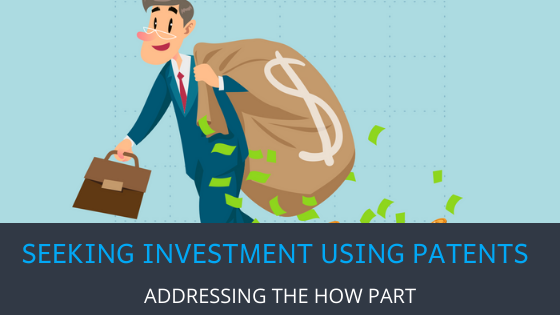 Seeking investment using patents? Is a patent enough?
Myth: Having a patent is enough to seek investment!
The Hard Truth: Sorry to break this to you but a patent alone cannot get you an investment. In the absence of a proven business, it does not make sense for the investor to risk his money.
When you seek investment the most common questions asked by a probable investor are:
What are your sales?
How much does it cost you to make that product?
What are your margins?
Is your product unique? Do you have a patent?
Why do you need the money?
The purpose of all these questions is to find out if their investment can earn them good returns or not.
If you have a revenue stream that can show sales, it's really easy for investors to value a business. It's just a function of some sort of multiple on earnings or some sort of anticipated growth in the market. Most investors are very well equipped to understand something like that.
But, when you don't have a prototype, sales or anything like that and you simply have a patent seeking investment, it is a much more difficult task. Because a patent is only the right to exclude somebody from doing what's covered in the patent. You have to convince somebody that doing it perhaps exclusively has value and because the patent has so much value that even licensing the patent shall fetch them a good amount of money.
Seeking Investment Using Patents | Look For A Strategic Partner
When you only have a patent, what you need is a strategic partner not an investor. Your strategic partner is a business which gets into an agreement with you where they are as much a partner to you as they are an investor. The usual investor is only interested in profits whereas a strategic partner will help manufacture products based on your patent.
Side Note | Investment Using Patents
In this article, we have only covered the strategic partnership for seeking investment using patents. There are other ways of monetizing a patent like selling the complete patent or mortgaging it with the bank etc. We shall be covering these and more such ways for seeking investments using patents in the series of articles about patent monetization. Shall you be interested in learning more about patent monetization, kindly fill the form below!

Steps To Find The Strategic Partner
List down the companies that manufacture products in the space you have the patent in.
Study these companies to find out:

Which of these would be interested in having the next new feature in their product?
Which of these companies is looking to differentiate itself from the competitors?
Is there any company that is in the tight position that hasn't had a good technology in a while?
Which of these companies is an established player that always wants to stay on the top?
There also is a possibility to find a supplier to the company that manufactures these products and might be interested in your idea.

Select 2-3 companies from this list and propose the partnership to them to progress further.
Finding the information mentioned above is a difficult task and IP research firms shall be your best choice to help here.
IP Research Firm To Your Rescue
Curating the list of probable strategic partners shall require IP expertise. Best would be to hire an IP research firm.
Here's what IP firms shall do:
The IP research firm will try to understand your motivations behind creating the patent to familiarize themselves with your invention.
The IP research firm shall then study the market players in the domain of your patent. By study we mean their product lines, patent portfolios, competitors, financial standing etc.
Not just curating the list of strategic partners, the IP firm will be able to position your patent in such a way that prospective partners can identify its value.
Impediment for Strategic Partner
"To invest into something that doesn't exist is expensive."
However, there is a way to justify this expense – 'Exclusivity'.
Let's take a look at the timeline below to understand this better.
Once you get into a strategic partnership the partner shall help you with the development of the product. The average time for a patent to be developed into a product is around 18 months. That's a conservative estimate. After the product is ready, the strategic partner should have unbridled access or exclusivity rights to sell the product for at least 2 years. Once the 2-year period is over, it is expected for the product to have broader demand and more competitors wanting a piece of it.
After the period of exclusivity rights for the strategic partner is over, you can increase the exclusivity period by taking a fee. Or you can license the product and earn royalty.
Reduce The Risk For The Strategic Partner
Having a patent is good, gradually you should progress on a path that minimizes the risk for probable partner or investor to venture in your idea. By progressing through each step from patent, to prototype, to beta-testing, to product, to sales you are minimizing the investment risk. Once you manage to get good sales, you shall need the investment to scale. And that shall be comparatively easier to get.
On a side note: Would you want to know how your patent application is progressing at the USPTO compared to other applications in the same domain?
The TIP tool offers statistics of the law firm and the examiner handling your case. Once the application is filed at the USPTO, and an examiner is allotted to your case, the tool indicates the relative performance of the law firm handling your case. The statistics revolve around the number of arguments, grant rate, and grant time. The tool also indicates the case health, for instance, it can tell you if a case needs your attention. There is a whole bunch of insights that you can gather from the TIP tool for strategic patent prosecution.
Request insights for any of your cases at the patent office using the form below.
Conclusion:
If you have a patent and not a proven market for your product; seeking investment using patents becomes a herculean task. The best option is to look for a strategic partner. A partner who is in the same product line and can help you manufacture your product. At the same time, you need to convince that strategic partner that it shall also benefit hugely in this venture.
For finding and convincing a strategic partner, you shall need help from an IP research firm. The research firm shall create a report showing the unique value proposition of your patent. The firm shall also curate a list of probable strategic partners. You can select 2-3 from the list to work out the strategic partnership. Offer exclusivity to convince for partnership.
While looking for a partner, keep progressing to minimize the investment risk; patent -> prototype -> beta-testing -> product-to-market -> sales.
With this we wish you all the very best to find the right partner!
Want to know more about IP Strategy?
Note: The preceding is general business advice and not to be construed as legal advice. IP laws vary by country and retaining licensed legal counsel is advised to confirm this information. Any expressed or implied opinions are of the author and do not necessarily reflect the views of Triangle IP or any other entity who might be associated with the presenter. We hope this content is helpful to you, but should not be relied upon without confirming the advice and accuracy with local legal counsel. Any comments or inquiries are not confidential so please discuss your issues directly with counsel.
TIP Tool is free for your whole team
No credit card required. No setup fees. No need to download.