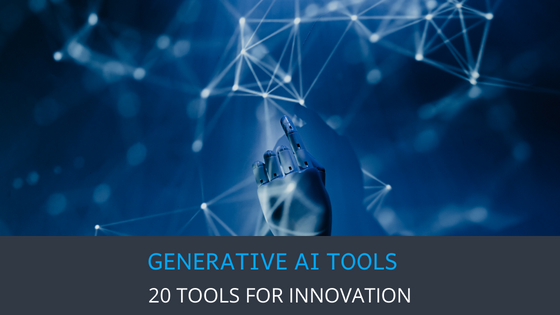 Elon Musk once said, 'Generative AI is the most powerful tool for creativity that has ever been created. It has the potential to unleash a new era of human innovation.'
The generative AI landscape is rich with tools that accelerate innovation, from idea creation to problem-solving. These technologies hasten R&D, validate concepts, and predict market responses, opening doors to disruptive change.
We evaluated 100+ tools to curate this list of 20 key ones beneficial for innovators, each categorized by its unique role in the innovation lifecycle from idea generation to design and prototyping.
Standouts include Whimsical AI for human-like reasoning, Notably for user research, and Uizard for AI-driven UI design. Let's take a deep dive into all 20.
Brainstorming and Ideation
In this phase, innovators often feel stuck, trying hard to hit a creative wall. Traditionally, they'd resort to exhaustive methods like going through research papers, attending multiple brainstorming sessions, or even looking at historical data for a spark of inspiration—methods that are not just time-consuming but mentally draining.
But now, with the assistance of Generative AI tools, the process of churning out diverse and novel ideas has become highly assistive, making brainstorming not only more efficient but also more dynamic and fulfilling. The tools that top our list in this category are: 
1. Miro AI
Miro AI enhances the creative process, taking teamwork to new heights. Its AI-driven capabilities include automated mind-map generation, making brainstorming sessions more effective and interactive.
The tool also offers instant sticky-note summarization, enabling quick information condensation. This helps transform your ideation into actionable roadmaps, bridging the gap between concept and execution.
Source – Miro AI
Additionally, Miro AI features a pioneering natural language-to-code converter that speeds up the software development cycle. By automating routine tasks, it allows you to dedicate your focus solely to innovation.
What We Like About The Tool
Image Generation from Text: Convert your textual descriptions into visual elements.
Generate User Stories: Break down feature ideas into user stories automatically.
Keyword and Sentiment Clustering: Organize sticky notes based on keyword relevance and sentiment.
Use Cases
Product Development
Marketing Campaigns
Project Management
Pricing
Offers a free trial with the starting price at $8/month.
Customer Review
Source – G2
Case Study
Catena-X Consortium saved €600K in travel expenses, 200 working hours during the planning and saw a 90% increase in productivity using Miro AI for their product development.
2. Whimsical AI
Whimsical AI offers AI-powered mind maps, flowcharts, wireframes, and document templates to skyrocket your productivity and beat mental blocks. Integrated with project management and collaborative features, it serves as a unified workspace that lets your creativity flow without bounds.
Source – Edrawmax
What We Like About The Tool
AI-Generated Suggestions: Use machine-generated prompts to break through creative roadblocks and inspire fresh perspectives.
Diverse Tools: Access flowcharts, wireframes, docs, projects, and mind maps all in one centralized location.
Collaboration: Work seamlessly with your team with integrated project management features.
Extensive Template Library: Choose from pre-made templates to speed up your work. Whether you're drafting a business plan or sketching a prototype, Whimsical AI's templates offer a head start, streamlining tasks such as market analysis, UX design, and more.
EmbedKit: Integrate your Whimsical content easily into other platforms like Github, Notion, Asana, Canva etc.
Use Cases
Rapid prototyping in software development
Marketing strategy development
Business process mapping
Pricing
Provides a free trial with prices beginning at $10 per editor/month.
Customer Review
Source – Youtube
3. Stratup.ai
Startup.ai stands out as a beacon for both seasoned and aspiring entrepreneurs. With its AI algorithms that sift through market trends, consumer behaviors, and industry voids, the tool can generate a plethora of startup ideas in a matter of seconds. Not just a generator, the platform also offers personalized insights, effectively serving as your personal startup advisor.
Source – Stratup.ai
What We Like About The Tool
Business Idea Generation: Generate not just ideas but also potential solutions and detailed reports.
Subscription Economy: Leverage personalized insights specifically catered to the growing global subscriptions market.
Market Gap Identification: Use algorithms that pinpoint untapped market opportunities for strategic advantage.
Use Cases
Idea generation
Market gap identification.
Pricing
The tool offers a free trial and a starting price of $15 monthly.
Customer Review
Source – Twitter
Also read: 7 Key Benefits an Idea Management Software Provides to a Business.
4. Slatebox AI
Slatebox is an AI-driven tool that offers real-time visual collaboration. The platform turns your natural language prompts into detailed diagrams, mind-maps, and SWOT analyses.
Source – Slatebox
With over 100 templates and seamless integration with Microsoft Teams, Slack, and GitHub, it's the perfect tool for efficient, creative teamwork.
What We Like About The Tool
AI-Powered Diagrams: Create visuals instantly from text or URLs.
Collaboration Heaven: Use multi-cursor canvases for efficient teamwork on projects.
Template Variety: Browse an extensive library tailored to your specific needs.
Privacy First: Exercise robust control over your data security.
Platform Integration: Enjoy smooth API and compatibility with third-party tools.
Use Cases
Team brainstorming sessions
Business SWOT analysis
Project planning
Content strategy mapping
Workflow visualizations
Pricing
The tool provides a free trial and starts at a budget-friendly price of $6 per month.
Customer Review
Source – Product Hunt
5. Seenapse 
Seenapse is the AI-powered sidekick for innovators in marketing and advertising who need a rapid influx of creativity. This unique platform melds human lateral thinking with machine precision to deliver hundreds of high-quality ideas in mere minutes.
Source – Seenapse
With Seenapse, there are no creative blocks or tedious brainstorming sessions; Seenapse does the heavy lifting for you, letting your team focus on refining and implementing the best concepts for knockout campaigns.
What We Like About The Tool
Ever-Ready Creative Partner: Never gets tired or hits a creative block.
Quality Meets Quantity: Generates numerous high-quality ideas in minutes.
Seamless Integration: Integrate effortlessly with Google Docs and request custom functionalities.
Easy-to-Use: Use a simplified interface and robust filtering options for smooth operations.
Scale as You Grow: Suitable for lone innovators to large creative teams, with flexible pricing options.
Use Cases
Rapid Ideation
Content Creation
Team Collaboration
Pricing
Starting Price – $25/month
Customer Review
Source – Twitter
User Research and Market Analysis
Before launching any product or service, understanding your user and market is a no-brainer. However, innovators often grapple with the challenges of data overload and ambiguity at this innovation stage. Sifting through mounds of raw data and deriving actionable insights can be a daunting task.
This is where generative AI tools come to the rescue, automating the analysis process and providing a distilled understanding of consumer behavior and market trends. Some of the best tools in this category are:
6. Kraftful
Kraftful is an AI-powered tool designed to streamline feedback analysis for product managers, offering actionable insights for quicker, informed product development. Its focus on user sentiment and competitive analysis sets it apart in the market.
Source – Medium
What We Like About The Tool
GPT-3 Powered Analysis: Use GPT-3 to analyze and summarize user feedback to identify needs and sentiments.
User Sentiment Tracking: Measures the impact of changes or iterations to the product over time.
Competitive Analysis: Analyze not just your own users but also your competitors' users to stay ahead in the market.
Time-saving: Save hundreds of hours that would otherwise be spent on manual feedback analysis.
API Integrations: Integrate seamlessly with other platforms like iOS and Android App Store, Zendesk, Github, Front, and Intercom.
Use Cases
Achieving Product-Market Fit
Gaining Customer Insights
Tracking Product Perception
Competitive Analysis
Pricing
Offers a free trial and has a pay-as-you-go pricing model, starting at $0.15 per credit.
Customer Review
Source – Kraftful
7. Notably
Notably is an AI-powered platform designed to streamline the research process for innovators across multiple industries—clinical, market, product, and academic research. It serves as an all-in-one solution that replaces multiple tools like note-taking apps, transcription services, and spreadsheets, centralizing all research-related activities.
Source – Notably
What We Like About The Tool
Research Repository: Create a unified hub for all your data, making it easily accessible for team members.
Data Analysis: Extract actionable insights with Notably's powerful data analysis capabilities, including highlighting, tagging, and clustering research data.
Sentiment Analysis: Dive deeper with sentiment analysis to understand the qualitative aspects of your research.
Tagging Assistance: Ensure consistency by tagging data uniformly across all projects, streamlining data management.
Insight Creation: Quickly compile and share findings using multimedia formats for more visual storytelling.
Advanced Search: Use the built-in search engine to swiftly locate relevant information across stored projects.
Use Cases
Clinical Research
Market Research
Product Research
Pricing
Starting Price: $25 per month
Customer Review
Source – Notably
Also read: 10 Trailblazing Companies Leading the Way in Innovative Culture
8. Aomni
Aomni Agent is a comprehensive tool for innovators, fine-tuning ideas through market research and customer insights. It identifies Ideal Customer Profiles (ICPs) for targeted innovation, automates customer engagement, and provides real-time analytics for data-driven decisions in user research.
Source – Aomni
What We Like About The Tool
Intelligent Querying: Uses the AutoGPT architecture for smart query planning and diverse sourcing of results.
Full Web Browser Access: Features a built-in web browser, allowing it to access any online information without needing APIs.
Trustworthy Information Extraction: Filters out irrelevant or untrustworthy information and only extracts relevant and reliable data.
Personalized AI Agent: Trains a unique AI agent for you, tailoring the intelligence you receive for your specific needs.
Custom Account Intelligence: Provides custom account plans for each prospect.
Collaboration: Enables you to work effectively with teammates through data sharing and possibly real-time updates.
Use Cases
Efficient Information Retrieval
Sales and Marketing
Account Planning
Pricing
Starting Price: $49/month
Customer Review
Source – Linkedin
9. Rationale AI
Rationale AI is an AI-driven tool that helps users make informed decisions by conducting a range of analyses, from listing pros and cons to generating a SWOT analysis. The tool uses GPT-4 and in-context learning algorithms to consider all relevant factors, including the user's background, to provide personalized, well-rounded recommendations.
Source – Rationale AI
What We Like About The Tool
Comprehensive Analysis: Offers a broad spectrum of analytical tools- pros and cons lists, SWOT analysis, cost-benefit analysis, multi-criteria analysis, and causal analysis.
Personalized and Customizable: Provides tailored analysis and customizable tone, learning continuously to adapt to user needs.
Multilingual Support: Accommodates users from various linguistic backgrounds.
Outcomes Analysis Mode: Displays the consequences of decisions in a tree-like structure, showing up to three levels of outcomes based on different scenarios.
Use Cases
Strategic Business Decisions
Project Planning
Application Development
Pricing
The tool provides a free trial, and monthly subscription plans start at $9.99.
Customer Review
Source – Rationale AI
Also read: 22 Tips to Master the 5 Skills of Disruptive Innovators
10. UserDoc
Userdoc is a cutting-edge platform empowered by artificial intelligence (AI) and natural language processing (NLP) to simplify the software development life cycle. With Userdoc, you can effortlessly capture, centralize, and manage user stories, personas, and journeys.
Source – UserDoc
In addition, the tool integrates seamlessly with your existing project management solutions, providing a centralized hub for knowledge discovery and long-term documentation.
What We Like About The Tool
AI-Assisted Generation: Auto-generate user stories, acceptance criteria, and personas.
Centralized Knowledge: Centralize all critical data in one unified platform, from discovery to system testing.
Integrations: Seamless sync with popular project management tools.
Collaboration: Facilitates team and client interactions securely.
Export Options: Flexible exporting to Word, Excel, or CSV.
Use Cases
Capturing User Stories and Acceptance Criteria
Knowledge Centralization
Pricing
The tool offers a free trial, with subscription plans beginning at $12 per month.
Customer Review
Source – UserDoc
11. User Evaluation
User Evaluation is an AI-enhanced research platform that offers an unparalleled capability to sift through text, audio, and video data from customer interactions. It automatically identifies patterns, sentiments, and emerging trends, converting raw data into meaningful, actionable insights in real-time.
Source – User Evaluation
What We Like About The Tool
Real-Time Insights: Provides real-time analysis, enabling businesses to act quickly on emerging trends or issues.
AI Chat for Data Learning: Interact with an AI chat feature to gain tailored insights from your customer data.
Pattern and Sentiment Analysis: Automatically identifies customer sentiments, preferences, and behavioral patterns for in-depth analysis.
Visualization Tools: Presents data in an easily digestible visual format, allowing for better internal communication of research findings.
Custom Research Services: Offers add-on services like user testing, focus groups, surveys, and usability studies for a more comprehensive research approach.
Use Cases
Customer Experience Optimization
Product Development
Competitive Analysis
Marketing Strategy
Pricing
Provides a free trial and has pricing plans starting at $39 per month.
12. Research Studio
Research Studio is the ultimate tool for innovators in the fields of UX, marketing, and product development who are swamped with data but seek clearer insights. Powered by sophisticated AI algorithms, this platform instantly transforms raw research documents into actionable findings.
Source – Research Studio
With a simple drag-and-drop interface, you can upload research files and instantly receive summarized reports, sentiment analysis, and data visualizations. Even more revolutionary is its context-trained AI chat, which allows you to converse naturally with your dataset—asking specific questions to unearth deeper insights.
What We Like About The Tool
Effortless Document Summarization: Condenses multiple research documents into concise summaries.
Competitor Analysis: Generate lists and insights about direct competitors within the platform, giving you a comprehensive overview of the market landscape.
Cloud Synchronization: Ensures that your data and insights are always up-to-date and accessible for team collaboration with real-time cloud syncing
Data Visualization: Creates diagrams and charts that make complex data easily understandable.
Use Cases
Streamlined Research Analysis
Collaborative Decision Making
Competitive Intelligence
Customer Sentiment Tracking
Pricing
Offers a free trial, and the paid plans start from $8/month.
Testing and Validation
Before an innovation can truly shine, it undergoes rigorous testing to ensure its viability and relevance. This stage can often be riddled with uncertainty. Will users resonate with the product/service? Is the solution practical in a real-world context?
Generative AI tools not only simplify the validation process but also provide reliable metrics and feedback, ensuring innovators are on the right track. Our top picks for this category are:
13. Dime A Dozen
Dime A Dozen is an AI-powered toolkit designed to help entrepreneurs validate their business ideas and scale their startups. It offers various specialized AI bots and tools, including market research, fundraising support, instant ad content generation, and passive income ideas.
Source – Dime A Dozen
Users can purchase reports that give insights into potential risks, competitor analysis, elevator pitches, monetization ideas, SEO copy, and investor pitches.
What We Like About The Tool
AI-Powered Validation: Uses AI to analyze business ideas and generate custom reports.
Specialized Bots: Includes bots like milestone mastermind, KPI tracker, persona profiler, growth hacking repo, and competitor intel.
Instant Reports: Allows users to buy reports that analyze and validate their business ideas.
User Support: Offers support via email without stealing users' business ideas.
Use Cases
Idea Validation
Market Research
Fundraising
Risk Assessment
Competitive Analysis
Monetization Strategies
Pricing
Customers can buy reports for as little as $0.50 to $4.00 to quickly assess the viability of their business idea.
Customer Review
Source – Linkedin
Also Read: Idea Evaluation: 6 Questions to ask while Selecting Ideas for Patents
14. Validator AI 
ValidatorAI is a versatile and comprehensive tool designed to aid entrepreneurs and startups in multiple ways. The platform leverages the power of artificial intelligence to offer solutions across a wide range of needs – from business idea validation to data integrity checks.
Source – Validator AI
The tool also offers various customization options and integration capabilities, making it easier for businesses to incorporate it into their existing systems.
What We Like About The Tool
Dashboard and Reporting: Gain valuable insights into data or the validity of business ideas.
Real-time Validation: Experience invaluable real-time data validation for your businesses.
Customizability: Set your own rules and thresholds for greater control.
Use Cases
Business Idea Validation
Informed Decisions for Business Plans
Pricing
The pricing is available on request.
Customer Review
Source – Product Hunt
15. Feedback By AI
Feedback by AI is a tool that allows innovators to test their ideas and receive real-time feedback from more than 30 AI characters. The tool leverages OpenAI's API to provide feedback from a selection of AI characters tailored to specific audience profiles. It aims to help users validate their product or service demand, assess risks, and adapt their concepts to meet their audience's needs better.
Source – Feedback By AI
What We Like About The Tool
OpenAI API Integration: Use OpenAI's powerful API for accurate and personalized feedback on writing or communication styles.
Unlimited Character Submissions: Enjoy the freedom to submit unlimited text for feedback.
Character Descriptions: Choose from a list of AI characters with distinct profiles to get feedback tailored to their target audience.
Bookmark Feature: Easily save and revisit submissions to track changes and improvements.
Use Cases
Product/Service Validation
Business Writing
Pricing
The tool comes with a free trial and has a starting price of $25 per month.
Customer Review
Source – Product Hunt
Designing and Prototyping
The journey from a rough sketch to a polished prototype is often fraught with revisions, second-guessing, and a cloud of 'what-ifs.' This is where many innovators experience a design crisis, struggling to move forward without a clear blueprint.
But with generative AI tools, you can use dynamic templates, real-time simulations, and iterative design capabilities that make the process not only efficient but also inspired. The standout tools that have significantly streamlined the design and prototyping stage for innovators are:
16. Uizard
Uizard revolutionizes UI design by swiftly transforming text, sketches, or wireframes into custom components for web and mobile apps. Powered by AI, it offers both automation and customization—making design effortlessly simple.
Source – Medium
What We Like About The Tool
Drag-and-Drop Editing: Enjoy a user-friendly interface that appeals to both newcomers and experienced designers.
Real-time Collaboration: Facilitate team-based work with multiple people on a design project simultaneously.
Templates and Components: Choose from a wide array of pre-made templates and UI components for rapid design.
Prototype Conversion: Transform wireframes or sketches into fully interactive prototypes.
Text Design Automation: Handle the design of text elements automatically.
Use Cases
Rapid Prototyping
Heatmap Prediction and Analytics
Automated UI Generation
Text and Theme Creation
Pricing
The tool is available with a free trial and starts at $12 per month.
Customer Review
Source – Youtube
Case Study
Joana Čižinauskaitė, Founder of Know Your Food, built mockups for their mobile app in 1 hour and a half with the help of Uizard AI. 
17. Galileo
Galileo AI is a transformative tool in the field of User Interface (UI) and User Experience (UX) design. It leverages advanced AI technology to convert natural language prompts into high-fidelity user interfaces.
The tool offers a suite of templates and components that enable innovators to quickly experiment with various design elements, reducing the time usually spent on creating elements from scratch. Its prototype conversion feature allows designers to transform wireframes or static designs into fully functional, interactive prototypes. This is invaluable for testing the user experience before development starts.
Source – Galileo
What We Like About The Tool
Natural Language Prompts: Use simple text to generate complex and high-quality UI designs.
Editable in Figma: Edit any generated design in Figma, a popular design tool.
AI-Generated Illustrations: Personalize your designs with AI-generated visuals that match your style.
Time-Saving: Automate repetitive tasks, such as generating recurring UI patterns for increased efficiency.
Use Cases
Rapid Prototyping
Mobile App Design
Product Management
e-Commerce Platforms
Pricing
Offers a free trial with a starting price of $2/month.
Customer Review
Source – Linkedin
18. Midjourney
Midjourney AI is revolutionizing creating product concepts by turning natural language text prompts into high-quality, customizable art. Operating through a Discord server, this AI-driven platform makes art creation accessible to everyone, requiring no artistic skill from the user.
With applications ranging from advertising and design to entertainment and virtual reality, Midjourney AI offers a ground-breaking way to produce visual content on-the-go.
Source – Linkedin
What We Like About The Tool
Text-to-Image Generation: Automatically generate multiple variations of high-quality, photorealistic images in minutes.
Style Mimicry: Tailor the generated images to mimic desired artistic styles.
Image Refinement: Refine and reshape generated images, offering various possible outcomes.
Community Support: Leverage an active Discord community that offers tips, support, and ideas, enhancing the user experience.
Use Cases
Virtual Reality
Design and Architecture
Advertising
Pricing
The tool comes with a free trial, and the paid plans start from $10/month.
Customer Review
Source – G2
19. Visualize AI
Powered by state-of-the-art AI algorithms, the Visualize AI platform can convert your initial sketches into detailed, ready-to-present prototypes in mere seconds. With a gallery of over 100 styles, themes, and color palettes, it's engineered to fuel creativity and streamline the design process.
Source – Visualize AI
From conceptualizing new architectural marvels to iterating product designs and reimagining interior spaces, VisualizeAI is the all-in-one solution that integrates seamlessly into your creative workflow.
What We Like About The Tool
AI-Based Prototyping: Use advanced AI models to convert sketches into detailed designs and prototypes within seconds.
Broad Style Selection: Choose from over 100 style options, themes, and colors to make each design uniquely yours.
Rapid Configuration: Upload your input image and configure desired styles, themes, and colors within seconds.
Use Cases
Product Prototyping
Style Exploration
Client Proposals
Collaborative Design
Pricing
Starting Price: $18.07/month
Customer Review
Source – Product Hunt
20. Fermat
Fermat stands out as an essential platform revolutionizing the creative process by offering versatile features, from brainstorming to content creation to filmmaking.
With its tailored workspaces, community engagement, and generative AI capabilities, Fermat is not just a digital canvas but a comprehensive ecosystem designed to amplify your creativity and transform ideas into production-ready designs.
Source – Fermat
What We Like About The Tool
AI-Powered Creative Tools: Diverse range of AI tools for brainstorming, content creation, filmmaking, concept art, and writing.
Tutorials and References: Extensive educational material to guide users through their creative journey.
Community Engagement: A dedicated community page allows for sharing ideas and collaborative opportunities.
Generative AI Capabilities: Unlimited possibilities for creative workflows with its generative AI technology.
Use Cases
Brainstorming
Professional Workflows
Collaboration
Pricing
Custom Quote Available
Customer Review
Source – Linkedin
Take the Leap with Generative AI Today!
Generative AI tools have emerged as frontrunners in powering innovation. These platforms combine human intuition with AI efficiency, streamlining creative processes and maximizing idea generation. Their adaptability and efficiency are unmatched, saving you time and elevating the quality of your output.
To make your exploration of these tools as easy as possible, we've prepared a downloadable list complete with access links for each tool mentioned in this article.
How the TIP ToolTM can Fuel the Innovation Culture?
Securing patents is crucial for safeguarding your groundbreaking, innovative ideas. The TIP Tool™ offers a robust solution to streamline idea and patent management in the following ways:
Centralized Repository: Provides a single place to collect, manage, and track all your innovative ideas.
Patentability Prediction: Offers a unique feature that predicts a 'patentability score' for your innovation, guiding your next steps.
Journey Tracking: Keeps tabs on the complete journey from the ideation phase to patent acquisition.
Cost Estimation: Provides end-to-end patenting cost predictions to help you budget effectively.
Portfolio Overview: Gives you a quick overview of your entire patent portfolio with just a single click.
With these features, the TIP Tool™ not only manages your intellectual property but also empowers your innovation journey from start to finish.
Try out the TIP Tool™ to fortify your innovations with strategic patent management.
Table
| | | | | | |
| --- | --- | --- | --- | --- | --- |
| | Name Of The Tool | Use Case | Free Trial | Price | Link |
| | Miro AI | Brainstorming and Ideation | Yes | $8/month | Miro AI |
| | Whimsical AI | Brainstorming and Ideation | Yes | $10 per editor/month | Whimsical AI |
| | Stratup.ai | Brainstorming and Ideation | Yes | $15/month | Stratup.ai |
| | Slatebox AI | Brainstorming and Ideation | Yes | $6/month | Slatebox AI |
| | Seenapse | Brainstorming and Ideation | No | $25/month | Seenapse |
| | Kraftful | User Research and Market Analysis | Yes | $0.15/credit | Kraftful |
| | Notably | User Research and Market Analysis | No | $25/month | Notably |
| | Aomni | User Research and Market Analysis | No | $49/month | Aomni |
| | Rationale AI | User Research and Market Analysis | Yes | $9.99/month | Rationale AI |
| | UserDoc | User Research and Market Analysis | Yes | $12/month | UserDoc |
| | User Evaluation | User Research and Market Analysis | Yes | $39/month | User Evaluation |
| | Research Studio | User Research and Market Analysis | Yes | $8/month | Research Studio |
| | Dime A Dozen | Testing and Validation | Yes | $0.50 to $4.00 | Dime A Dozen |
| | Validator AI | Testing and Validation | – | Custom quote | Validator AI |
| | Feedback By AI | Testing and Validation | Yes | $25/month | Feedback By AI |
| | Uizard | Designing and Prototyping | Yes | $12/month | Uizard |
| | Galileo | Designing and Prototyping | Yes | $2/month | Galileo |
| | Midjourney | Designing and Prototyping | Yes | $10/month | Midjourney |
| | Visualize AI | Designing and Prototyping | No | $18.07/month | Visualize AI |
| | Fermat | Designing and Prototyping | – | Custom quote | Fermat |