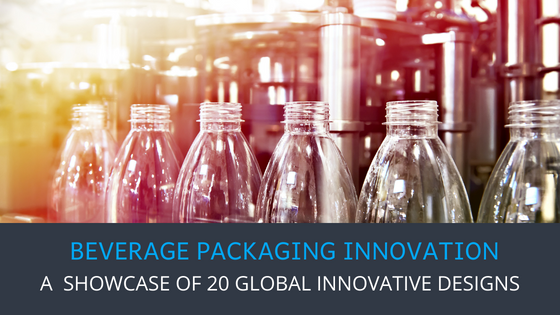 The global beverage packaging market is set to reach $175.26 billion by 2025. What's driving this growth? Innovation. 
Packaging is more than just holding a product—it's a brand's silent communicator. Today's beverage packaging uses innovative and sustainable materials combined with effective designs to do more than just contain. It represents a brand's identity, values, and commitment, making a lasting impression on consumers.
With trends like sustainability and customization continuing to evolve, it's no longer enough to have an excellent beverage product—you need compelling beverage packaging to match.
In this article, we'll showcase 20 examples of redefining the future of the beverage packaging industry.
Let's get started!
1. KISSD – KISSD Water Cucumber
KISSD Water Cucumber is an eco-friendly beverage packaging innovation that speaks directly to the modern consumer's conscience. Packaged in an 88% plant-based, fully recyclable cardboard carton made from sustainable paper and sugarcane, KISSD is breaking away from the usual plastic bottles that are bad for the environment.
Source- KISSD
Even the cap is ingeniously designed from sugarcane leftovers, making it not only renewable but conscientiously sourced. The carton itself is designed for easy separation of its top and base portions, ensuring maximum recyclability.
2. Wise Wolf by Banrock Station
Wise Wolf by Banrock Station, designed by Denomination, is a noteworthy example of integrating sustainability and transparency into beverage product packaging. The brand utilizes 100% post-consumer recycled glass for its bottles, 100% recycled paper for labels, and 100% recycled plastic for closures. In total, 95.1% of the packaging is made from recycled materials and is designed to be recycled again.
Source- ProPack
The packaging design is inspired by the ecological impact of reintroducing wolves into Yellowstone Park, symbolizing a return to natural balance. Unique bottle shapes and a QR code on each label direct consumers to further information about sustainability practices, emphasizing the brand's transparency.
3. GUNNA Drinks
GUNNA Drinks, a UK-based soda brand, has taken a radical step in beverage packaging by launching the country's first range of soft drinks in aluminium bottles. The bottles come in a larger, resealable 500ml format, significantly reducing the plastic waste associated with typical 330ml single-use plastic bottles. 
Source- Packaging Europe
The initiative responds to dual consumer demands for sustainability and wellness, as the drinks offer immune-boosting benefits and are free from artificial additives. By taking such a pioneering step, GUNNA Drinks serves as a compelling model for other beverage companies considering packaging innovation for sustainability and consumer health.
4. KeelClip™ for Liberty Coca-Cola Beverages
Liberty Coca-Cola Beverages has just introduced a groundbreaking innovation in the United States—the KeelClip™ packaging system. This ingenious fiber-based technology is a first-of-its-kind solution, effectively replacing plastic ring holders on can multipacks.
Source- The Packaging Portal
Making remarkable strides in sustainability, it's estimated that the KeelClip™ system will remove 75,000 pounds of plastic annually from the supply chain, affecting approximately 3.1 million cases. Initially proven successful in Europe, the technology has been implemented across New York, Connecticut, New Jersey, Philadelphia, and Delaware.
Winning 10 industry awards globally, KeelClip™ is the epitome of sustainable packaging, offering a brilliant example for innovators planning to undertake similar eco-friendly initiatives.
Also Read: 10 Trailblazing Companies Leading the Way in Innovative Culture 
5. Teakoe Fizzy Tea
TEAKOE's recently rebranded Fizzy Tea packaging launch is another example of beverage packaging innovation. Developed in collaboration with Denver-based Lamora Design, the new packaging is rooted in sustainability and better-for-you options.
Source- TEAKOE
Inspired by athletics of the '70s and '80s, each tea flavor is given a distinct "uniform" instead of a standard wrap. The design strategy adds visual appeal and effectively communicates the brand's "Recreational Refreshment" core message.
One of the standout features of their packaging is the use of aluminum cans, a conscious choice driven by sustainability. These cans are 100% recyclable, aligning with the emerging focus on environmental responsibility in packaging. Additionally, the design promotes the removal of these "uniforms" to facilitate more sustainable recycling practices.
6. El Bocoy de José Páez Whiskey
The El Bocoy de José Páez Whiskey packaging program secured a Best In Class Award at the 2023 Pac Global Awards for its exceptional focus on premium, luxury branding. Designed through collaborative efforts in Milan and Seville, the packaging combines tradition with modern aesthetics.
Source- Berlin Packaging EMEA
It features a glass bottle adorned with a contemporary graphic line that enhances the visual appeal of the whiskey. Adding a touch of vintage charm, the bottle is sealed with a carved, stained-wood barrel-shaped closure. Complementing this is a recyclable canister made of paperboard and metal, echoing the bottle's design scheme. The program is particularly instructive for innovators looking to engage younger audiences without sacrificing heritage or quality.
7. Pulpoloco Sangrias
Pulpoloco Sangria stands out in the crowded beverage industry with its eco-friendly CartoCan® packaging. This 250-mL aseptic paper Can offer colorful, mosaic-like graphics that not only catch the eye but also signify a commitment to environmental responsibility. It uses 30% less material compared to traditional aluminum or PET cans and is composed of 60% Forest Stewardship Council-certified paper, making it a paradigm of sustainability.
Source- Packaging World
Reducing CO2 emissions by 20-60% compared to alternative packaging, CartoCan also boasts a 12-month shelf life without the use of preservatives and is fully recyclable. This disruptively sustainable packaging appeals to a new generation of consumers who want quality and environmental responsibility.
8. Ardagh Glass Packaging – AbsolutVoices
For innovators seeking to make strides in both design and sustainability, Ardagh Glass Packaging – AbsolutVoices sets an inspiring precedent. The program is a collaboration between Ardagh Group and Absolut Vodka, and it recently received the Best Glass Design at the World Beverage Innovation Award, held during the drinktec exhibition in Munich.
The AbsolutVoices bottle is an eye-catching sapphire-blue vessel containing 80% recycled glass and featuring a unique, 360-degree embossed sound waves design. Beyond visual appeal, the initiative stands as a testament to sustainable manufacturing. Located in Limmared, Sweden, Ardagh's glass production facility aims to shift towards hydrogen energy-fired furnaces, reducing the reliance on fossil fuels.
Source- ARDAGH GROUP
A significant aspect of the project is Absolut's goal of achieving complete CO2 neutrality by 2030. With the production set to commence in late 2023, the AbsolutVoices initiative is expected to cut Absolut's glass-related carbon footprint by 20%.
9. Yili's Satine No Printing No Ink Environmental-friendly Edition
Yili's "Satine No Printing No Ink Environmental-friendly Edition" won the 'Best Packaging Design' at the World Food Innovation Awards 2023.
Source- FoodBev Media
Instead of using traditional ink, the company laser-prints all product information directly onto a plain white carton. Crafted with a commitment to low-carbon and eco-friendly materials, the cartons are made of FSC-certified packaging materials to support forest conservation, while the caps are innovatively made from plant-based materials, specifically sugarcane. Even the outer boxes have paper handles instead of plastic ones, saving 260 kg of plastic for every 100,000 boxes.
10. Bespoke glass packaging for BOL Power Shakes
BOL Foods, in collaboration with Beatson Clark, has introduced a stellar innovation in beverage packaging with their new bespoke glass bottles for BOL Power Shakes. These aren't just any bottles; they're a paradigm of sustainable design, containing over 40% recycled content and manufactured in the UK to reduce the carbon footprint.
Source- Glass Worldwide
Driven by consumer insights, the bottle boasts a narrower neck for an enhanced drinking experience and a larger, wrap-around label offering more space for branding and information.
What sets it apart is the embossed BOL messaging, giving it a uniquely personalized touch. Elevating the customer experience, the premium glass packaging also encourages reuse, aligning with BOL's sustainability hashtag, #dontwastecreate.
Also Read: 50 Best Books on Innovation That Will Fuel Your Creative Fire
11. Basil Hayden Bourbon
In a market swamped with traditional aesthetics, Basil Hayden Bourbon has set itself apart through clever packaging aimed at resonating both locally and globally. Undertaken by Design Bridge and Partners, the redesign places the metal "belt," a unique, copper-and-silver-toned band around the bottle, front and center.
Source- Designalytics
They also simplified the label, changing it from beige to white to make the bottle easier to spot on shelves. The rebranding has paid off, driving a 15% surge in sales and market share, perfectly aligning with the burgeoning bourbon boom in the United States and ambitions for global reach.
12. Dogfish Head Brewery Scratch'n'Sniff Hoppy Variety Pack
Dogfish Head Craft Brewery, a nationwide brand, broke new ground in the craft beer market with their "Scratch'n'Sniff Hoppy Variety Pack." In collaboration with Graphic Packaging International, they introduced an interactive packaging feature that takes the beer experience to the next level.
The carton has a scratch-and-sniff element infused with real hop oils, allowing consumers to smell the hop flower scent before purchase. It's a game-changer at the point of sale, making the brand stand out in a crowded market.
Source- Craft Brewing Business
Adding to its appeal, the carton is made of 100% recyclable AquaKote™ paperboard that performs well in both humid and dry conditions. This sustainable, interactive packaging not only engages the senses but also underscores the brand's commitment to quality and the environment.
13. Hunt and Brew – Cold Brew Coffee
Hunt and Brew, the award-winning Australian boutique coffee maker, distinguishes itself with a holistic approach to sustainability and quality. Partnering with Pact Group, the company's cold brew beverages are now packaged in 100% recycled and recyclable plastic bottles, aligning with consumer concerns about single-use plastics. Notably, even the bottle caps are recycle-ready, with the entire bottle repurposed in Australia's end-to-end PET recycling facility.
Source- Packaging Of The World
On the flavor front, Hunt and Brew's cold brew coffee has no added sugar and sources local beans from Far North Queensland, further reducing its environmental footprint. Boxer & Co.'s striking design features tattoo-style illustrations of iconic animals from the coffee regions, targeting the 'modern man' who appreciates both quality brew and design aesthetics.
14. Synlait Swappa Bottle (Synlait Milk Limited)
Swappa Bottle offers consumers 1.5 liters of locally sourced homogenized milk in a reusable, food-grade stainless steel bottle. Designed for durability, ease of use, and minimal environmental impact, each bottle features an embossed Synlait logo, ergonomic finger holds, and an easy-pour mouth. A unique QR code on the bottle's base allows consumers to track the bottle's history, including fill and expiry dates.
Source- Tin Morrison
Awarded the gold for Beverage Packaging Design of the Year at the Australasian Packaging Innovation & Design Awards, Swappa Bottle is Synlait's answer to New Zealand's growing concern for plastic waste. By focusing on a refillable and reusable packaging solution, Synlait sets a new standard for sustainability in the beverage industry.
15. Norco 100% rPET Milk Bottle
Norco has set a new standard in sustainable packaging with its 100% food-grade rPET milk bottles. Winning the esteemed 2023 Worldstar Packaging Award in the beverage category, Norco's innovation drastically cuts down on virgin plastic by 125 tonnes per annum.
Source- PKN Packaging News
The environmental benefits are staggering—annually saving 215.21 tonnes of CO2 emissions, preserving 10,951.7 liters of water, and reducing 12.26 tonnes of solid waste. These numbers transcend the 2025 Australian Packaging Covenant Organisation's (APCO) target for the milk category, which calls for just 30% recycled content.
Both the bottles and their lids are recyclable, backed by the Australasian Recycling Label (ARL), and are part of a B2B closed-loop program that ensures bottle recycling. This initiative serves as a remarkable benchmark for innovators aiming to merge sustainability with functionality in packaging.
16. Korinthian Spirits
Korinthian Spirits offers a great mix of taste and sustainability in its alcoholic drink. Offering a range of artisanally crafted White Extra Dry London Gin, Spiced Rum, and Breton Vodka, the brand delights the palate while championing eco-friendly practices.
Source- The Food Shows
What made Korinthian Spirits special is its innovative bottle design—10 times lighter than traditional glass bottles, it slashes the brand's carbon footprint by up to 80%. The lighter weight not only contributes to decreased emissions but also offers potential cost savings in transportation.
17. Two Drifters
Based in Devon, this carbon-negative brand worked with Here Design to revolutionize its identity and packaging. They've produced a bottle that's 30% lighter than its previous version, further reducing its carbon footprint. But it doesn't stop there; the packaging features a myriad of eco-friendly elements. From 100% compostable seals to labels made from 95% sugarcane fiber and FSC-certified wooden tops, every aspect is designed to be sustainable.
Source- Sustainable Packaging News 
Even the production process is green and runs on 100% renewable energy. A nifty label detail reveals the tons of carbon they've removed from the atmosphere, updated with each print run.
Also Read: 5 Top Enterprise Innovation Software to Checkout in 2023
18. Kadoya Citrus Juice
Kadoya Citrus Juice's packaging is all about making simple look amazing. Designed by Minako Endo, the bottle is covered with an orange net. This net does two things: it protects the bottle and enhances the juice's color, turning the bottle into a visual feast. The label is easy to understand and feels old-school in a good way, showing pictures of fresh citrus fruits.
Source- Dieline
With a focus on essential messaging, Kadoya's packaging lets you know exactly what you're getting: pure, high-quality citrus juice. A masterpiece of design and simplicity, it's both eye-catching and comforting to consumers.
19. Vina Prebiotic Soda
VINA Prebiotic Soda nails it with a packaging design that's as unique as its ingredients. Created by HERE Originals, the can is decked out in bright, bold colors and organic shapes that make it pop on any shelf.
Source- Marlene's Market and Deli
The design blends luxury and street style, inspired by a mix of high-art influences and DIY punk flair. It feels both high-end and relaxed, just like the soda inside. The packaging screams wellness and calm but with a trendy, fun twist.
20. Unusually Good Apple Cider
The company disrupts traditional juice aisle aesthetics by opting for a design that is both playful and meaningful. It embraces the concept of upcycling imperfect apples and incorporates this directly into its packaging.
Cartoon-like, imperfect apple characters serve as the primary visual elements, contrasting sharply with the typical 'perfect apple' images seen on most cider packages. The bold red characters stand out against a pink background, effectively capturing consumer attention.
Source- Packaging Of The World
Additionally, the typography is custom-designed to have an unusual, whimsical flow, adding another layer of uniqueness. This not only aligns with the brand's ethos but also serves as a design cue for consumers about the product's distinctiveness.
Founded by students with a passion for positive change, this youthful energy is evident in every aspect of the design. Overall, the packaging successfully combines attention-grabbing visuals with a strong, socially responsible message.
Ready For Your Next Big Move In Beverage Packaging?
Innovation in beverage packaging is a multi-faceted approach that combines eco-friendliness, cultural relevance, simplicity, and social responsibility. As we've seen:
Eco-friendly materials not only reduce environmental impact but also cater to a conscious consumer base.
Incorporating local and cultural elements can create a deeper connection with customers.
Simple yet striking designs can effectively communicate your brand's essence and make your product pop on retail shelves.
Social responsibility can be creatively woven into your packaging, amplifying your brand's ethical stance.
If you're eager to embark on your innovation journey in beverage packaging, having the right tools to manage your intellectual property is crucial. That's where the TIP Tool™ comes in. This platform simplifies the complex world of patent management by offering:
A streamlined invention disclosure form makes it easier for innovators to submit their ideas.
Seamless collaboration among experts with features like simultaneous editing, commenting, and tracking.
Customized dashboards that offer a comprehensive view tailored to the needs of inventors, managers, and patent practitioners.
Advanced patent analytics for making informed decisions about your intellectual property.
Ready to get started? Explore the TIP Tool™ to take your beverage packaging innovation to the next level.