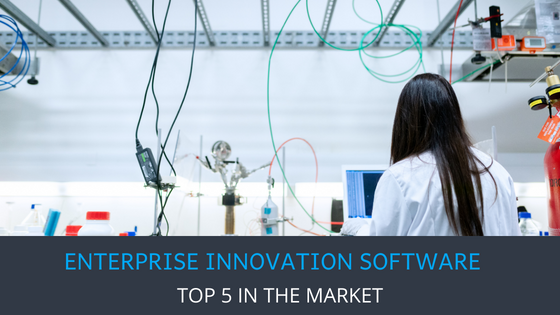 Employers who turn to enterprise innovation software often do so because they struggle to manage patentable ideas using generic tools like Jira, Salesforce, and Asana.
Although you can configure these tools to meet the specific needs of any business, they are not built to handle patentable ideas.
So enterprises need a tool that offers the following features:
Enterprise-wide innovation capture
An inventor-friendly and customizable idea capture form to improve the quantity and quality of invention disclosures
Idea tracking across various stages of the patent pipeline – idea capture, internal vetting, patent drafting, patent filing
Real-time collaboration for thorough vetting of ideas to select only the promising ones for patenting
Prediction on likelihood of getting a patent
Automatic USPTO status updates
Access to patent counsel, examiner, and art unit analytics to make informed decisions while prosecuting patents
A holistic view of the idea and patent pipelines to identify and eliminate bottlenecks
Informative dashboards to track KPIs of innovators
One-click view of complete patent portfolio
The biggest advantage of using enterprise innovation software is that it helps you manage innovation in a way that aligns with your company's broader strategic goals and objectives.
In this post, we run through the key benefits of using the TIP ToolTM by Triangle IP for startups, individual inventors, small-to-medium-sized enterprises, and patent practitioners, then discuss some alternative enterprise innovation software solutions.
You can register for free to see exactly what you can do with Triangle IP.
5 Top Enterprise Innovation Software (2023): Introduction, Reviews & Pricing
The path from ideation to obtaining a patent is a multifaceted process that comprises distinct stages, such as capturing the initial idea, conducting internal evaluations, drafting the patent, and filing for it. At each stage, there are specific obstacles that you need to overcome to identify the most promising ideas and secure your patents successfully. Accessing information such as the probability of obtaining a patent, predicting the end-to-end patenting expenses, and assessing case health can significantly enhance your patent prosecution strategy.
In this post, we'll list the 5 top enterprise innovation software solutions that help you to manage your IP lifecycle more effectively, starting with the TIP ToolTM by Triangle IP.
The TIP ToolTM by Triangle IP
The TIP ToolTM by Triangle IP is an intuitive drag-and-drop tool that helps you capture enterprise-wide innovation & manage the entire patent lifecycle. The tool also assists your IP decision-making with insightful patent data analytics.
Key Benefits Offered by the TIP ToolTM:
#1 – Improve Quantity and Quality of Invention Disclosures
The TIP ToolTM provides a user-friendly invention disclosure form to actively involve innovators. With its role-based access feature, the idea submission portal is open to everyone across the enterprise, facilitating the capture of more ideas. Valuable ideas can also emerge from front-line workers, not just the R&D department.
The invention disclosure form can be tailored to suit the organization's unique requirements by incorporating modified fields that can be added, edited, deleted, or hidden.
The TIP ToolTM further enables users to display only relevant fields to a particular stage. For example, prosecutor information may not be necessary during the innovation capture stage.
The tool also allows users to tag patentable ideas using specific keywords around a particular technology, product category, or business function, enabling quick filtering of ideas.
Additionally, innovators can attach supplementary materials such as documents, slide decks, or other information that better illustrates their innovations.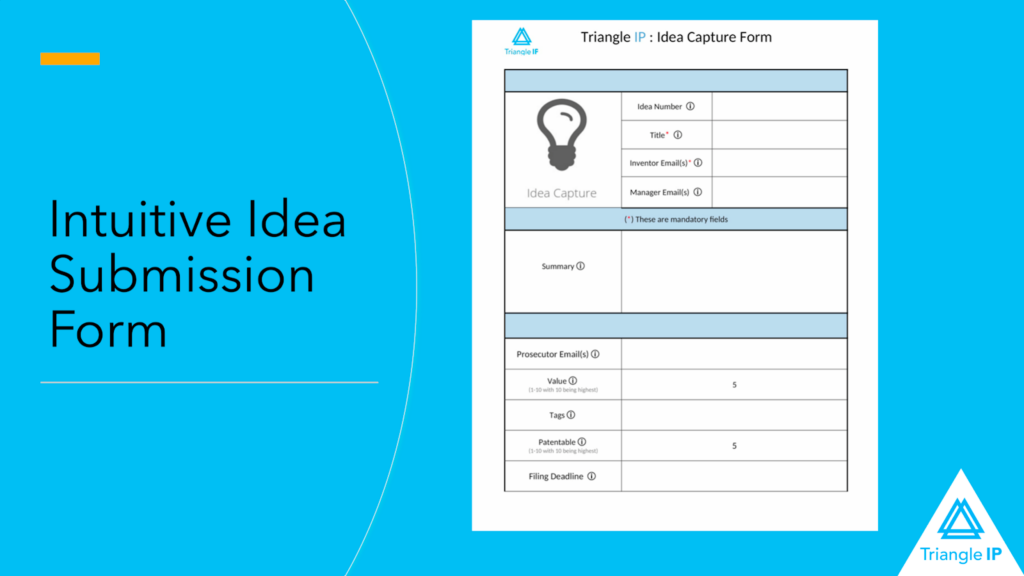 #2 – Gain Visibility Into Different Stages of Your Patent Pipeline
The TIP ToolTM allows users to effectively monitor the progress of their ideas as they move through different stages of the IP lifecycle – idea capture, internal vetting, patent drafting, and filing.
The tool ensures that users are always informed about the status of their ideas, whether they are being evaluated or in the process of being passed on to a patent counsel for drafting or filing.
Moreover, the TIP ToolTM enables users to effortlessly move their ideas through various stages of development using their drag-and-drop feature.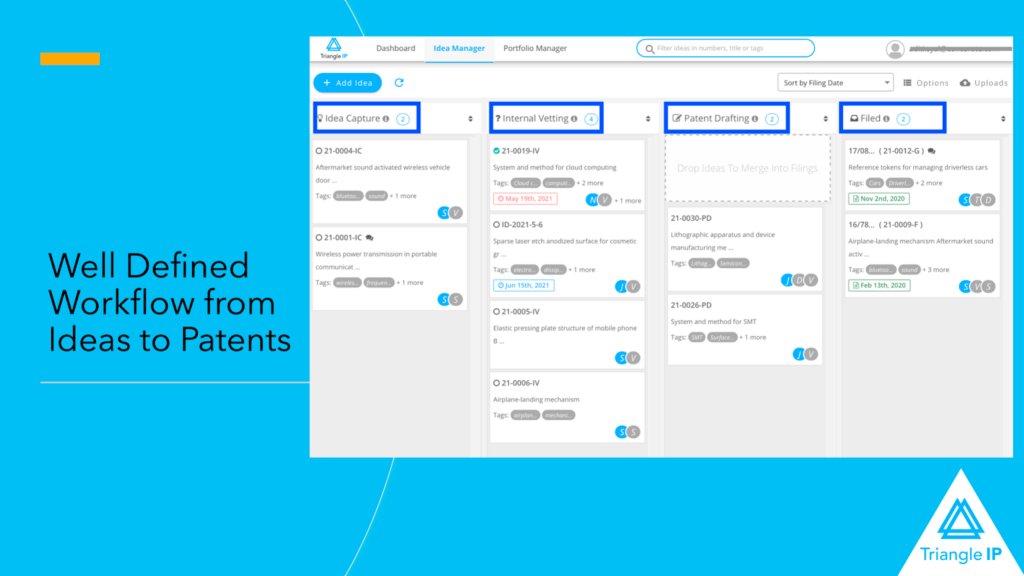 #3 – Brainstorm Ideas With Stakeholders on Real-Time Basis
The TIP ToolTM allows users to brainstorm and discuss ideas with inventors, prosecutors, and managers working in remote locations and collaborate in real-time.
The tool facilitates a comprehensive vetting process to ensure that the most promising ideas are selected for patenting.
In an online meeting for brainstorming over patentable ideas, collaborators can pull up the TIP ToolTM. They can edit idea summaries, add tags and review comments to capture the best thinking within your enterprise. It's as easy as working with Google docs.
Not to mention the TIP ToolTM keeps track of all the changes made to the idea summary and the details of the person who made the changes.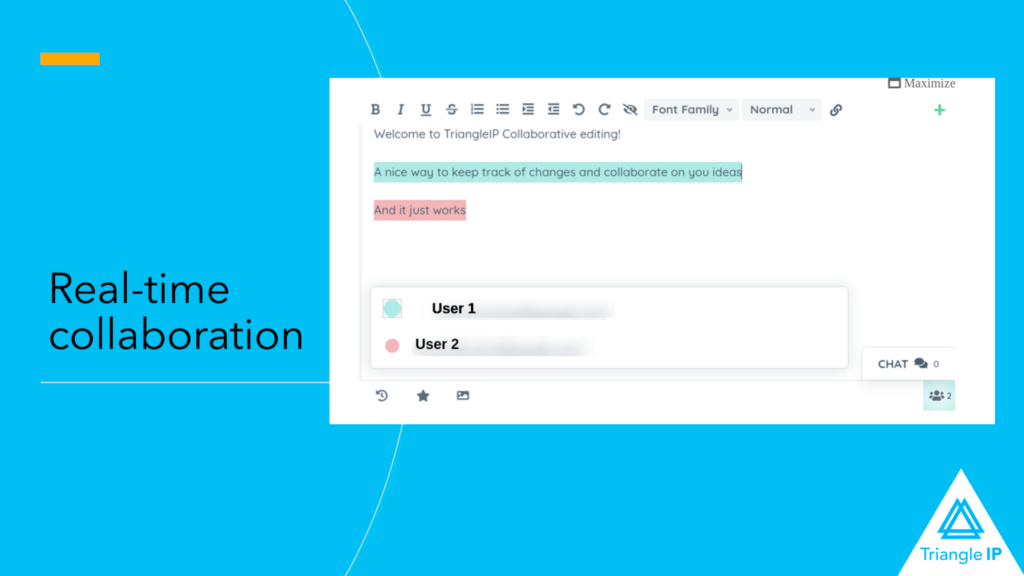 #4 – Allocate Your IP Budget Wisely
The TIP ToolTM offers patent analytics that can help you make informed decisions while allocating a budget for patenting.
With the TIP ToolTM you can know the probability of getting your idea patented and predict the costs associated with obtaining a patent over the years, including filing fees, attorney fees, and maintenance fees.
Such actionable intelligence allows you to allocate your IP budget based on predicted patent costs and protect only your greatest inventions with patents.
Additionally, the TIP ToolTM can help you determine the likelihood of success at the patent office by studying millions of applications. Such data helps you make informed decisions about which inventions to patent, enabling you to focus on ideas with a higher chance of approval.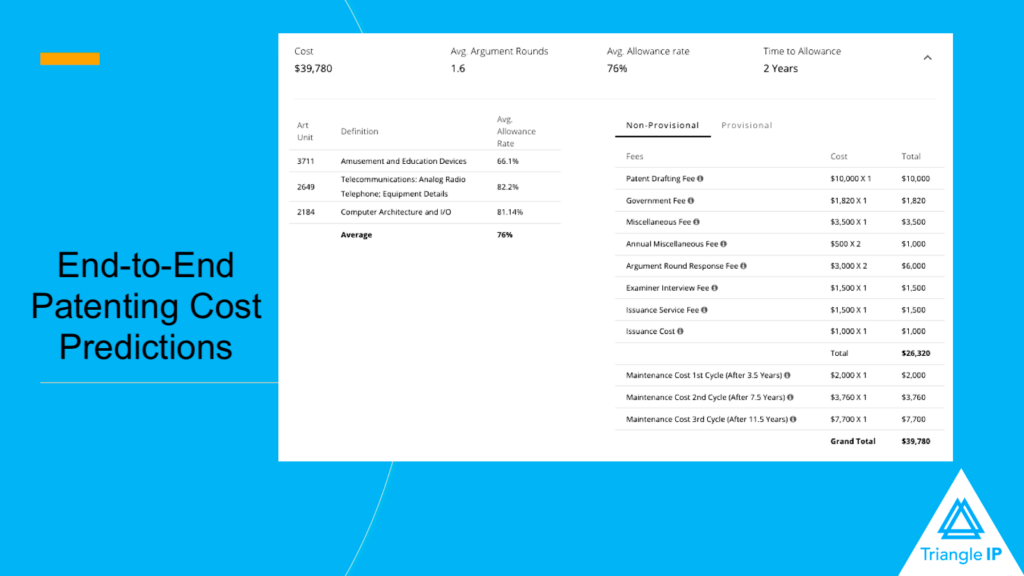 #5 – Get Automatic USPTO Status Updates
The TIP ToolTM tool automatically lets users stay updated with the status of their published and unpublished patent applications at the USPTO. So they no longer have to rely on external legal counsel to stay in sync with USPTO.
With the TIP ToolTM, users will receive instant notifications of any required action from the USPTO.
Moreover, users can also access the patent applications that have been filed at the USPTO but not yet published by initiating the Private PAIR scrape feature.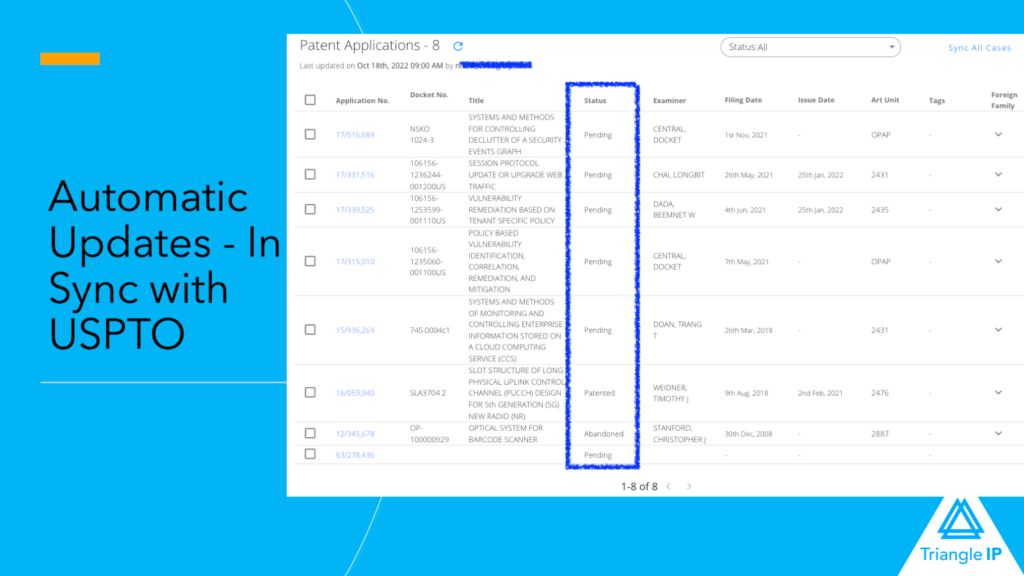 #6 – Speed Up Your Patent Prosecution
The TIP ToolTM offers statistics on the patent counsel and the examiner handling your case. After filling out the application, the USPTO assigns an examiner to determine whether the invention as claimed complies with all statutory requirements.
During this process, the TIP ToolTM tracks and displays the patent counsel's relative performance in managing your case. The statistics revolve around allowance rate, an average number of rounds of argument to help estimate the cost and the difficulty of the prosecution process.
The tool also offers patent analytics indicating how your patent case scores against other applications in the same art unit, with the same patent examiner, handled by the same patent counsel, etc.
Such insights from the TIP ToolTM help you discuss your patent applications better with your patent counsel.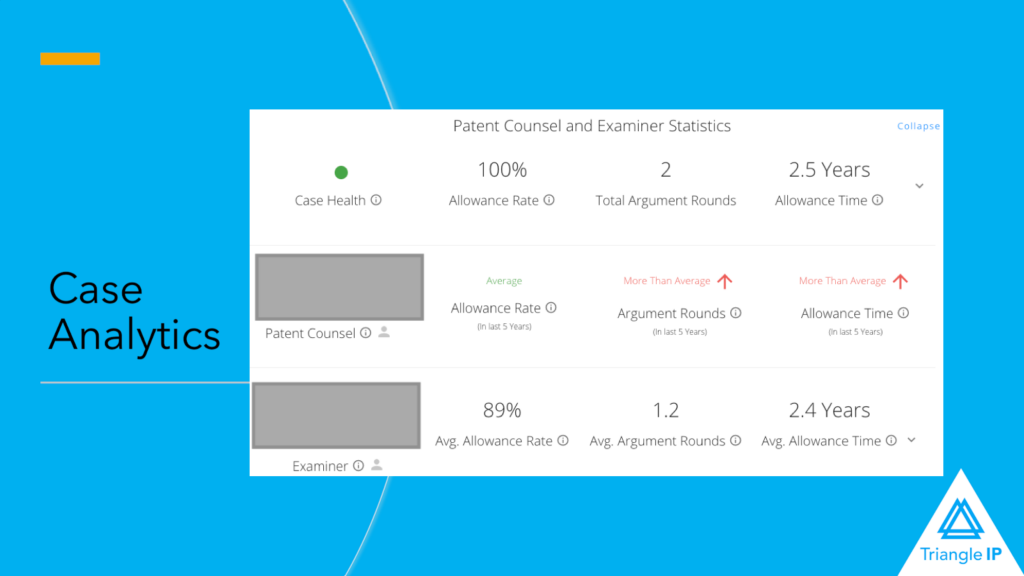 #7 – Get a Holistic View of Your Idea and Patent Pipeline at a Glance
The TIP ToolTM user-friendly dashboard provides an overview of your idea and patent pipeline enabling you to monitor your team's activity, including inventor and manager involvement, filed applications, and patents.
You can view a list of all your team's submitted ideas and filed patents and see which innovators are leading the way. Moreover, the TIP tool provides role-specific access, allowing inventors and managers to monitor their IP activity and stay aligned with their KPIs.
With the TIP ToolTM, you can easily identify bottlenecks in your innovation pipeline. For example, if an idea remains in the ideation and vetting stage longer than expected, it needs your attention.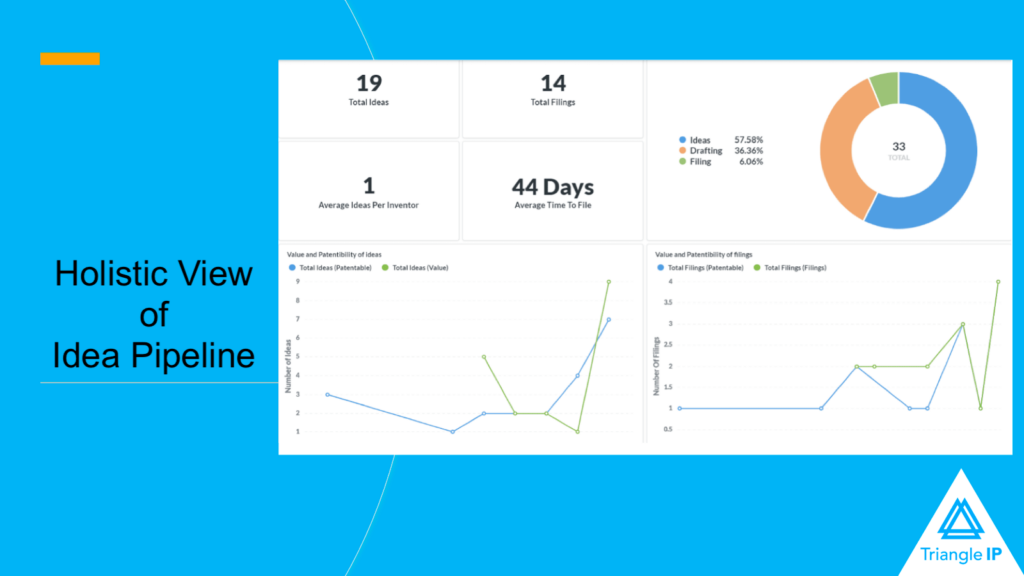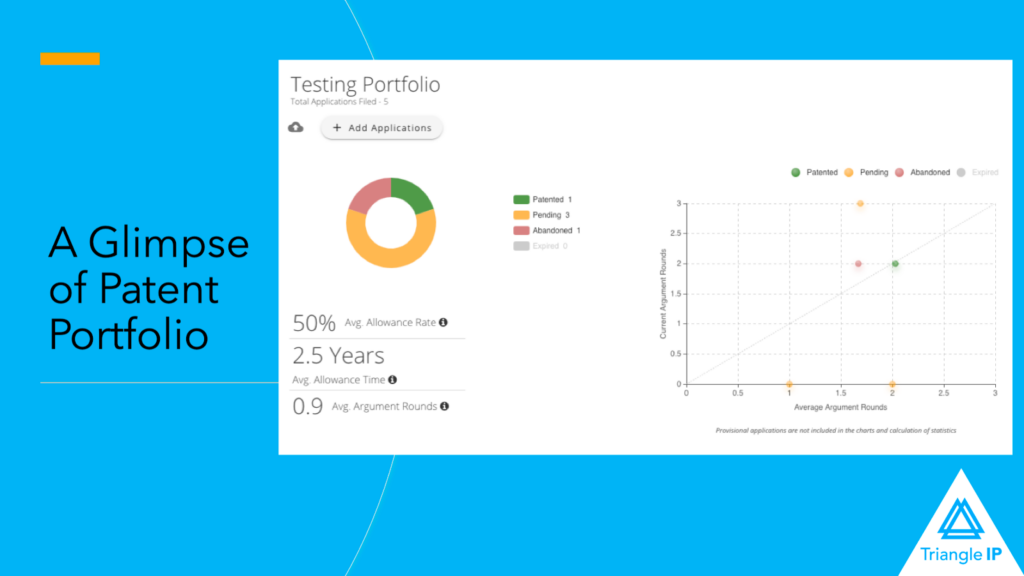 Pricing
The TIP ToolTM provides a free tier (forever, up to 10 users). Its premium tier costs $50 per month and $495 per year. The TIP ToolTM has a custom tier as well. To know more, visit its pricing page.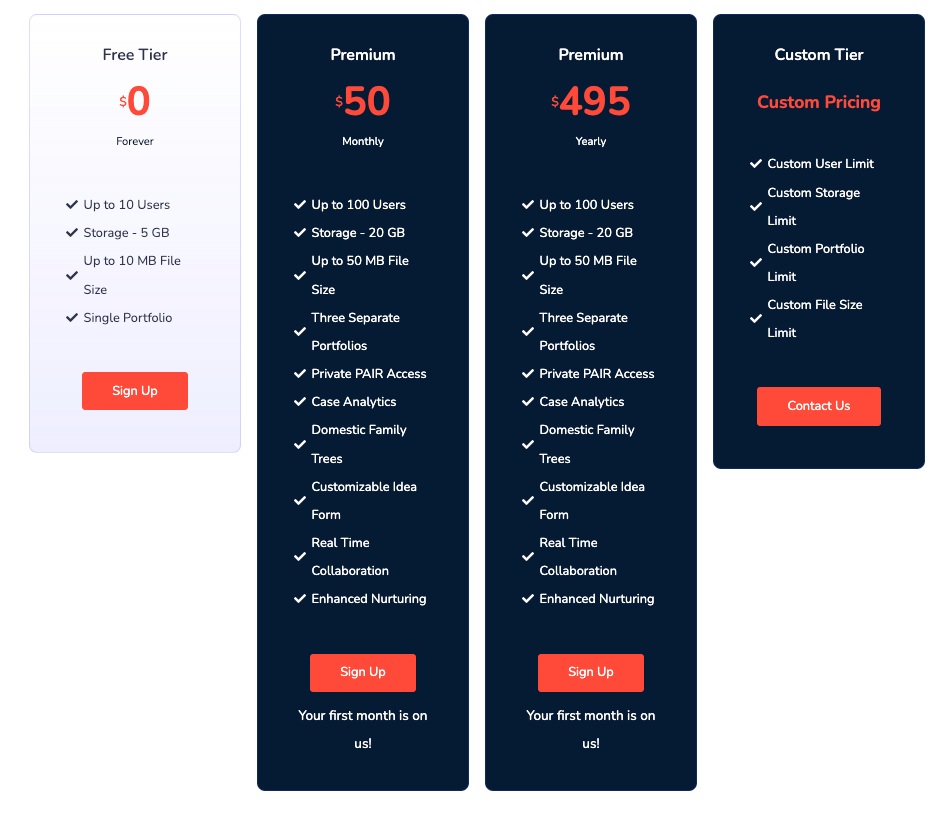 Customer Review
The TIP ToolTM has secured a 4.5 rating in G2. Here's a review from their database.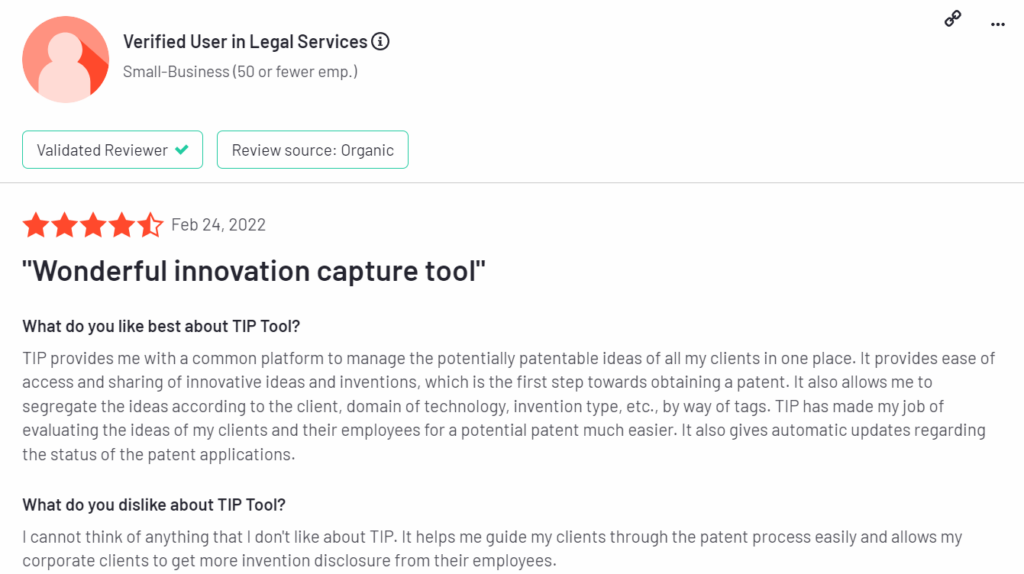 Click here to read the full review.
QMarkets
Qmarkets is an enterprise innovation software solution that offers a scalable ecosystem of solutions covering every aspect of innovation management.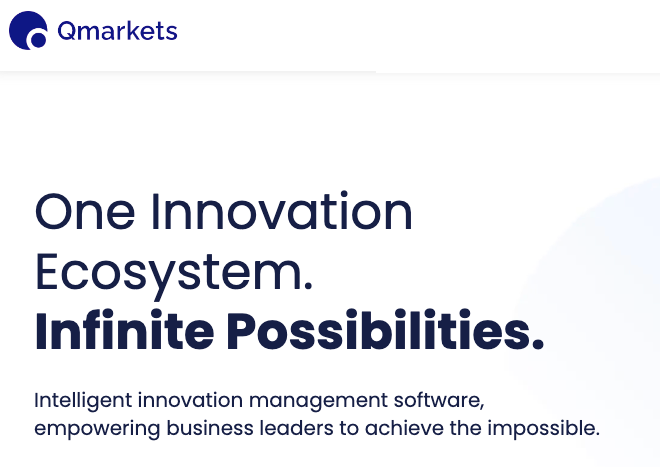 Key Benefits Offered by Qmarkets
#1 – Prioritize Customer Success
Qmarkets supercharges your project success through various supplementary services like kick-start workshops, innovation leadership workshops, organizational workshops, and data & analysis services.
#2 – Leverage Gamification
Qmarkets allows companies to leverage gamification techniques – such as 'token voting' and idea tournaments – to help increase user engagement.
#3 – Improve Employee Engagement
Qmarkets customized idea submission form encourages the submission of creative ideas.
Pros
Qmarkets product has a wide array of features and flexibility for all your innovation and idea management needs.
Pricing
Qmarkets requires you to submit the contact us form to know the pricing details.
Customer Review
You can explore the Qmarkets review on G2.
Hype Ideation
Hype ideation is an idea management software that attempts to accelerate the success of innovation with its evaluation wizard that helps businesses analyze projects based on predefined custom parameters.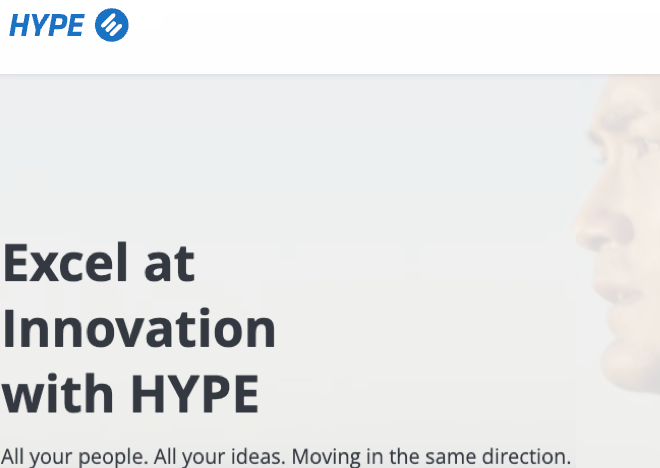 Key Benefits Offered by Hype Ideation
#1 – Take Advantage of Insights & Trends
HYPE offers insights management and integrates with a trend database, allowing you to tie trends into your innovation process to derive strategic innovation areas from them.
#2 – Collaborate With Your Stakeholders
With HYPE, you can bring together your organization's brightest minds to work on high-quality concepts.
#3 – Leverage HYPE's Expertise
HYPE's consulting team helps organizations meet these challenges by providing the necessary tools and frameworks to succeed in the ever-changing innovation world.
Pros
HYPE's knowledge and consultancy around the best ways to engage with the people in all areas of the organization are excellent.
Pricing
Pricing is currently not provided -please inquire with HYPE.
Customer Review
You can check out HYPE's review on G2.
Planview Spigit
Planview Spigit is an online idea management platform. It accelerates the success of innovation driving employee engagement, creating a culture of innovation, and providing analytics-driven insights.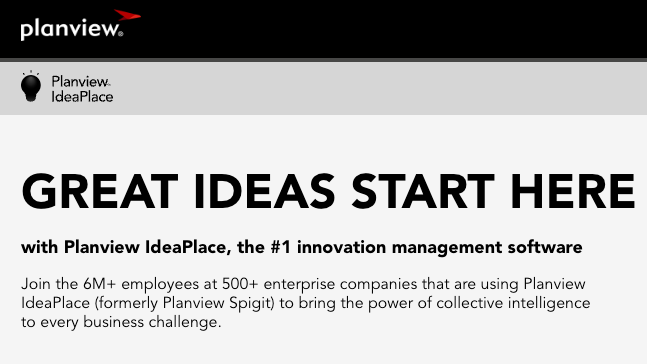 Key Benefits Offered by Planview Spigit
#1 – Utilize the Informative Dashboard
The platform provides dashboards that allow organizations to predict potential outcomes, costs, and the value of crowdsourced ideas. Planview also helps you measure how well a project performs compared to industry benchmarks.
#2 – Maximize Employee Participation
Planview Spigit's game mechanics, virtual currency, idea trading, and customizable incentives encourage participation and engagement from participants.
#3 – Prioritize Idea Evaluation With Built-in Algorithms
Planview Spigit's built-in algorithms prioritize ideas with the most potential and scalability above those submitted first or most popular in idea selection.
Pros
Planview Spigit's team provides good training to all users to manage any innovation challenge.
Pricing
Pricing is unavailable-contact Planview Spigit (now IdeaPlace) for more details.
Customer Review
You can explore Planview Spigit reviews here on G2.
edison365
Edison365 is an innovation and project delivery platform built on Microsoft 365.
The software integrates with Microsoft's ecosystem and can be used with Delve, Dynamics, Microsoft Projects, Power BI, Project Online, SharePoint Online, and Teams.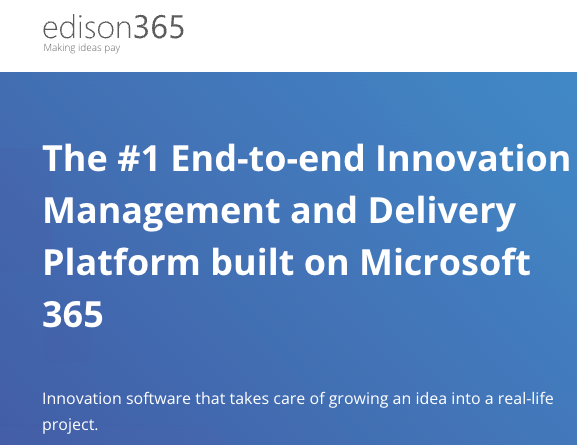 Key Benefits Offered by edison365
#1 – Use Intuitive Innovation Management Platform Built on Microsoft 365
edison365 is built with Microsoft 365-utilizing the same tools and resources that users already know. So users can start using the platform and do not require extensive training.
#2 – Enhance Employee Engagement & Innovation
edison365 helps organizations capture, evaluate, and manage ideas while engaging the workforce through gamification features.
#3 – Access Transparent Cost-Benefit Analysis for Portfolio
edison365 helps you to evaluate and justify the value of ideas by providing a transparent view of costs, benefits, resource requirements, and ROI across the portfolio.
Pros
edison365 is easy to customize according to different business requirements, along with its capacity to integrate with Power Platform, Azure, and other Microsoft 365 services.
Pricing
Pricing is unavailable-contact edison365 for more details.
Customer Review
You can check the review here in G2.
Parting Thoughts
Innovation is an essential aspect of any business, no matter which industry you belong to. But it's not easy to encourage employees to share their ideas as they often feel too shy to express new ideas.
So rewarding innovative thinking provides an excellent incentive for idea sharing.
Leigh Buchanan, a writer for Inc.com, shares a funny story about how SurePayroll offers a periodic award for "Best New Mistake." It's a way to reward innovative thinking, even if the result is less desirable.
Getting ideas from your employees helps you capture innovative ideas to take action on. Check out this step-by-step guide to launching a patent incentive program to promote innovation.
The TIP ToolTM – A Promising Enterprise Innovation Software
In this piece, we have provided in-depth information on the top 5 enterprise innovative software solutions.
So whether you run a startup, a Fortune 500 enterprise, a corporate IP team, or whether you're an individual inventor from non-IP background or a patent practitioner, there's a suitable tool for everyone.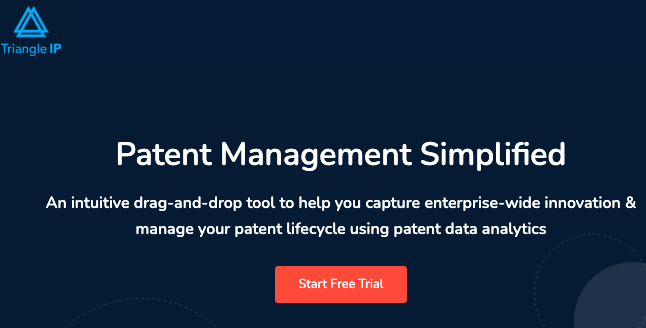 We've built the TIP ToolTM that provides the following benefits that can significantly contribute to the success of your enterprise's employee innovation program:
Utilize the TIP Tool to increase the number of invention disclosures received by using its straightforward and user-friendly idea capture form, which is easily accessible to innovators.
Track the progress of your patent pipeline, including whether an idea requires approval or drafting and filing by counsel, by gaining visibility into different stages.
Encourage real-time idea brainstorming amongst stakeholders, similar to collaborating over Google Docs, to identify the most promising ideas for patenting.
Evaluate the potential success of your patent application at the patent office by utilizing the TIP Tool's patentability score.
Tailor your patent prosecution strategy based on analytics provided by the TIP Tool for examiners, patent counsel, and art units.
Effortlessly create patent family trees with a single click.
Make informed decisions about your IP budget by leveraging the TIP Tool's end-to-end patenting cost predictions.
Automatically stay updated on the status of patents and applications with the USPTO to ensure you remain in sync.
Provide personalized and limited access to ideas and patent-related information with role-based dashboards.
Gain a comprehensive overview of your ideas and patent pipelines to identify and resolve bottlenecks, thereby accelerating the patent mining process.
The Tool offers many more capabilities to mine patents and stays on top of the patent portfolio.
To explore further, register on the tool now.
Disclaimer: The information in this article/review is sourced from the internet and may not be entirely accurate or up-to-date. We recommend visiting the respective software websites for the most current and reliable information. The opinions expressed here are those of the author and may not reflect the views of Triangle IP. We are not liable for any consequences that may arise from relying on the information provided in this article/review.