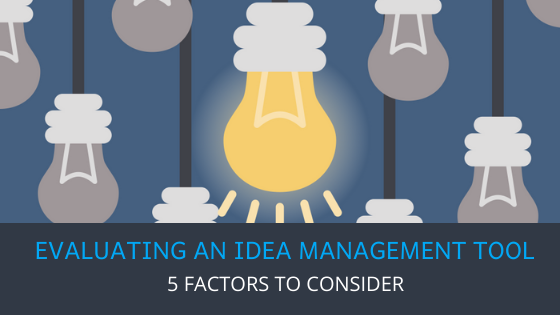 Logically speaking, any investment is worth only if it reaps great returns.
A study by Accenture suggests 62% percent of high-growth companies plan to invest in technologies that lead to higher rates of innovation, compared to 54% of other companies.
Investing in technologies that lead to higher rates of innovation shall be beneficial only if the intellectual property created based on the innovation aligns with:
a) company's business goals/product line.
b) has a market demand.
c) has the potential to be monetized either by licensing or selling.
d) enhances customer experience.
e) generates revenue growth.
After all, filing a single patent costs a minimum of USD 10,000.
Not sure about the cost of getting IP protection for your product or company? Here is everything you need to know about costs related to your IP in the USA.
Now, where is the scope of failure in creating IP wealth for the company?
1. Patent creation was not thought of from different angles like feasibility, demand, investment, etc.
2. Collaborators from the various segments did not participate in the journey from idea to patent.
3. Redundancy in the novelty of a patent gets caught at a later stage.
All this happens due to the absence of the right tool/software that can assure strategic collaboration and tracking.
So, as a patent portfolio manager of your company, an innovation tracking software tailored to your needs shall be an asset.
A tool that addresses each stage of the journey of an idea to patent as shown below: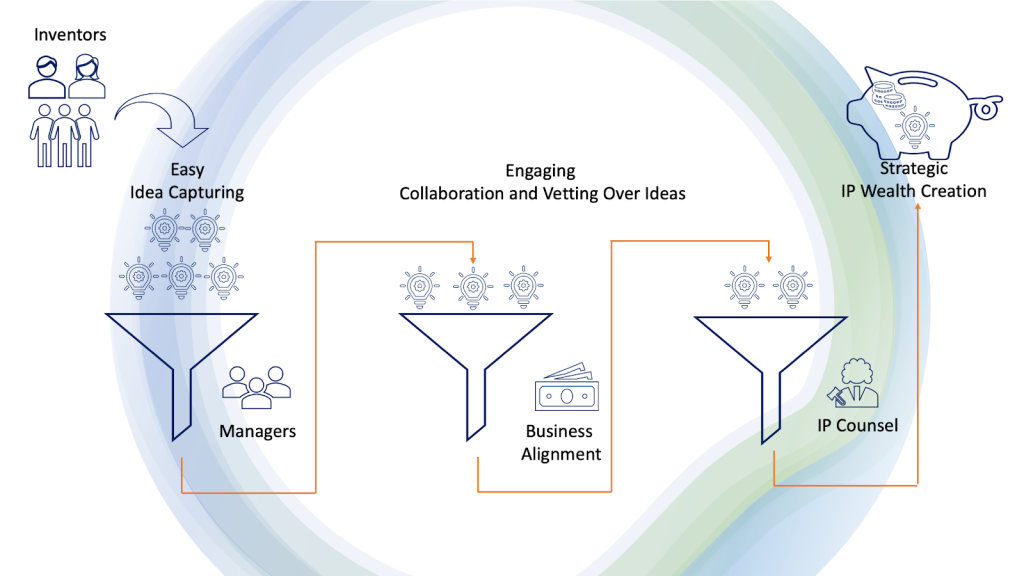 Here are the 5 factors you should consider while you evaluate an idea management tool:
1. Is the tool easy to use?
2. Is the tool engaging to attract collaborators?
3. Does the tool provide real-time updates?
4. Does the tool manage the process throughout the life-cycle (Idea to Patent)?
5. Does the software keep evolving and getting more sophisticated?

Is the Idea Management Tool Easy to Use?
There is a good possibility that you might have used one of the following ways to manage ideas at your company:
1. Spreadsheets
2. CRM Software
3. Home grown tools comprising forms and tabular data
4. Collaboration tools
5. Expensive Docketing Software
The biggest shortcoming of these solutions is the complexity to use.
Nobody likes to fill long forms. Don't you agree?
As the number of ideas, collaborators increase, tracking the updates on ideas/innovations becomes tricky and painful.The above mentioned methods are just makeshift arrangements, and not specifically designed keeping user experience in mind.
These tools lack intuitiveness and broad adoption across the enterprise. A user does not feel motivated to use the tool unless really needed. It's the same as using a handkerchief in place of a specifically designed mask.
A handkerchief is just a make-do arrangement, however, a mask is designed keeping in mind filtration, breath-ability, comfort, ergonomics, etc.
On the contrary, if the tool is easy and simple to use, the collaborators will be encouraged to use the tool. Thus, speeding the process and achieving better results.
Is the Idea Management Tool You are exploring Engaging?
No innovation program is going to be successful unless you make it engaging. If the tool is not engaging, a user won't be excited or motivated enough to share his/her ideas.
Encouragement to share the ideas is the very basis of such a program. E.g. An intuitive idea capture form for inventors can go a long way to minimise friction for inventors to submit invention disclosures. It's pretty much the same as sharing posts on social media like Facebook or Linkedin.
Engagement on posts through reactions, comments, impressions, views encourage the users to share even more. Not just more sharing, in fact, it gives users an idea of what type of posts score better in terms of response.
Below are just 10 ways out of many that make an idea & innovations management tool engaging:
1. Minimizing the friction to share ideas/feedback/updates or anything related to the tool.
2. A notification of idea submission to the collaborators for review.
3. A notification of feedback reception to innovator/inventor.
4. Patent Analytics driven Artificial Intelligence (AI) based review/rating on an idea from the tool.
5. Redundancy indication from IP Counsel.
6. Inputs on making the claims stronger for a Patent from IP Counsel.
7. Update on an innovation from business angle to all the collaborators.
8. Budget sanction notification for a successful innovation to be patented.
9. Patent draft available for review notification for all the stakeholders.
10. Inviting ideas to solve certain business challenges through innovation.
Does the Tool share Real-Time Updates?
A lot of stuff out there is very static. For example, if you wish to know the status of the company's IP, you shall place a request for IP report generation to your patent attorney. The report shall most probably be in a form of a table/spreadsheet. Such a report makes it cumbersome to draw valuable insights on the IP front.
Another major problem with such a report is that it very quickly gets out of date. Hence what's needed is a provision to track what's happening with your innovations in real-time.
Here is how real-time updates are really beneficial:
1) People get busy developing the product, they forget about what's happening with their innovation.
2) A system that monitors what's going on shall help in making sure things are adhering to the process.
3) Timely updates help is avoiding last moment rush:
Realizing that you haven't filed a patent yet and you are closer to the product release.
And then you are scrambling through to find out what's happening and reaching out to IP counsel to get an update.
4) A one-shot way to update all the stakeholders allows for the transparency of the IP management.
Does the tool Manage the Process throughout the Lifecycle (Idea to Patent)?
Does the tool manage the process throughout the life-cycle(i.e. from Idea to Patent)?
The most common and important question that arises in this whole process is: do we file a patent or not?
Earlier the decision about patenting takes place the better it is, as it results in saving time, money, and effort.
Right provisions like below in the idea management tool can help in taking this important decision in the early stages or at least before regretting the investment made in patenting:
1) Visibility into a knowledge repository of ideas helps to avoid redundancy. There is a possibility that a similar idea got patented earlier. Even before the inventor of innovation in question got hired.
2) Vetting by Subject Matter Experts early on helps in shaping the idea and decide which ones to be pursued
3) Ability to view the patent draft as well as final patent application on the same platform.

Does the Innovation Management Tool keep Evolving and Getting more Sophisticated?
A pleasant surprise always makes you feel happy. Isn't it? And only happy users can ensure the success of such a tool.
Innovations do not happen on a daily basis. But, whenever a user comes to the tool, new pleasing features shall engage him better. So such an innovation tracking tool needs to continuously evolve and keep getting more sophisticated.
Here are a few ways to achieve sophistication in an idea and innovation management software:
1) Improved Analytics
2) Enhanced Idea Nurturing
3) Dashboard driven by Great User Experience
4) Customization based on organizational needs
"With the right tools and a great team create strategic IP wealth and not dead investments."
For a company, that files 40-60 patents per year, a tool that is specifically designed for idea capturing and vetting is sheer bliss.
It is important to make the best use of budget allocated towards creating IP.
We hope that this article could give you pointers to make the right choice for an idea management software.
TIP Tool is one such tool that is getting developed along the lines mentioned above. It currently provides ideas capturing and vetting.
Want to be a part of our beta community? Try it for free.
Note: The preceding is general business advice and not to be construed as legal advice. IP laws vary by country and retaining licensed legal counsel is advised to confirm this information. Any expressed or implied opinions are of the author and do not necessarily reflect the views of Triangle IP or any other entity who might be associated with the presenter. We hope this content is helpful to you, but should not be relied upon without confirming the advice and accuracy with local legal counsel. Any comments or inquiries are not confidential so please discuss your issues directly with counsel.
TIP Tool is free for your whole team
No credit card required. No setup fees. No need to download.