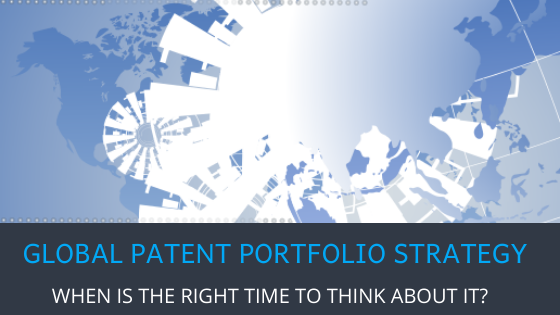 A global patent portfolio strategy depends on the vision of the enterprise. The three main considerations are:
Market Expansion in Different Geographies.
Patenting Costs Vs Profits.
Studying Competitor Markets.
There is a golden rule for successful global patent portfolio strategy:
Pick key markets that lock up at least 60% of the future revenues for the product as inexpensively as possible.
Filing patents is an expensive affair. Let's say, you wish to get patent protection on your product in China. It shall cost you somewhere between 20000 to 50000 USD. This cost involves not just filing but also patent attorney expenses, professional drawing expenses, patent office expenses, government taxes, etc. Say you wish to expand your product line in China, the IP investment shall make sense only if there is a good demand for that product in China. Otherwise, spending so much money without significant returns is going to hurt you.
Here is how you can create a global patent portfolio strategy without breaking your bank:

Market Expansion in Different Geographies
Why do you need to file patents outside the country? The answer to this is simple: you may be making profits in those areas. Your product may have a market outside the country and you plan to expand in those markets.
If you own the IP rights for a product only in the US, you can not stop anyone else in the rest of the world from making that product. You need to apply for patents in each country. Multi-country protection is possible in places like Europe, Africa and Russia.
But, do you need IP protection in each of the 195 countries in the world?
No, there is no need to protect your IP in countries that might not have potential customers.
Credits: Pexels
Patenting Costs Vs Profits
Before you make a decision, it would be great to do little math because the different costs involved in patent protection add up real quick and the sums become humongous. To give you a quick idea, in the US, the costs for filing a utility patent ranges anywhere between $8,000 and $15,000. Under the Euro-Patent Cooperation Treaty (PCT), the cost of filing a patent is 47,000 Euros and it is valid in eight European countries. In India, the cost of drafting a patent application costs anywhere from $350 and above. You can know more about patent filing costs in more countries by using this link here. The more countries you look for protection in, the costlier it gets.
Unless these costs can be covered up with the huge market potential in those countries, you should think hard before spending money in procuring patent protection there. If you think that stopping your competitors from being able to sell a similar product will add to your bottom line, then do go ahead with protecting your IP. The question to ask yourself is would you be able to recoup the money and make a profit if you sell in this market?
Look to see where you are going to make money and how the market is going to evolve over the term of the patent. The market landscape keeps changing. Although a patent protects you for 20 years, things keep evolving much more rapidly. You need to have a pulse of where the market is heading, the costs associated with IP protection, and your own objectives.
Studying Competitor Markets
Apart from having a patent in the country that you operate, you should also identify what your competitors are up to. A local competitor might be making huge money by selling a product like yours in another country. But you cannot stop them as you do not have any IP protection in that country. You need to protect your IP assets in that country to either stop them or license your technology.
For example, you have a patent in the United States and you are only doing business there, but your competitor makes most of their money in Mexico. Picking up a patent battle with them in the United States may not be harmful to them, hence you would want to expand in Mexico and assert your patent there.
Does this make you worried about the IP expenses in various countries? Here's the good news: you don't have to protect your IP in all the countries in the world. That would be a frivolous waste of money, time, and resources. All you need to do is 'make it painful enough so that the competition doesn't want to introduce a competing product.' Identify the key markets and lock these markets. The following section tells you how.
Lock key markets (Rule of Thumb)
Sometimes the thing to consider is that you get a broader protection in the countries you file in. For example you have a big patent portfolio in the United States. The likelihood that a competitor can launch a really similar product and sell only in Canada (which has only 1/6th of the population of the United States) is very less as some of the products require a lot of investment before you can make money in a country. Hence, the economics of protecting the market and building the market may not be there in Canada. So if some of the profits can not spill to the United States, it would be very difficult to build out the North America market. Thus, the United States becomes one of the key markets.
Similarly, there are key markets in Europe such as France, Germany and the UK. Once you get a protection in these countries, there is very less likelihood that a competitor is going to release a product in the other smaller jurisdictions such as Monaco, Liechtenstein. Hence, you don't need to file in all jurisdictions. All you need to do is 'make it painful enough so that the competition doesn't want to introduce a competing product.'
For example, you have a strong patent portfolio built out in Germany. Because in Europe, the borders are very porous and Germany is a big market, any patent asserted in Germany is going to be very painful to your competitor, who might have wanted to sell a similar product. Most of the retailers, and sales channels are all across Europe, and a lot of retailers would not want to sell a product only in one part of Europe and not in the other (as it makes the logistics very difficult). Hence, if you are asserting a patent in one of the key markets in Europe, which is Germany, the competition may have to shut doors to all of Europe.
While a world-dominion for your IP protection might sound fancy, it will certainly not be the smartest move in your playbook. Here's what we would suggest to you:
Pick key markets which will lock up at least 60% of the future revenues for the product as inexpensively as possible.
Let's say you are in the electronics and software space, just by protecting your IP in Europe, USA, and a few Asian countries, such as China, you can lock up most of the market for many products. Getting coverage in these jurisdictions will cost you roughly $100,000. (Disclaimer: The rates of getting your IP protected also depends on the kind of patent. The $100,000 number is approximate for basic IP protection.) By protecting your product in these markets, you leave your competitor high and dry as they are forced to compete in secondary markets. Would that even be worthwhile for them? Chances are high that they may end up focusing on a different product which will make financial sense for them.
While some companies might look at rich markets, there are industries where a huge population is appealing when they sell low-cost items. Drug manufacturers might prefer to go by headcount when it comes to deciding the countries that can be a part of the 60%.
Hence, figure out what the revenue model for your product is, identify the key markets and lock 60% of your market as inexpensively as possible.
On a side note: Would you want to know how your patent application is progressing at the USPTO compared to other applications in the same domain?
The TIP tool offers statistics of the law firm and the examiner handling your case. Once the application is filed at the USPTO, and an examiner is allotted to your case, the tool indicates the relative performance of the law firm handling your case. The statistics revolve around the number of arguments, grant rate, and grant time. The tool also indicates the case health, for instance, it can tell you if a case needs your attention. There is a whole bunch of insights that you can gather from the TIP tool for strategic patent prosecution.
Request insights for any of your cases at the patent office using the form below.
Conclusion
Protecting your IP can be a tricky business in itself. Coming up with a strategy to protect it from competitors in countries where your IP is not protected deserves a lot of your time and effort. Having the right strategy in place with an IP Consulting firm can save your firm big money. Hire an experienced IP attorney to help create a global patent portfolio strategy.
Note: The preceding is general business advice and not to be construed as legal advice. IP laws vary by country and retaining licensed legal counsel is advised to confirm this information. Any expressed or implied opinions are of the author and do not necessarily reflect the views of Triangle IP or any other entity who might be associated with the presenter. We hope this content is helpful to you, but should not be relied upon without confirming the advice and accuracy with local legal counsel. Any comments or inquiries are not confidential so please discuss your issues directly with counsel.
TIP Tool is free for your whole team
No credit card required. No setup fees. No need to download.