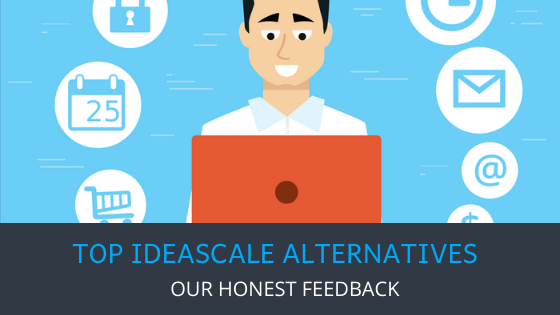 With more than 25,000 customers and 4.5 million users, IdeaScale has been the pioneer in innovation management. The numbers are a testament that it has been a market favorite for a good reason. However, it's not one-size-fits-all because of various reasons.
Are you looking for IdeaScale alternatives? You have reached the right place. We hope you'll find one that suits you. What's your reason for exploring other options?
Better customization for your business or enterprise
More features and flexibility
Affordable pricing
Better UI and UX
Campaign focus
Strong workflow process
Ease of use
End-to-end tracking from ideas to patents
Listed below are some top IdeaScale alternatives we explored:
Ideanote
BrightIdea
Planbox
Idea Drop
Viima
As a bonus we are going to introduce a new entrant, an innovation management tool designed specifically for patent mining.
Two cents about IdeaScale

(Source: IdeaScale)
IdeaScale licenses cloud-based innovation management software to its clients. Some of the key features of the software include
Crowdsourcing of ideas
Idea ranking through a voting system
Workflow management
Collaboration
Feedback management
Trend tracking

etc…..
Pricing is a significant factor in choosing the right innovation management tool for your company. Here's what IdeaScale's pricing and plans look like:
Pricing
IdeaScale offers subscriptions on a 2-year basis. They have four available plans with features that differ from one to the next. Plans range from $12,999 to $64,999. IdeaScale also charges a one-time setup fee for first-time users.

IdeaScale's Standout Feature | Crowdsourcing
IdeaScale works on a crowdsourcing model by grouping problem-solvers under communities. Communities may be public or private, thereby helping with restricted access. Here is how the users in a community participate:
Launch campaigns to solve problems
Submit ideas to solve the problems
Vote and comment on ideas
IdeaScale also has a community named IdeaScale Crowd. It's open for everyone, where anyone can interact with any idea. You can sponsor a campaign here to find a solution to your problems. More than 30,000 problem solvers worldwide are part of this community.

Pros:
Suitable for large enterprises with employees located across different geographies
Vote based ranking to choose best ideas for implementation

IdeaScale Alternative 1: Ideanote
Source: IdeaNote
Overview
Ideanote is a cloud-based innovation management platform. It provides for the idea and innovation management in 4 different phases –
Capture: This allows you to collect ideas from your employees and your customers. Sub-features include profiles, briefings, and templates.
Collaborate: Share ideas with specific people or teams because two brains are better than one! Sub-features include phases, ideaBot, custom rating, and segmentation.
Scale: Once you have a solid idea, the next stage allows you to invite more people to join your team as guest members. You can create a workspace, make teams, assign team managers, etc.
Measure: This stage gives you an accessible and actionable interface for your ideas, allowing you to become a smarter innovator. Sub-tools include outcomes, customized outcomes, data export, and insights.
Source: IdeaNote
What makes IdeaNote Different from IdeaScale?
Attributes
IdeaScale
IdeaNote
Suitability
Medium to large enterprises
Small Businesses
Free trial
Yes
Yes
Initial setup cost
Yes
No
Ease of Use
Decent
Quite easy
Training to use the tool
No
Yes
Support
Yes
Round the clock for new users, face-to-face assistance
Pricing Plans
Engage – $12,999 for 2 years ~ $540 per month
Evolve – $21,999
Advance – $34,999
Transform – $64,999
Starter – $249 per monthBusiness – $649 per monthEnterprise – $2899 per month
Minimum Commitment
2 years
1 Month
Ideanote's Standout Feature | MVP Test
Ideanote's standout feature is the Minimal Viable Product (MVP) test. IdeaNote facilitates semi-surveys and feedback collection within a team or a small customer group. It's essential to choose the right ideas to pursue in this fast-paced innovation atmosphere. Well-thought selection ensures effective resource utilization.
Pros:
Intuitive interface and ease of use
Affordable pricing
Great customer support
IdeaScale Alternative 2: Brightidea

Source: BrightIdea
BrightIdea's IdeaBox is an employee-only innovation management software suitable for large enterprises. IdeaBox offers a collection of apps (shown below). Each app serves a specific function for various innovation stages. For instance:
Optimize – If you want to improve a particular business area, you can invite ideas from employees around the same
Name – This one comes in handy if you are looking for names for a new product
Hack – Bringing people together for a limited time to solve particular challenges. In concept, this is quite similar to online hackathons
Recognize – It's a great way to give shoutouts and increase employee engagement
Source: Twitter
What Makes BrightIdea Different from IdeaScale?
Both of these tools are very competitive in terms of features and support. However, BightIdea offers a mobile application for iOS and Android users. IdeaScale doesn't have a mobile application.
Source: iPhone AppStore
| | | |
| --- | --- | --- |
| Attributes | IdeaScale | BrightIdea |
| Customization | Customization of in-site features to change site behavior | Custom CSS to change the look and feel to match your brand |
| User Interface | Intuitive and easy to use. Plus points for an infographic generator | Social media-esque UI. Crowded because of too many apps, hence confusing |
| Idea pipeline | Four stage pipeline – Idea Collection, Refinement, Review, Implementation | Drag and drop tools allow building pipelines to evaluate ideas |
| Mobile application | Yes – iOS only | Yes |
| Pricing | Ranges from $12,999 to $64,999 for two years | Not publicly disclosed |
Brightidea's Standout Feature | Large Scale Crowdsourcing & Hackathons
Large-scale crowdsourcing and hackathons make BrightIdea a standout. Have a problem and want more than the people in your employ to help you solve it? Sure! Use BrightIdea to launch a hackathon.
What a great way to demonstrate to your workforce that you're an innovation-driven enterprise!
Pros:
Made for large enterprises, especially those with a global presence
Contests and hackathons open up a plethora of ideas
Cloud access, iOS, and Android apps
Increased employee engagement with mobile app
IdeaScale Alternative 3: Planbox
Source: Planbox
Planbox is an AI-powered, exhaustive, and modular innovation management software. It has four modules:
Discovery central: Explore and discover the right problems and prioritize them to find innovative solutions
Innovation central: Manage the control innovation lifecycle – from challenge launch to building a business model canvas
Agile central: Manage agile work for projects with the ability to track deliverables, plan experiments, and develop a proof of concept
Portfolio central: Empower your teams by pitching out of the box reports of commercialized strategies
What Makes Planbox Different From IdeaScale?
Planbox's Innovation Central module is akin to IdeaScale. While both take you through the innovation cycle, Planbox ranks slightly higher on the value addition it provides through external ideation and crowdsourcing.
| | | |
| --- | --- | --- |
| Attributes | IdeaScale | Planbox |
| Visualization | Built-in reporting as well as the ability to integrate web analytics. Data exports available too | Easily configurable reporting engine for creating effective visualization |
| Free trial | Yes | No |
| Scalability | It can handle large volumes of members as well as ideas | Resources available to scale with the growth of enterprise |
| Ease of Use | Decent | Good. Allows for internal management of site |
| Integration | Allows integration with Slack, Twitter, LinkedIn, Yammer, Intercom, Google Analytics, Social Share | Allows for integration with Zapier, Slack, Sharepoint, Teams, G Suite, Microsoft 365 and more |
| Idea Evaluation | Voting system to rank ideas | Idea Manager Evaluation and Task-driven Evaluation |
| Pricing | Ranges from $12,999 to $64,999 for a 2-years period | $6/user/month for up to 250 users |
Planbox Pricing
Like BrightIdea, Planbox does not disclose its pricing publicly. You can get in touch with their support team to get a quote.
Planbox's Standout Feature | The AI Algorithm
Planbox pioneered AI-powered innovation management. The ethos of Planbox using AI is that it helps simplify innovation tasks and the innovation process. It makes them more efficient and provides better analysis. The result of this combination is more accurate predictions with less risky decision-making.
Organizational resistance can prove to be a significant hurdle in innovation management. An AI algorithm helps overcome that hurdle by using improved processes to choose and implement more potent ideas.
The risk of loss is another deterrent. With AI, the system can allow management to keep a record of innovation. The system can track and measure all factors that play a part in an idea's success or failure. Analyzing and archiving these efforts' results helps cultivate a culture of continuous improvement that drives long-term success.
Source: Planbox
Planbox's AI-powered algorithms help search for related data from various trusted sources on your recording of an idea in the software. Those sources include Twitter, designated RSS feeds, USPTO and other patent databases, support tickets and emails (of your customers), and any other data source that you have access to.
Pros:
The modular structure covers the entire innovation cycle
The AI-powered algorithm provides for data gathering pertinent to each invention keyed in
PlanBox mobile application available for both iOS and Android
Highly customizable
IdeaScale Alternative 4: Idea Drop
Source: Idea Drop
Idea Drop is suitable for large enterprises and businesses. With easy connectivity and the option to submit ideas anonymously, it helps collaborate on a large scale towards strategic business goals.
It has a clear and well-organized dashboard and ranks quite highly on the ease of use scale.
What Makes IdeaDrop Different from IdeaScale?
It is easier to customize as compared to IdeaScale. It provides a whole list of innovative features, some of which are currently lacking in IdeaScale. Features such as engagement monitoring, evaluation workflow, feedback management, gamification, trend tracking.
IdeaDrop is accessible on the web as well as on mobile with their iOS and Android applications.
Source: iPhone AppStore
IdeaDrop gives you complete access to the platform whether you are a user or an administrator. As a user, you can submit your ideas and engage with others. As an administrator, you have access to the analytics to give you a deeper understanding of each idea. It also sends real-time notifications and reports to keep all the stakeholders updated.
| | | |
| --- | --- | --- |
| Attributes | IdeaScale | Planbox |
| Collaboration Features | Besides community discussion, it goes a level beyond for collaboration by routing ideas to subject matter experts for thorough vetting | @mentions, #hashtags, comments, link sharing, and real-time notifications |
| Duplication Check | No | Yes, it flags similar ideas and suggests collaboration |
| Ease of Use | Decent | Good. Allows for internal management of the site |
| Integration | Allows integration with Slack, Twitter, LinkedIn, Yammer, Intercom, Google Analytics, Social Share | Allows for integration with Yammer, SSO, Microsoft Teams, and Slack |
| Customization | Allows for styling customization for branding purpose | Highly customizable – workflow, idea evaluation metrics, and branding |
| Pricing | Ranges from $12,999 to $64,999 for a 2-years period | Details not publicly available |
IdeaDrop's Standout Feature | Intelligent Algorithms
IdeaDrop's USP is its intelligent algorithms. There are 3 main algorithms that make it seamless. Those are:
Intelligent Duplicate Check: With intelligent pattern recognition technology, IdeaDrop automatically checks for duplication of ideas. If a similar idea is found, the tool recommends the user to collaborate over the existing idea instead.
Smart Search: Idea Drop's intelligent search makes it very easy to search your Idea Drop database, including the content of supporting documents.



Idea Score: Once an idea is submitted to your organization's IdeaDrop, an automated algorithm assigns it a score. It's a real-time score depending on social interactions with the concept. The higher the social vote on the idea, the higher the score.
Pros:
Easy to use interface and UI
Intelligent algorithms optimize the ideation process
Real-time notifications increase engagement
Real-time analysis allows for better collaboration
IdeaScale Alternative 5: Viima
Source: Viima
Viima is suitable for middle to large-scale organizations. It is an ideation and discussion platform, with four distinct phases within the software –
Collect: This stage is for collecting ideas. The software then categorizes ideas into predefined buckets. There is also the option to create boards and give access to a selected group.
Develop: You can create a process based on your business needs and methods. Features available include mentioning specific people and adding attachments to ideas.
Prioritize: You can choose metrics to rams and prioritize ideas. These evaluations generate automated scoring. Visualization tools help in making informed decisions.
Analyze: Analytics in the software show you how you can improve your process in real time. Fix bottlenecks and spot trends in data.
Viima allows you to gather ideas from employees, customers, and other stakeholders.
What Makes Viima Different From IdeaScale?
Attributes
IdeaScale
Viima
Suitability
Large enterprises
Scalable from small to large
Localized Services
No. Only available as a cloud service
Yes. Available as part of the Enterprise plan
Ease of Use and UI
Decent
Colorful and engaging interface that is easy to use
Integration
Allows integration with Slack, Twitter, LinkedIn, Yammer, Intercom, Google Analytics, Social Share
Built-in Single Sign On for Office365, Google for Business, and Microsoft AD
Customization
Custom community styling to match the branding aspects
Customizable – possible to create customized workflow
Mobile Application
Yes, for iOS only
Yes, for iOS and Android
Pricing
Ranges from $12,999 to $64,999 for a 2-years period
Basic Plan – Free – for up to 50 users
Premium – $5/user/month – for small organizationsUnlimited – $1799/month – for medium to large scale enterprises
Viima Pricing
Viima's pricing follows per-user-based model. They offer a free plan too. Their basic plan offers a single board to discuss ideas with the bare minimum features. The per-user plan starts at $5 per month per user. It's perfect for small organizations.
For a large organization, it may make sense to purchase the unlimited plan at $1799 per month for unlimited users and access to all its features.
Viima's Standout Feature | IP Whitelisting
Understanding the need for access to the software from anywhere, Viima has enhanced security with IP Whitelisting. This way, whether employees are in the office or outside, the company can create a list of IP addresses in a whitelist for secure access and privacy of the company's potential Intellectual Property.
Pros:
Simple to set up and use, good UI
Great customer support
Affordable pricing 
Mobile app available on both iOS and Android
IP whitelisting feature for security
Here is a quick summary of the tools we've discussed with their standout features:
| | | | | |
| --- | --- | --- | --- | --- |
| Innovation Management Tool | Free Trial/Demo | Mobile App | Pricing | Standout Feature |
| IdeaScale | Yes | No | $12,999 for 2 years | Communities |
| Ideanote | Yes | No | $249 per month | MVP test |
| BrightIdea | Yes | Yes | Not disclosed | Crowdsourcing and Hackathons |
| Planbox | Yes | Yes | Not disclosed | AI algorithm for data population |
| Idea Drop | Yes | Yes | Not disclosed | Intelligent algorithm for duplicate check, smart search |
| Viima | Yes | Yes | $5 per user per month | IP Whitelisting |
Triangle IP – An Idea Management Tool for Patent Mining
TIP by Triangle IP is an intuitive drag and drop tool to help you track the journey of ideas to patents. TIP's inventor-friendly idea form helps you capture more innovation. Its collaboration feature brings together people from business, R&D as well as IP departments. This enables thorough vetting of ideas ensuring only the most promising ideas/inventions get patented. The TIP tool is constantly evolving. The team is looking to add more features to help users make better patenting decisions. Currently supported workflow in the software has four stages namely:
Idea Capture: A dashboard where anyone from the enterprise can submit innovative ideas. TIP tools offer a very simple idea form for the same.
Internal Vetting: Submitted ideas can be vetted internally to check for viability by different stakeholders. After thorough vetting the most potential ideas are pursued for patent protection.
Patent Drafting: Ideas that are vetted and considered viable are moved to the patent drafting stage. The patent attorneys take it from here.
Patent Filing: Once the application is filed with the patent office, the serial number and filing date are recorded here with a copy of the patent application.
Portfolio Management: Coming soon! A stage that shall help you keep a track of your patents and patent applications. The analytics in this stage shall help you make better patenting decisions.
Triangle IP – A Quick Video Tour
What's Unique about Triangle IP?
The TIP tool follows a minimalistic design approach. It is built for ease of use whether used by one person or an enterprise.
Triangle IP specifically caters to 4 personas:
Individual inventors
Startups
Enterprises
Patent practitioners
TIP has a neat UI with simplified login through magic link. Its role based access feature allows for more control. Within the software you can score ideas, merge ideas as well as lock ideas post approval. There may soon be an automatic patentability score option available for evaluating ideas. TIP helps you manage the IP workflow from idea collection to portfolio management. TIP tool is free for all until its most comprehensive version is out
Here are a few key functionalities you would love about the tool.
TriangleIP's Standout Feature | Patent Democratization
The TIP Tool is transparent and allows collaboration and in essence, democratizes the patent process. Generally, in most corporate structures, the handling of innovations and patents is limited to the top brass. The TIP Tool aims at making this a process that involves the whole enterprise. With patent attorneys being looped into the tool through the Patent Drafting, and Patent Filing stages, the attorney can be directly in touch with the innovator. Hence, the possibility of filing more comprehensive patent applications is enhanced.
Pros:
Intuitive and easy invention disclosure form 
Ease of collaboration results in thorough vetting of the ideas
Scoring of ideas helps in prioritizing ideas to be pursued for patenting
Ease of use with the drag and drop feature
The Final Word
We've given you a round up of the IdeaScale alternatives. 
But the final word must only be yours. What suits your business is a personal choice – one that hopefully this post will help you make. While we have given you facts and figures, the best way to figure out what works for you is to give all these options a fair chance.
Go ahead, try the free versions of these tools before you choose one to commit to. And while you're at it, give the TriangleIP tool a try for an end-to-end solution to your patent mining needs. 
Do consider these 5 factors while you are evaluating any innovation management tools!
Disclaimer: The information in this article/review is sourced from the internet and may not be entirely accurate or up-to-date. We recommend visiting the respective software websites for the most current and reliable information. The opinions expressed here are those of the author and may not reflect the views of Triangle IP. We are not liable for any consequences that may arise from relying on the information provided in this article/review.
TIP Tool is free for your whole team
No credit card required. No setup fees. No need to download.