Tracking your Intellectual Property from the idea stage to the commercialization stage is an ordeal, involving high risks with no room for inadvertent errors. Storing confidential Intellectual Property-related information on generic systems like spreadsheets is susceptible to data breaches and inefficient.
To earn a competitive advantage in business, organizations need to be on top of their IP game. Having a systematic business process for managing ideas will help your organization in identifying patentable and commercially viable inventions. Today there are various tools and software that allow you to keep track of your Intellectual Property at every stage. They are easy to use and you can choose the software best suited to your company's needs. Intellectual Property management softwares help you capture the most promising ideas and track their progress till these become IP assets.
Let's look at the 9 best Intellectual Property management software for businesses to use in 2022:
#1. The TIP Tool™ by Triangle IP
The (TIP) Tool makes your patent mining process transparent and easy. It is an intuitive and engaging platform, with a drag and drop workflow. It helps with the idea capturing and internal vetting, where approval for drafting a patent is sought. The draft patent applications can be stored and exchanged securely by the prosecutor. Upon filing the application, the serial number and filing date are added along with a copy of the final application. You can also get the patenting cost estimates, case statistics, and examiner analytics, and stay in sync with the United States Patent & Trademark Office (USPTO). It is a reliable way to ease your headache of complex Intellectual Property management at your enterprise.
Key Benefits:
Improve the quality of invention disclosures ​- Get more invention disclosures using a simple & intuitive invention disclosure form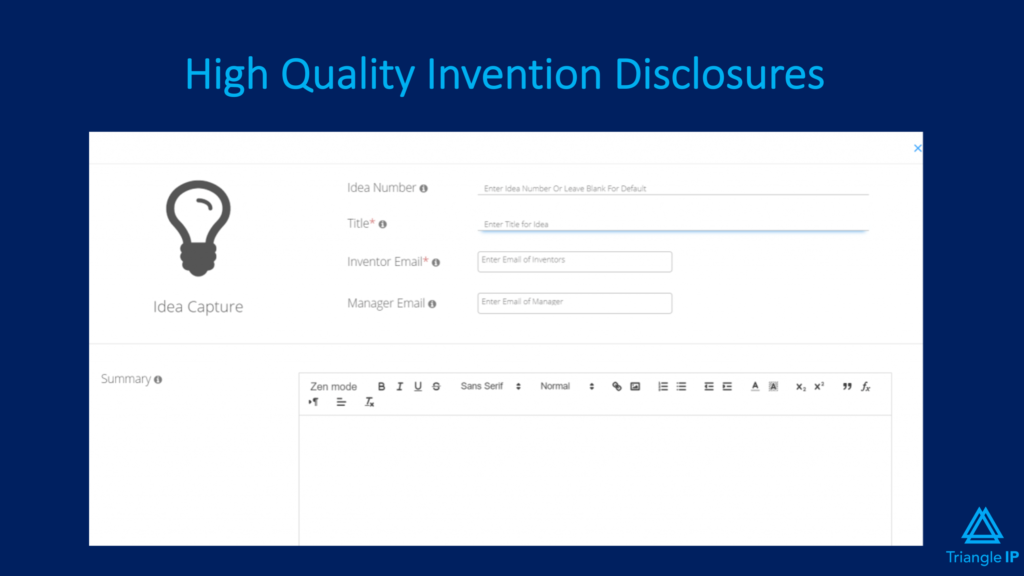 Gain patent pipeline visibility – Track your idea through various stages of the process whether it is being evaluated at your end or passed to your counsel for drafting and filing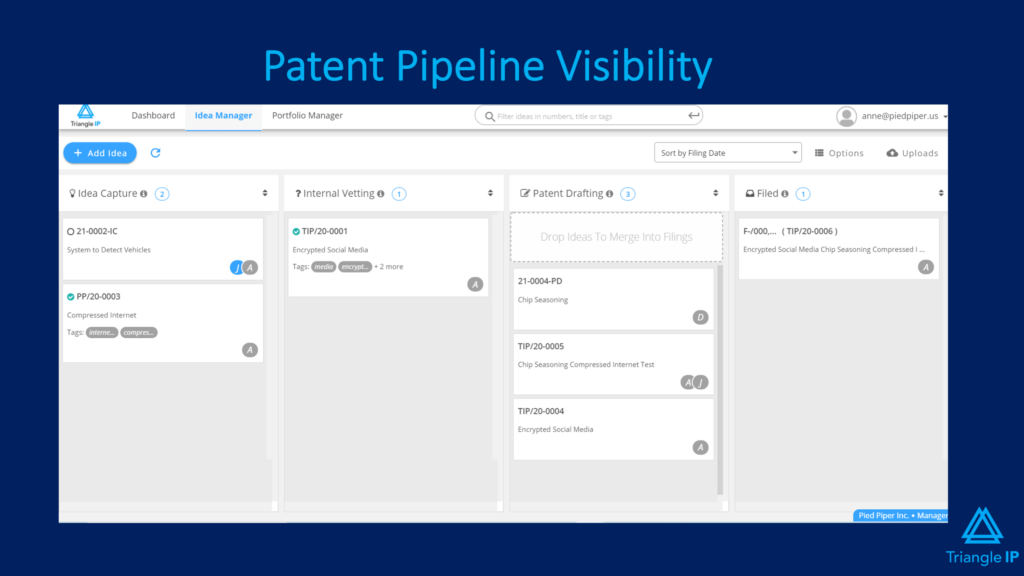 Brainstorm ideas with stakeholders on a real-time basis – Brainstorm and discuss ideas with inventors, prosecutors, managers working in remote locations and collaborate on a real-time basis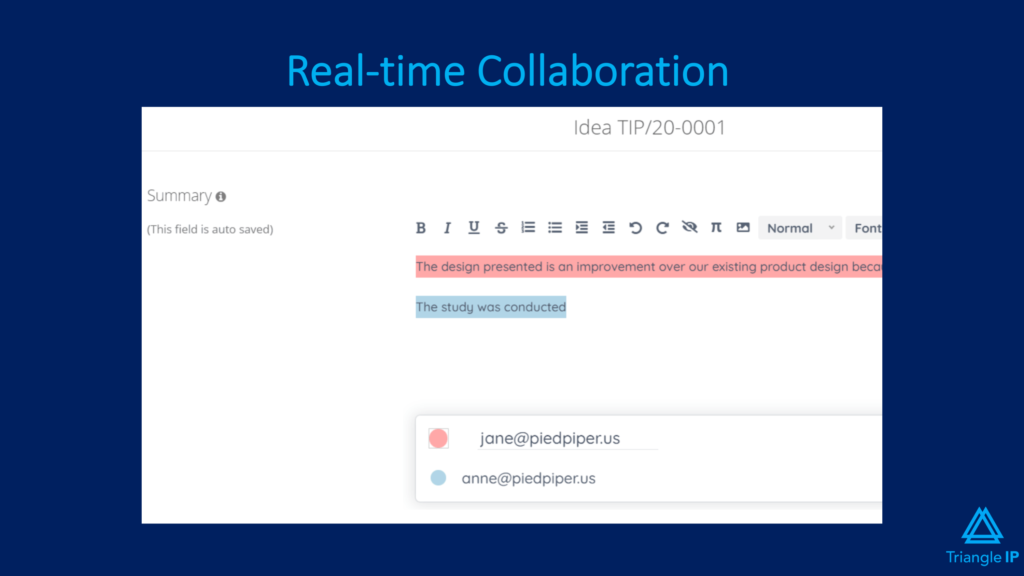 Case analytics and cost prediction – Know the probability of getting your idea patented or a prediction on how much getting a patent may cost over the years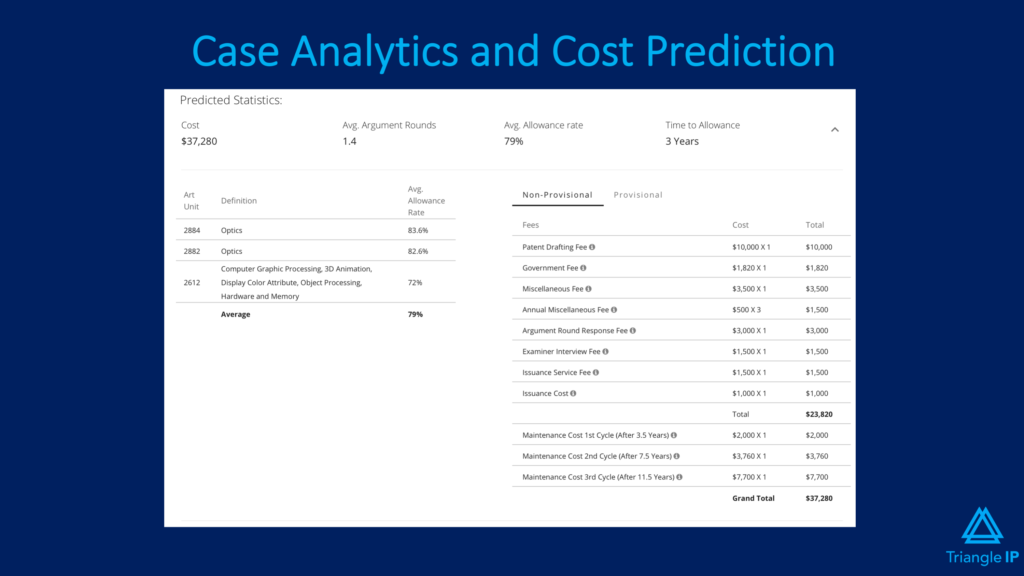 USPTO status updates – Automatic application(s) status update with USPTO for your published as well as unpublished applications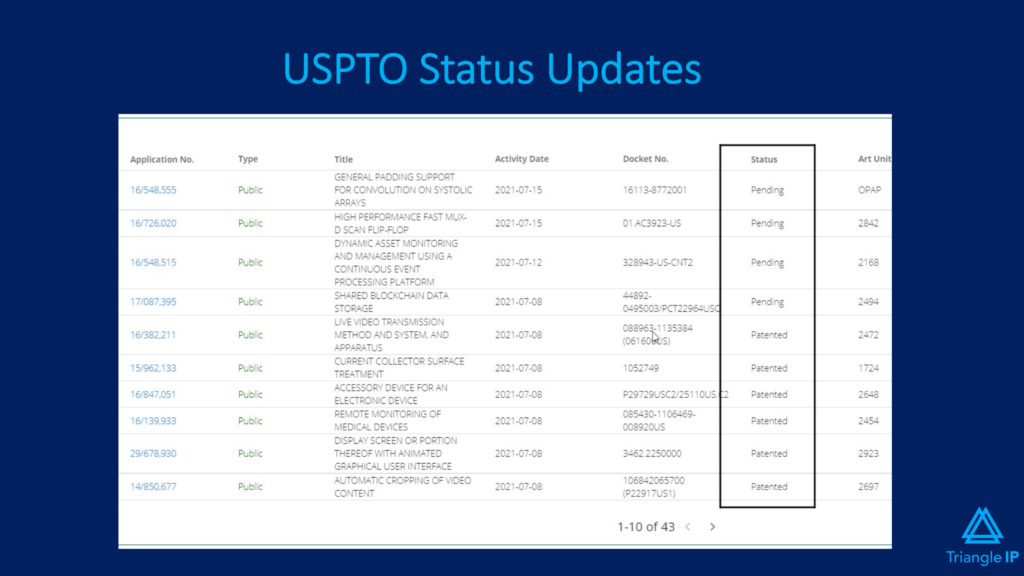 Patent counsel and examiner statistics – Make informed decisions with your patent counsel and examiner analytics by knowing more about the law firm & examiner handling your application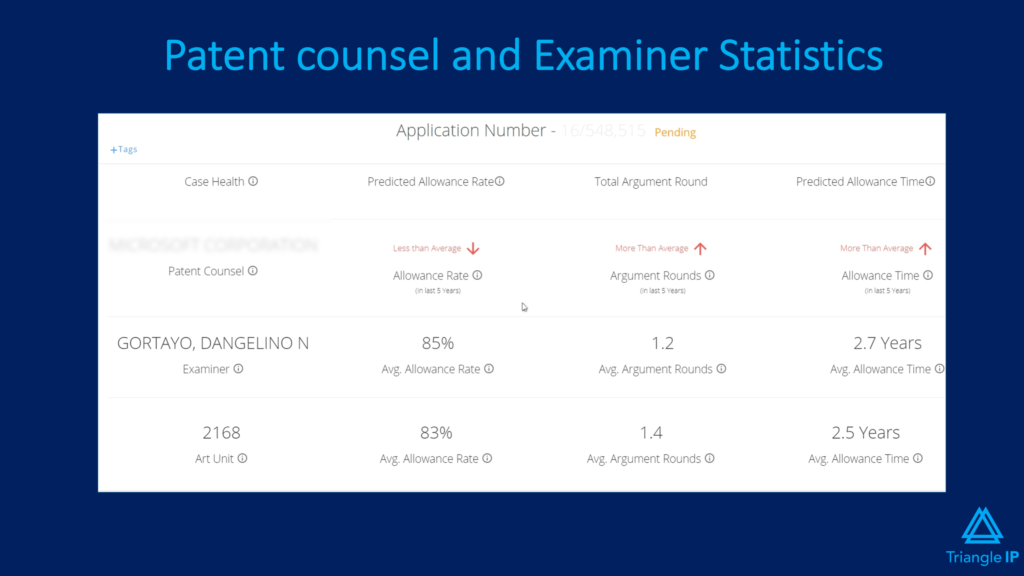 A holistic view of your patent pipeline at a glance – Identify the bottlenecks in your innovation pipeline by gaining visibility into your entire IP lifecycle through various dashboards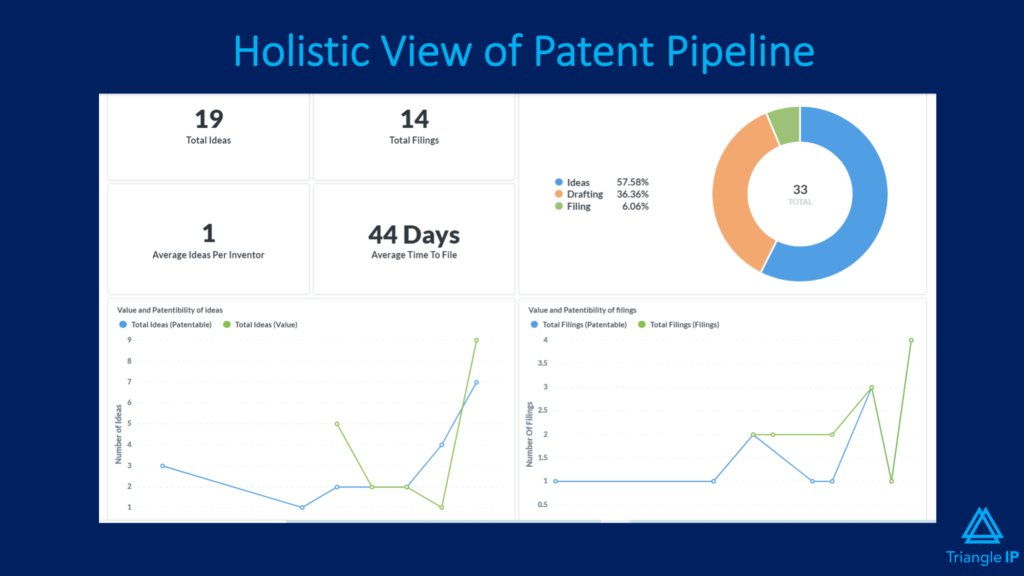 Additional Benefits:
Approving ideas – Lock approved ideas to enhance protection
Merge multiple ideas – Drag & drop multiple ideas into a single filing
Scoring – Prioritize your ideas with the value score
Magic link – Passwordless login with single-use email link
Archiving ideas – Archive low priority ideas so as to focus on other unfiled ideas
Tagging – Use tags to group and filter ideas
Nurturing – Strengthen collaboration by notifying stakeholders
Pricing:
| | |
| --- | --- |
| ​​Free Tier | Paid Tier ($495 Per Portfolio, Yearly) |
| User limit – 10 | User limit – 25 |
| Storage – 5 GB | Storage – 20 GB |
| Maximum file size – 10 MB | Maximum file size – 50 MB |
| Portfolios – 1 | Portfolios – 3 |
| | Private Pair Access |
| | Case Analytics |
| | Portfolio Manager |
| | Family Trees |
| | Customizable Idea Form |
| | Real-Time Collaboration |
| | Enhanced Nurturing |
| | First Month Free – SignUp Today |
Deployment:
Cloud, SaaS, Web-Based.
Who Needs this Software
The person responsible for managing intellectual property at a small-to-medium-sized enterprise that files 5+ patents per year. The enterprise needs a systematic business process to capture innovations and track the progress from ideas to patents.
Users' Perspective
One of the users of TIP Tool reviewed it as "Quite a useful tool to manage overall ideas".
The tool is easy to use and understand, even for a person who is not from a patent background
Gives a smooth platform to store ideas in one place and track them through a complete IP lifecycle
Role-based access – admin, inventors, managers, patent prosecutors with different permissions
Product Demo Video/Snapshots
The TIP Tool comes with the power of patent analytics. Watch the video to know how analytics can help you make informed IP decisions
#2. AppColl Prosecution Manager
AppColl Prosecution Manager is a cloud-based Intellectual Property management software and docketing platform. The service allows access to all documents from any web browser, anytime, and communication between all parties associated with filing a patent in the US and internationally.
Key Features:
Offers 9 interdependent modules for tasks, matters, prior art, files, billing, reports, contacts, invent, and conflicts
Automates many of the docketing and workflow activities
Provides the complete prosecution history of patent and trademark matters through data retrievals from the USPTO's Private PAIR and TSDR reporting systems
Keeps track of fees and expenses
Pricing:
Free trial for 30 days.
It has two versions of the tool, pro at 100 USD per month and plus at 130 USD per month.
Deployment:
Cloud, SaaS, Web-Based.
Who Needs this Software
Suitable for law firms to assist in the patent prosecution stage of IP lifecycle.
Users' Perspective
A patent lawyer based in California has reviewed it as "Destroys big law firms for pennies on the dollar".
Product Demo Video/Snapshots
Appcoll's YouTube channel has many videos to give you a fair idea of how the product works.
#3. Minuet
Minuet is an IP management software solution from Inteum Company to help you manage your IP portfolio. It helps to streamline the entire technology supply chain, from Intellectual Property to monetization.
Key Features:
Custom dashboards, dynamic charts, and analysis
Patent Intelligence Suite automatically updates patent records & search for patents
Activity Management
Technology Publisher
Inventor Portal
Pricing:
Offers a free trial.
Deployment:
Cloud, SaaS, Web-Based
Desktop – Mac, Windows, Chromebook
Who Needs this Software
Innovative organizations that create or manage intellectual property. Also suitable for tech transfer offices in research institutions and IP departments at companies.
Users' Perspective
"We migrated to Inteum just over a year ago from a bespoke database"
Good CRM functionality
Quickly accessible during the meetings
The ability to create user-defined fields on one's own is great
Product Demo Video/Snapshots
Source: Inteum
To get more insights watch the dashboard demo by Inteum
#4. FoundationIP
FoundationIP by CPA Global checks bibliographic data automatically, providing real-time discrepancy management. It is a one-click docketing system that automates USPTO office actions from private PAIR to save time and reduce the likelihood of error. It includes dashboards to create and share visualizations to align your IP with the wider business strategy.
Key Features:
Efficient workflows
One-click docketing
Insightful dashboard
Expert Support
Security
Source: Foundation IP
Pricing:
Per feature pricing model.
Deployment:
Cloud, SaaS, Web-Based.
Who Needs this Software
Suitable for law firms and corporate IP departments of all sizes as it is scalable and can grow and mature with your business as needed.
Users' Perspective
"Foundation IP – Great docketing system"
Easy to use
Customizable
Frequent updates to make the docketing experience better
Product Demo Video/Snapshots
You can find an overview of the FoundationIP software here.
#5. PatentCAM
PatentCAM by IP Checkups is a collaborative, patent management software for R&D, legal, and business teams to make strategic business decisions. It lets you analyze patent search results, mitigate legal risk and determine marketability. It was created to categorize, archive, and monitor essential, technical information.
Key Features:
IP portfolio management
Patent tracking
Easy-to-use interface
Monitor competitor activity – daily, weekly, or monthly alerts
Customizable & searchable fields
Pricing:
Free demo available.
Deployment:
Cloud, SaaS, Web-Based.
Who Needs this Software
Suitable for the R&D, legal, and business teams of companies of all sizes.
Users' Perspective
"PatentCAM: Powerful and adaptable tool for IP peace of mind".
Technical support and analysis by IP Checkups is topnotch
User-friendly and logical
Having information in an off-site safe place gives peace of mind
If you ask for a feature, they will try to build it
Product Demo Video/Snapshots
You can find a webinar on PatentCAM uploaded by IP Checkups on YouTube.
#6. Sophia
Wellspring's IP Management software, Sophia delivers automated docketing processes, easy invention disclosures, streamlined workflows, and visibility on contract obligations. It is a full-service Intellectual Property management software that helps to manage your growing IP portfolio.
Key Features:
Configurable
Patent tracking
Docket management
Integrated online disclosures
Manage contracts & licenses
Deployment:
Cloud, SaaS, Web-Based.
Who Needs this Software
Best for in-house or corporate patent counsels across all industries.
Users' Perspective
"More than a place to store information – Sophia as SOP and long-term institutional memory"
Provides ease of use and logic between the different modules of Intellectual Property Disclosures
Scalable and ease of adding other departments as users
Keeps us on track in all tech-transfer matters, Intellectual Property management, and agreement processing
Product Demo Video/Snapshots
Source: Wellspring
#7. AcclaimIP
AcclaimIP from Anaqua helps create better patents, assess the competition's patent portfolio, and identify the most valuable patents in any portfolio. It provides a collection of search and analytics tools giving you the ability to research patent information faster, with more precision.
Key Features:
Speed, ease of use & global patent data
Quantitative patent scoring
Prosecution analytics
Pricing:
Offers a free trial and Customizable fee structure.
Deployment:
Cloud, SaaS, Web-Based.
Who Needs this Software
Suitable for patent owners, patent researchers, and intellectual property law firms that require patent information research and analysis.
Users' Perspective
AcclaimIP has been reviewed as:
Intuitive and efficient
Search outcomes can be configured in a variety of options
Database updates are performed timely
Easy to use
Product Demo Video/Snapshots
You can learn more about AcclaimIP here in just two minutes.
#8. Innovator Enterprise
The MindMatters Solutions' Innovator Enterprise software system is an Intellectual Property management software solution and tool designed to manage, safeguard and protect your intellectual property assets from their inception. Once entered, your invention disclosures are safeguarded within their Intellectual Property management software solution and routed only to those individuals authorized within your invention and patent review decision process to review, analyze, and decide on patent application or trade secret status. It allows you to easily manage the product-to-patent relationship so that new patents are automatically added to product descriptions and bar codes.
Key Features:
The snapshot feature allows users to take a "snapshot" or picture of the intellectual property at any point in time to make a permanent record of the document as of the snapshot date
The activity log tracks every change made to an invention disclosure or intellectual property record to provide an accurate audit trail for management
Advanced security features govern the departments, locations, and individuals that have access to various types of intellectual assets
Who Needs this Software
Suitable for corporations and universities involved in innovation, which require their entire innovations and invention process to be managed from the stage of idea inception to obtaining IP protection.
Users' Perspective
Respironics claimed that their R&D idea submissions have tripled over the whole of the previous year with the use of Innovator Enterprise.
Product Demo Video/Snapshots
Source: MindMatters
#9. DocketTrak
DocketTrak by Decision Design Corporation is a professional docketing system. The software detects any new application you file and creates your DocketTrak record automatically. It receives USPTO e-Office action emails directly into DocketTrak. It also helps to auto calculate patent maintenance fee dates and patent expiration dates.
Key Features:
Easy to use
DocketForm form letter technology for customized email and word form letters
Seamless USPTO and Private PAIR integration with PAIR Connect 3.0
Customizable auto docketing
Unlimited IP records and client users
A daily reminder email of upcoming dockets
Integration with USPTO patent e-office action emails
Pricing:
Offers a free trial.
75 USD per month.
Deployment:
Cloud, SaaS, Web-Based.
Who Needs this Software
It is useful for law firms and corporations which require cloud-based intellectual property management & docketing systems including reminders.
Users' Perspective
"A great easy to use IP docketing program"
Automatically updates deadlines in the docket without the need for manual input
Email notifications with upcoming deadlines
Form generation
Product Demo Video/Snapshots
You can take a tour of the DocketTrak software here.
Wrap Up
The true value of your Intellectual Property depends on how well your organization can manage and leverage it for successful commercialization. Using these best Intellectual Property management software makes it easier to keep track of your IP filings and avoid unnecessary errors. It also provides you with insight into patent pricing and filtering ideas to eliminate wasteful ideas and focus on commercially viable inventions.
You can organize and manage your IP by selecting one of the tools above, depending on the needs of your organization, making the process quick, easy & hassle-free. As we say here at Triangle IP 'Say goodbye to complex IP management, say hello to the TIP Tool.'.
Disclaimer: The information in this article/review is sourced from the internet and may not be entirely accurate or up-to-date. We recommend visiting the respective software websites for the most current and reliable information. The opinions expressed here are those of the author and may not reflect the views of Triangle IP. We are not liable for any consequences that may arise from relying on the information provided in this article/review.