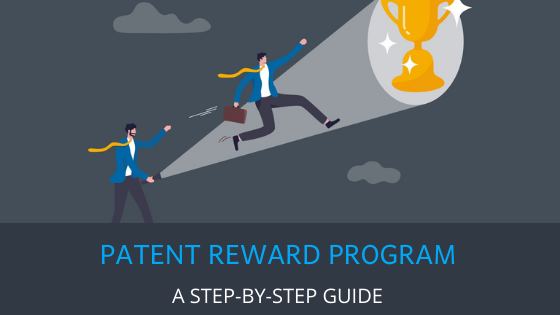 Innovation is anything but business as usual. Here's a step-by-step guide to launching a patent incentive program to promote innovation. 
We've converted this entire guide in PDF form that you can download and save for later reading (or sharing with your friends). You can download it using the form below:
Here's an effective 4 point blueprint:
Capture Ideas
Patents have become an increasingly vital aspect of business. In a competitive and fast-moving industry, protecting a company's intellectual capital and encouraging innovation is crucial to the unimpeded growth of your business. For strategic reasons, your company should carefully document innovative business-related ideas that your employees create and consider converting those ideas into patents.
Evaluate Ideas
Set up a company patent committee that evaluates ideas submitted by employees, directs the filing of patent applications and manages your patent program. Seek help in setting one up, if you do not have an in-house patent committee. Ensure that ideas are evaluated with an objective criteria to find the ideas most likely to protect the intellectual capital of the company within budgetary confines.
Ensure Company Wide Participation
Invite all employees to submit ideas, using Invention Disclosure Forms. Set up this infrastructure to ensure all employees across the board have access to these resources. Educate your personnel about the existence, availability and instructions of use of these tools.
Create a Reward Structure
Design an incentive policy or inventor bonus to encourage ideation among employees in your company. Although every idea submitted will not result in the writing of a patent; documenting and developing these ideas helps your company focus on our innovation and competitive advantage.
Here are some suggestions on how you can go about doing this.
Divide the patent process into phases with a different reward structure for each phase, for example:
Phase One : Submission of Invention Idea
Set out criteria and requirements for submission of an idea to the Patent Committee or equivalent. Later the committee can pick the most promising innovation for protection. An important requirement is that the inventor provides enough technical detail to allow a proper understanding of the invention. You can choose a suitable Invention Disclosure Form template to record invention details.
Phase Two : Filing of Patent Application
Criteria for an inventor incentive under this category could include filing of a non-provisional US Patent application along with the signing of the requisite documents requested by the Committee by the employee/inventor.
Phase Three : Issuance of Patent
If a patent application is successful you can give larger incentives. Criteria could include the event in which the Patent Office grants a patent without the Company abandoning the application.
The company can decide the type of incentives. Incentives can include cash reward, formal recognition or other benefits, proportionately set out for each phase. Presented below is a sample table that lays out the patent incentive program.
[1] All COMPANY employees are eligible to participate in the COMPANY Patent Incentive Program.
[2] Patents may only be applied for by actual inventors, and patent laws heavily penalize patent holders where actual inventorship is misrepresented during the process of applying for the patent.
[3] Where COMPANY determines to file a provisional patent application, the Phase B reward would be payable at such later time, if any, as COMPANY converts the provisional patent application to a non-provisional patent application.
[4] Phase B reward applies solely to filing of patent applications in the United States, and not filings in any other countries. Continuation and Divisional applications are not eligible for an incentive.
[5] Employee inventor(s) must cooperate in prosecuting the patent in the United States and abroad as requested by the Committee to remain eligible for a Phase C incentive.
[6] Only one Phase C monetary award is possible per employee inventor per patent application filed such that any continuation or divisional of the original patent application could not result in further awards.
On a side note: Would you want to know how your patent application is progressing at the USPTO compared to other applications in the same domain?
The TIP tool offers statistics of the law firm and the examiner handling your case. Once the application is filed at the USPTO, and an examiner is allotted to your case, the tool indicates the relative performance of the law firm handling your case. The statistics revolve around the number of arguments, grant rate, and grant time. The tool also indicates the case health, for instance, it can tell you if a case needs your attention. There is a whole bunch of insights that you can gather from the TIP tool for strategic patent prosecution.
Request insights for any of your cases at the patent office using the form below.
Let's Sum it Up
When creating a patent incentive program, you must make all terms and conditions of the program clear to the employees. Inventors will scrutinize the rules so leave no room for confusion.
Let the company retain the sole right to delete, suspend, discontinue or revise any of all provisions in the company 'Patent Incentive Program' at any time, for any reason, with or without notice. Consider posting the latest policy on the company intranet. The company patent committee must have the sole discretion to choose the ideas for filing as patents, choose which countries to file into, and to abandon patent applications when deemed warranted.
Remind your employees about the existence of the company patent program with an orientation at hiring and follow-up training. Patentable ideas are among the company's most sensitive information, and everyone must treat them with the utmost confidentiality.
At TriangleIP we have designed an intuitive drag and drop innovation management software to take care of your patent mining process. Definitely give it a try!
Note: The preceding is general business advice and not to be construed as legal advice. IP laws vary by country and retaining licensed legal counsel is advised to confirm this information. Any expressed or implied opinions are of the author and do not necessarily reflect the views of Triangle IP or any other entity who might be associated with the presenter. We hope this content is helpful to you, but should not be relied upon without confirming the advice and accuracy with local legal counsel. Any comments or inquiries are not confidential so please discuss your issues directly with counsel.