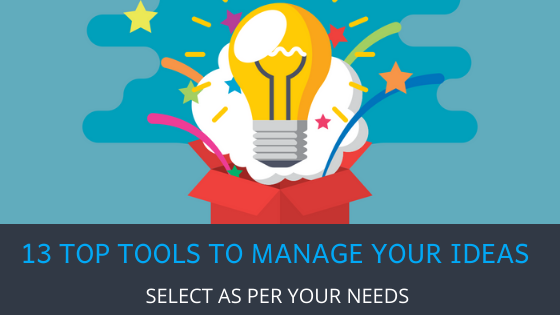 "Many things can go wrong regarding the generation of IP wealth for your company. From the lack of participation from collaborators across several aspects of the IP journey, to the failure of catching on to the redundancy of a patent until later stages. You can lose the potential to generate wealth with your IP. However, harnessing this potential to reap the benefits requires crucial Intellectual Property (IP) management."
The journey from ideation to commercialization is fraught with several hurdles that you can overcome with the right idea management software. Managing your patentable ideas and tracking them through a complete IP life cycle requires more than loose supervision. From ensuring that everyone involved in the process participates, to determining which ideas show more promise than others – IP management tools enable you to single out the best ideas for patenting.
Nowadays, picking the right idea management software is vital to give your business a leg up on the competition. The types of tools that you can utilize for IP management include:
Make-do tools
Tailored-for-use tools
Sewing-machine-for-a-needle type tools
Each of these tools has numerous advantages and disadvantages that significantly impact your IP life cycle and can make or break your patent pipeline. For example, make-do tools, such as spreadsheets, only provide data as recent as that of the last update, which you have to perform manually. Not only does this mean that your data on the spreadsheets can be stale at any time, but also that you have to stay current with the details of your patent's application while manually updating your records. Such a task can cause you to lose valuable time and resources.
Why go through so much stress when you can manage your patenting ideas in a more convenient, streamlined way? This article explores different tools that you can use to manage your patentable ideas.
Make-Do Tools
This category of IP management tools has more adverse effects than most, especially when managing your ideas across the typical IP life cycle. At first, they may seem like the most affordable options, with some of them having no cost. However, by opting for more affordable options, you may be sacrificing features that can benefit your intellectual properties in the long run.
1. Emails
Emails refer to mailing services that enable us to send and receive electronic messages containing text, images, or documents. You can choose from various options when deciding which mailing service to utilize. The major mailing services include Google Mail, Yahoo! Mail, and Microsoft Outlook. Most mailing services contain a draft section that can act as a makeshift notepad and signature choices to make messages more formal.
When patentable ideas are shared over emails there is a good possibility that they can get lost in transition.
Features
Auto-responding to messages that contain specific keywords with pre-typed responses
Auto-scheduling when your messages are sent
Contact management to access all your contacts in one place
Spam blocker to block suspicious messages
Inbox management to archive, delete, and restore messages
Pros
Free to use
Easy to integrate with other services like analysis tools
Cons
Users may miss important messages that are filtered into spam
Can be breached, leading to loss of sensitive data, i.e. IP
Pricing
Most mailing services are free to use.
2. Notebooks
Notebooks are essential tools on your IP journey. Depending on your preference, you can use physical notebooks or notebook software like Google Keep, Evernote, and Notion. These allow you to take notes, store images, set reminders, collaborate with others, and keep recordings.
However, retrieval of information becomes a challenge if you use it for managing patentable ideas.
Features
Organize handwritten or typed notes
Set reminders
Assign and keep track of tasks
Synchronize with your calendar
Create to-do lists
Pros
Free to use
Access digital notes from any of your devices
Cons
Some manual input required
Unorganized notes can create clutter
Pricing
Free to use.
3. Home-Grown tools
Home-grown tools refer to software that your company has built in-house. These types of in-house tools require development efforts in terms of some time and money. However, dealing with the app's shortcomings can be frustrating when a better, more affordable option is available.
Features
The features of home-grown tools vary, depending on your organization and what you built
Pros
Typically low cost
You have administrative access to the tool
Cons
Nearly impossible to integrate everything you need to make managing patentable ideas convenient
It can be costly to integrate different APIs for several features
Pricing
Usually not so expensive.
4. Excel
Excel by Microsoft is versatile spreadsheet software that enables you to carry out data analysis functions and scientific modeling. The software consists of static spreadsheets that you must update manually to manage your patent portfolio. It can also be challenging to track changes in a shared document as the spreadsheets are not multi-user friendly, making collaboration among IP stakeholders inconvenient.
Features
Data analysis and visualization
Tabular spreadsheets for keeping data
Spreadsheet templates
Drag-and-drop capabilities
Document management
Search and filter options
Pros
Ability to collaborate with multiple users
View data charts from one dashboard
Customizable templates
Cons
Inability to effectively represent data in text format
Users must import or input data manually, which is susceptible to human error
Filtering data is limited
The level of collaboration is restricted
Pricing
Free trial for one month
Microsoft Excel is available as part of Microsoft Office 365 subscriptions.
View pricing plans here.
Demo
Demo not available. However, you can get great insights on the use of excel for managing patentable ideas here – Why managing patentable ideas using Excel spreadsheets is a bad idea.
5. Trello
Trello is a software tool that enables collaboration among IP stakeholders as conveniently as possible. The software makes engagement fun and visual with project boards, cards and various assignment colors. You can view all your patentable ideas on one Trello board, separate ideas across several workspaces with different teams and track progress regarding the stages of the IP journey with automated deadlines and tools using seamless API integrations.
Features
Tag collaborators on an idea card
API integrations with other software tools
Easily track project activity and progress
Receive notifications via email or Trello application
Pros
Easy to use
Adapted to track team members' progress
Seamless integration with other software tools
High level of transparency among collaborators
Cons
Collaborators can accidentally change the assignees for projects quite easily
Pricing
Free trial is available for Premium for 14 days
View Trello's pricing guide here.
Demo
Check out a quick overview of Trello here.
6. Asana
Asana enables teams to stay organized and connected by bringing all the work into one shared space. Not only can you manage and regulate all the information and essential documents for your IP in one space, but you can also set automated reminders and avoid missing major deadlines, especially regarding the registration process of your patents. With Asana, you can build a straightforward IP database to view all your IP assets easily.
Features
Easily coordinate team members via automated processes
Track project timelines with Gantt charts
Stay focused with Kanban boards
Integrations with other apps bring all the support your team needs in one space
Real-time reports on work progress
Easily sync projects and set strategic team goals across all devices
Pros
Highly advanced and easily accessible features
Seamless software integration
Customizable project boards
Cons
Fully web-based on desktop, so you always have to leave a browser open for desktop notifications.
Pricing
Asana Basic: Free
View additional Asana pricing plans here.
Demo
Click here to watch a quick overview and walkthrough for Asana.
7. Jira
Jira by Atlassian provides a space for team members to stay in the loop regarding project updates from assigning to completion. This software offers dashboards, reports and workflows that you can adopt or customize to better track your patentable ideas. However, Jira is a generic tool and not a specific one when it comes to IP management.
Features
Scrum boards to break projects into small chunks that you can easily assign to employees to get things done faster
Roadmaps to keep you and your team aligned and focused on your goals and make better decisions
Dashboard reports track project progress
Pros
Straightforward and easy to use
Drag-and-drop automation
Cons
A limited number of software integrations
Issues with assigning tasks to team members
Pricing
Free Trial is available and is always free for ten users
Enterprise: billed annually — contact Jira Support for more information
View Jira pricing plans here.
Demo
Join Jira's weekly product demo and chat live with Atlassian product experts here. You can also check out the Jira alternative for IP management.
8. Salesforce
Salesforce enables teams to develop enterprise software that improves both team and investor engagement. With several app packages, you can use Salesforce to organize and visualize your IP portfolio in one collaborative location. You can also reduce administrative tasks, make smarter IP decisions and better invention disclosures using a highly automated workflow.
Features
API Integration
Dashboard to view project activity
Task Progress Tracking
Pros
Cons
Additional features can be costly
Pricing
A free trial is available
Employee Apps Starter: $25 per user per month
Employee Apps Plus: $100 per user per month
Heroku Enterprise Starter: from $4000 per company per month
App Cloud Unlimited: contact Salesforce for a quote
Demo
Check out the Salesforce demo with an overview and features walkthrough by GetApp. Learn more about the shortcomings of using Salesforce for IP management here.
Tailored-for-Use Tools
Compared to the previous categories, tailored-for-use IP management tools give you the best value for your money. Software in this category includes features that help manage your patentable ideas and enable you to stay updated on your IP's progress every step of the way.
9. The TIP Tool
The Triangle Intellectual Property (TIP) tool is an intuitive drag-and-drop tool to help you capture enterprise-wide innovation & manage your patent lifecycle using patent data analytics. In addition to removing most of the stress and complexities regarding IP management, the TIP tool also keeps you updated with USPTO.
Key Benefits
Intuitive invention disclosure form that enhances the quality of your invention disclosures
Patent pipeline visibility that enables you to track your idea from its evaluation to drafting and filing
Real-time collaboration for engaging with all idea stakeholders, regardless of their locations
Case analytics and cost prediction give you an estimate on whether your idea will get patented and the price of getting a patent later
USPTO status updates to keep track of your published and unpublished applications
Features
Idea capturing
Transparent patent pipeline
Automatic USPTO updates
Pros
Easy to use and understand
Track and stay updated with your IP life cycle stages in one environment
Different permissions for different personnel to ensure secure and effective collaborations
Separate admin and manager roles
Cloud-based software
Cons
It doesn't offer patent incentive management capability
Pricing
Free trial available for two months
Free basic version
Premium version: $50 per month or $495 per year
Custom pricing is available
Demo
Watch this video to learn how patent analytics can help you make better data-driven IP decisions.
10. AppColl's Invention Manager
AppColl's Invention Manager allows you to document your inventions quickly and easily. With features such as graphical reports, you can track the disclosures you have filed in addition to your patent applications.
Key Benefits
Fully customizable disclosure form according to your requirements
An approval flow that notifies stakeholders on each point of the workflow
Smooth integration with other enterprise software
Features
Report dashboard for monitoring your invention and patent filing process
Disclosure form
Approval flow
Pros
Accesses information from USPTO PAIR
Easily create customizable reports
Cloud-based software
Cons
You cannot customize the dropdown menu in the billing section to add descriptions
Pricing
Pricing starts at $350 per month.
Demo
You can schedule a product demo here.
11. IdeaScout
IdeaScout by CPA Global's innovation and IP strategy business, Innography, improves innovation efficiency by connecting R&D to IP. Besides improving the quality of ideas, IdeaScout also streamlines the IP journey from new idea to invention disclosure to patent application.
Key Benefits
Straightforward idea submission
Idea valuation and suggestion
Investor engagement and empowerment
Features
Idea capture and catalog
Automatic suggestion on ideas
Network of over 18 million inventors for collaboration
Helpful feedback
Pros
Helpful feedback
Increases the quantity and quality of the ideas you submit
Cons
Not synced with USPTO updates
Demo
You can learn more about IdeaScout by watching this video by Mojave Pictures.
Sewing-Machine-for-a-Needle Type Tools
Law firms majorly use docketing software to update deadlines at different intervals, providing notification alerts regarding ongoing or previous projects. As for idea management, docketing software tracks every activity that needs to be performed on your account. However, because docketing software is quite costly with often redundant reports, it can be overkill for managing patentable ideas, mainly when farming out the work to law firms.
12. Anaqua
Anaqua is a software tool that provides features for developing IP into business success. With several different services regarding IP solutions, Anaqua adds a client-centric touch to the IP journey.
Features
IP portfolio management
Patent search services
Docketing and administration services
Pros
IP administration and IP management in a single platform
Real-time portfolio information and reviews
Cons
Pricing
Contact Anaqua support to get more information on pricing.
Demo
Watch this video to see how Anaqua serves as idea management software for law firms.
13. FoundationIP
FoundationIP is IP management for high-performing law firms that seek a competitive advantage. This tool enables you to optimize your IP operation, improve your client interactions and quickly scale as your firm grows.
Features
Automate manual tasks
One-click docketing from USPTO Private PAIR
Customizable reports
Pros
Enables direct client access to information
Personalized docketing templates
Cons
Difficulty viewing billing history
Pricing
The pricing is based on the feature you choose.
Demo
Watch this video for an overview of FoundationIP software.
What Really Matters
When it comes to managing your patentable ideas, there is plenty of idea management software available to you. At Triangle IP, we know the challenges businesses face regarding IP management. Our TIP tool is the right partner for you to handle the complexities of IP management with ease. Check it out here; the TIP tool offers a demo playground with pre-populated data for you to explore tool functionality with ease. Contact us for more information.