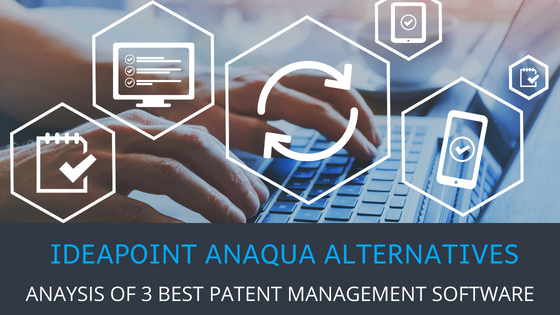 A good patent management software must:
Minimize friction from innovators in submitting ideas for patenting
Allow inventors, technical reviewers, managers, and patent counsel to edit invention details simultaneously
Tell you the likelihood of getting a patent
Stay in sync with the USPTO
Give you end-to-end cost estimations for patenting
Provide informative dashboards to track IP-related metrics
and more.
ideaPoint by Anaqua is a good choice for patent management software if you are a Fortune 500 company.
However, if you are looking for ideaPoint (by Anaqua) alternatives to try in 2022, we highly recommend exploring the TIP ToolTM by Triangle IP.
Top 3 Anaqua's ideaPoint Competitors to Try in 2022
We're here to assist you in exploring and selecting the most appropriate patent management software solution for your enterprise. Here are your top three choices:
#1 – Triangle IP's TIP ToolTM
#2 – IPFolio
#3 – Decipher
Presented below are benefits, key differentiators, and other parameters about these three ideaPoint (by Anaqua) competitors to ease your selection.
#1 – Triangle IP's TIP ToolTM
At its heart, the TIP ToolTM is a patent management tool. However, you don't need to be an IP expert using the TIP ToolTM. It helps you establish control of your entire innovation management process, from ideas to patents. If you require a tool to capture potentially patentable ideas, track their progress, provide actionable patent data intelligence and manage your pipeline frictionlessly, the TIP ToolTM is ideal.
Key Benefits
Here are the seven key benefits of the TIP ToolTM in this competitive landscape:
Improve the quality of invention disclosures
Gain visibility into different stages of your patent pipeline
Brainstorm ideas with stakeholders on a real-time basis
Make informed patenting decisions with actionable patent data intelligence
Manage IP budget wisely with end-to-end patenting cost estimations
Stay automatically in sync with the USPTO
Get a holistic view of your ideas, patents, and key performance metrics of your innovators
Improve The Quality of Invention Disclosures
An ideal invention disclosure provides a crystal clear understanding of the problem that an idea solves, how it intends to solve it, how the resultant invention will operate, and its feature enhancements versus existing alternatives.
The inventors can easily share these details through summary sections and attachments while submitting ideas through the TIP ToolTM. The TIP ToolTM minimizes friction in the idea capture process by keeping the idea capture form short, relieving the user of remembering one more password, etc.
The idea capture forms are available for download in Word and Excel. The good part is – filled forms are readable back into the tool. The innovation managers can also customize these idea forms to suit their enterprise's needs.
Moreover, the TIP ToolTM enables thorough vetting by all stakeholders. It allows inventors, technical reviewers, managers, and the patent counsel to brainstorm and edit the information related to captured ideas simultaneously. The tool also gives a patentability score to all the captured ideas based on deep learning patent analytics. Such human and data-backed vetting leads to the selection of only the most promising ideas for patenting.
Also, read – Five Ways to Get Effective Invention Disclosures From Your R&D team.
Gain Visibility Into The Different Stages of Your Patent Pipeline
The TIP ToolTM allows you to watch your patentable ideas progress through different stages in the IP lifecycle: Idea Capture, Internal Vetting, Patent Drafting, and Filed. You can simply drag and drop ideas from one stage to the next.
Brainstorm Ideas With Stakeholders On A Real-Time Basis
The TIP ToolTM facilitates brainstorming over ideas like no other tool out there in the market by
Allowing collaborators to edit the idea summaries simultaneously
Keeping track of every change made to the idea summary and the person who edited the summary
Letting collaborators add comments and tag other collaborators in comments
Decreasing the response time from collaborators by notifying them of the status updates of an idea instantly
Allowing to add attachments in multiple formats like PDF, image, video, etc.
Make Informed Patenting Decisions With Case Analytics, Patent Counsel, and Examiner Statistics
A patent prosecution decision weighs a lot of factors, including the likelihood of getting a patent, patenting costs, estimated time to allowance, and more. The TIP tool gives a patentability score to each idea by taking into account examiner statistics, patent counsel statistics, average allowance data for the given art unit, etc.
Manage Patent Budget Wisely With End-to-End Cost Predictions
The TIP ToolTM will inform you how much a patent will cost you over the years, including the drafting fee, filing fee, attorney fee, maintenance fee, etc. for provisional as well as non-provisional patent applications.
Stay In-Sync With USPTO
The TIP ToolTM keeps you notified about the status updates from the USPTO for published and unpublished patent applications.
Get A Holistic View of Your Ideas, Patents, Key Performance Metrics of Your Innovators
The TIP ToolTM allows you to stay on top of innovation efforts at your enterprise with the aid of intuitive dashboards.
You can immediately learn about the IP creation efforts of your team. Find out which ideas are in the ideation, drafting, and filing stages.
Ideas facing bottlenecks? Don't worry. The TIP ToolTM notifies if an idea needs immediate attention if it stays in the ideation and vetting stage longer than expected.
To help you identify and reward promising inventors & managers, the TIP ToolTM showcases which innovator has submitted maximum ideas or filed most patents.
Key Features
Access Account Using Magic Link-Based Login
The TIP ToolTM reduces friction for innovators by relieving them of remembering one more password. A simple magic link-based login process allows users to access the tool whenever needed, without any password securely.
Filter Ideas Using Tags
The TIP ToolTM enables users to add tags and later filter submitted ideas based on these tags. The tags can indicate particular product lines, technology, or any other grouping they deem appropriate.
Provide Role-Based Access
Are your inventors and managers aligned with their KPIs? The TIP ToolTM allows users to keep track of their IP activity by providing role-specific dashboards.
View Patent Data as a Family Tree
The TIP ToolTM lets you see the patent continuity data in tabular and visual formats.
Suitable Company Profile
Startups, individual inventors, small-to-medium sized enterprises, and patent practitioners greatly benefit from using the TIP ToolTM.
Pricing
The TIP ToolTM provides a free tier (forever). Its premium tier costs $50 per month and $495 per year. Triangle IP has you covered if you're looking for a custom tier. Visit its pricing page.
Website
Visit Triangle IP's website to explore the product.
Demo
The TIP ToolTM offers a demo playground with pre-populated data to easily explore the tool's functionalities. Sign up for an interactive product demo to experience the TIP ToolTM's features for yourself!
#2 – IPFolio
Introduction
IPFolio is an end-to-end IP lifecycle management solution. It connects with Clarivate's market-leading data to make rapid and accurate decisions. Furthermore, this cloud-based solution allows you to manage IP operations from a centralized hub.
Key Features and Benefits
Collaborate Seamlessly With Inventors, Outside Counsel, and Other Stakeholders
IPFolio provides users with a connected ecosystem. In its Intellectual Property Portal, users can collaborate seamlessly with other inventors, outside counsel, and other stakeholders.
Automate Data Verification and Auto-Docketing
Users can work comfortably with access to cleaner, more reliable, and consistent data. IPFolio allows automated data verification and data enrichment along with seamless auto-docketing.
Configure Your Hub Flexibly
Every IP portfolio's size and needs are unique and dynamic. IPFolio is flexible to configure to maintain centralized access to pertinent data.
Share Custom Reports and Dashboards
To improve analysis and collaboration with critical stakeholders, IPFolio allows the capability to share rich insights using custom reports and dashboards quickly and easily.
Receive Centralized Access to Documents
While organizing ideas, it is a given that you'll deal with swathes of data. IPFolio allows centralized access to documents like inventions, patents, trademarks, domain names, and copyrights.
Access Industry-Leading Clarivate IP Data
You can rest assured that your IP data exposes you to minimal risks by accessing industry-leading Clarivate IP data.
Obtain Embedded Analytics and Data Visualizations
Analytics on your company's IP Portfolio are an embedded part of the IPFolio experience. Users can derive insights using insightful data visualizations.
Suitable Company Profile
IPFolio is an appropriate option for corporate IP teams.
Pricing
You can contact the IPFolio team to learn more about pricing and demos.
Website
Visit IPFolio's website to explore the product.
#3 – Decipher
Introduction
If your enterprise is looking to achieve its innovation potential, Decipher helps to streamline collaboration, increase innovation output, and improve overall invention disclosure quality.
Key Features and Benefits
Improve Idea Disclosure Workflow
Decipher allows users to submit their ideas using a simple workflow quickly. Users can also add designs, prior art, reviewer notes, and more.
Track Real-Time Idea Progress From Inception to Protection
Decipher also allows users to track progress at every point from inception to protection and identify bottlenecks. Additionally, teams can accurately track each change and decision for smarter innovation.
Improve Action Response Time
Decipher users also receive automated alerts for an improved patent office action response time.
Collaborate Seamlessly With Users
Decipher users can collaborate in-person or asynchronously. To comprehensively vet ideas, users can receive thorough input from all reviewers leading to higher quality.
Provide Role-Based Access
Decipher offers control permissions to new ideas while juggling increasing IP visibility across the enterprise.
Measure Performance Against Key Indicators
To measure your employees' innovation activities, Decipher allows you to set key performance indicators and measure performance against them.
Manage Cost Control
IP management can make your expenses balloon significantly. In addition, Decipher enables users to determine what to patent, publish, or hold as trade secrets.
Suitable Company Profile
Decipher is ideal for companies looking to keep track of intellectual property and legal rights such as patents, trademarks, copyrights, and trade secrets.
Pricing
You can contact the Innovation Asset Group, Inc. to get started on a free trial.
Website
Visit Decipher's Invention Disclosure Management website to explore the product.
Idea Management Software Comparison Matrix
| | | | | |
| --- | --- | --- | --- | --- |
| Parameter | The TIP ToolTM | IPFolio | Decipher | Anaqua's ideaPoint |
| Idea Capture Form | Inventor-friendly customizable invention disclosure form (IDF) | Centralized hub to add multiple documents in addition to idea disclosure | Simple workflow to add designs, prior art, reviewer notes, and more | Simple, intuitive user interface to submit ideas |
| Real-Time Collaboration | Users can collaborate and edit ideas simultaneously. The TIP ToolTM maintains a live record of changes made | IPFolio allows users to collaborate seamlessly with other inventors, outside counsel, and other stakeholders | Decipher enables users to collaborate in-person or virtually and receive thorough reviews on ideas | Submitters can stay informed of changes to ideas. They can evaluate and provide feedback to other ideas virtually |
| Demo | Use demo playground to explore the tool | Request a demo | Request a demo | Contact |
| Suitable Company Profile | Medium-sized enterprises that file 15+ patents annually | Corporate IP teams | Companies looking to keep track of intellectual property and legal rights | Fortune 500 companies |
| Pricing | Free tier; Premium tier costs $50 per month and $495 per year; Custom tier | Contact | Contact | Contact |
A Quick Wrap Up
In this piece we have provided in-depth information that helps you select an alternative for Anaqua's ideaPoint.
Whether your business is a startup, a Fortune 500 enterprise, a corporate IP team, or whether you're an individual inventor or patent practitioner, there is a suitable tool out there.
If you are a medium-sized enterprise, look for the following features:
Access to an intuitive and customizable invention disclosure form
Collaborate with stakeholders asynchronously and maintain live access to changes made to ideas
Visualize the idea-to-protection track and IP activity at your enterprise using dashboards
Obtain critical information around patenting estimating costs, and mission-critical patent analytics
About Us
The TIP ToolTM by Triangle IP is an intuitive drag-and-drop tool that helps you manage the end-to-end IP lifecycle from ideas to patents. The tool underwent creation with the vision of democratization of patents. Usually, the patent process is not transparent, and many enterprises do not have enterprise-wide innovation capture systems and processes. The TIP ToolTM is here to change that. With the TIP ToolTM, anyone in the enterprise can submit and track the progress of their innovative ideas. The TIP ToolTM also helps you manage your patent portfolios with deep learning to guide your patent strategy efficiently.
Disclaimer: The information in this article/review is sourced from the internet and may not be entirely accurate or up-to-date. We recommend visiting the respective software websites for the most current and reliable information. The opinions expressed here are those of the author and may not reflect the views of Triangle IP. We are not liable for any consequences that may arise from relying on the information provided in this article/review.