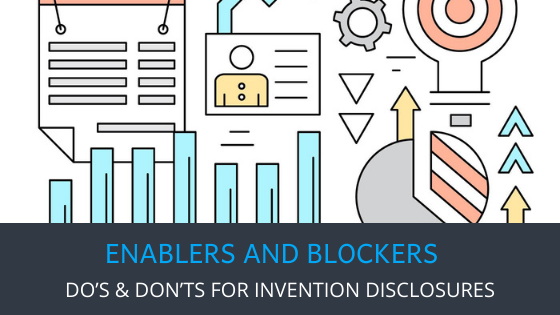 Not enough invention disclosures?
Your patent program may fall apart if your inventors are not submitting enough ideas to feed the pipeline toward patenting. The underlying reasons could be anything; from lack of inventor motivation to the process being confusing.
The progression of an idea from the invention to the patenting needs to be a systematic process with steady and sustained flow through the various stages. It starts with invention disclosure or capture where you would need your inventors to disclose their new innovation.
Let's do a deep dive into the first step—Invention Disclosure and how you can begin a successful patent program.  
The Invention Disclosure / Idea Capture Form
Simply said, an invention disclosure form (IDF) captures an invention and surrounding details with the intent of possibly patenting. 
Invention Disclosures | The Blockers
Ad-hoc Process
Many companies don't have a set process for filling IDFs. Some companies use simple forms for invention disclosures, and others have an online equivalent. Tracking of the IDF workflow might use makeshift approaches such as spreadsheets. Sometimes the only process happens with emails. 
Each of these processes has one or the other drawback as listed below:
Non-intuitive for inventors without easy collaboration
Possibility of loss of data in transitions with little transparency
Long and complex forms act as a friction intimidating innovators
Lack of real time updates on the progress from idea to patent
The Reluctant Inventor
Inventors like to create, but their disinterest in long forms is a hurdle. Sometimes, the inventors are too busy with other priorities and other times they shy away from the lengthy process.
There is a possibility of lack of motivation too for inventors to fill the IDFs. Either they are not aware of the importance of patents or there is not sufficient incentive attached with the disclosure process.
Long and Complex Forms
Inventors do not receive instruction on the patent process in university and don't understand what information should go into the requested form fields. Vague questions frequently create a practical barrier for the first-timers, and a busy inventor might lose interest quickly for a tedious form. Eventually, a lack of guidance to fill out the right information also hampers an inventor's interest.
Lack of Recognition
Have you motivated your inventors enough to fill an IDF? Positive reinforcement helps.
Those who are less familiar with technical documentation and publishing papers are more reluctant to fill out long forms. Tracking who is submitting ideas into the process and providing positive feedback helps socialize the importance of the patent program.
Lack of Awareness
Often, inventors simply aren't aware of the patenting process, and they don't know the benefits of protecting their innovation. Even if companies have a patent training course for their employees, maybe it only happens once a year. Ideally, the awareness starts with hiring, during orientation and should be reinforced frequently.
Sometimes, inventors harbor false perceptions of patents from the wrong sources. Explaining the strategic reasons for the patent program helps socialize the importance to enterprise success. Most companies are loath to enforce their patents as that would scare away participation.  Explaining defensive patent portfolio strategies that discourage others from preemptively suing while enhancing shareholder value with intellectual asset creation are more easily embraced strategies.
Invention Disclosures | The Enablers
You must sufficiently motivate the inventors to avoid the loss of patentable ideas. The unprotected innovations are given to the public domain if a patent is not quickly filed.  Here are a few tips to encourage engagement with the patent process:
Culture Change & Awareness
Conduct regular training for the inventors and IP teams. Educating new employees about the benefits of invention capture and how the complete process can improve your IP portfolio. Explain the strategies for building a patent portfolio. These are great opportunities to also invite industry experts to speak in internal forums. Consider workshops around innovation to motivate people further.
Explain the process clearly and as interactively as possible. Make available an IP expert(s) that inventors can seek out for guidance.
Rewards & Recognition
Creators need the motivation to spend time engaging in the process. Offer a bonus at different stages along the way to getting a patent. In addition to monetary bonuses consider giving them other rewards such as, certificates, manager recognition, and a voice in internal newsletters.
Seek Only What's Necessary
The process of capturing innovation from inventors should have minimum friction. Long and complex forms discourage engagement. Hence, in the first go, seek only the necessary information with the IDF. 
Title
The title should be a one-line concise description of the invention.
Email
The form should capture the inventor's email address for follow-up. Contact information about any manager or prosecutor would be a plus.
Summary
The summary should be focused on the following three most important things:
Technical problem the invention solves
Scientific or technical solution – the invention itself
Advantages over existing solutions to the subject problem
Attaching existing diagrams, presentations, and other documents that add clarity towards understanding the invention better.
Keeping all the above in mind, we have designed the idea capture form with a very simple and intuitive approach via the TIP tool (an innovation management software) at TriangleIP. 
To download the Invention Disclosure Form, request below!


Download IDF in Word Format


Download IDF in Excel Format
The form limits necessary fields only to the invention title and inventor's email. It also has a summary section where the inventor fills out the invention details in a problem-solution-benefits format. Don't forget to tag your disclosure with keywords to make later searching and sorting easier. The form further has few additional fields for subjective value, patentability estimate and any filing deadline. Attach any file that provides more detail on your invention such as white papers, presentations, recordings, videos, etc. .
Here is another good read for you – "7 surefire ways to get more invention disclosures".
Wrapping Up The Do's & Don'ts For Invention Disclosures
The first step to creating a successful patent program is to set up a systematic process to capture ideas and manage their journey to patent protection. Invention disclosures are the beginning point in this program. Encourage your inventors to fill the disclosures by:
Keeping the process intuitive
Incentivizing the process of writing and submitting disclosures
Training the inventors on the importance of IP
Creating a culture of innovation that seeks to produce regularly
Simplifying and socializing the innovation management process
With these tips, we hope your inventors fill your capture program with an abundance of IDFs to feed your patent program.
Beyond the use of the downloadable IDF form we provided above, the TIP tool by Triangle IP can help you manage your patent program with it's simple workflow and drag-and-drop features. Additionally, the tool is soon going to offer various analytics that can enhance patenting decision-making. Definitely give it a try!
Note: The preceding is general business advice and not to be construed as legal advice. IP laws vary by country and retaining licensed legal counsel is advised to confirm this information. Any expressed or implied opinions are of the author and do not necessarily reflect the views of Triangle IP or any other entity who might be associated with the presenter. We hope this content is helpful to you, but should not be relied upon without confirming the advice and accuracy with local legal counsel. Any comments or inquiries are not confidential so please discuss your issues directly with counsel.
TIP Tool is free for your whole team
No credit card required. No setup fees. No need to download.