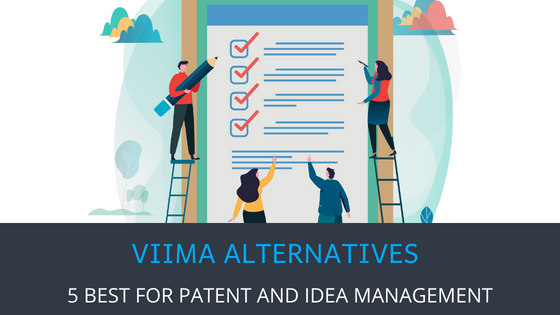 With a 4.9-star rating on Capterra, Viima is a widely used idea management software – that offers both SMEs and large enterprises to collect ideas from different stakeholders.
However, if your requirements extend beyond capturing ideas, such as patenting, you'll need a more comprehensive solution that addresses a wider range of needs.
Before we dig into the list of alternatives, let's look at the must-have features of the alternative solution.
Features and Benefits to Look For in Viima Alternatives in 2023
When exploring alternatives to Viima, it is crucial to clearly understand the essential features and benefits that a valuable idea management tool should possess.
Streamlined Idea and Patent Management
The tool must streamline innovation capture throughout the entire enterprise. It should ensure comprehensive scrutiny of ideas and foster a cohesive platform where all stakeholders – including inventors, managers, subject matter experts, patent counsel, and business teams – can collaborate effectively. Additionally, it should facilitate patent tracking while maintaining vigilance over patent portfolios and more.
Role Specific Dashboards
The tool must offer role-specific dashboards for monitoring innovation-related activities, catering to the needs of various stakeholders. Specifically:
Inventors can utilize this feature to observe the progression of their innovation efforts and ideas through different stages.
Managers can use their custom dashboards to stay aligned with their Key Performance Indicators (KPIs).
Innovation officers can keep abreast of idea and patent pipelines, and identify promising inventors and managers.
Patent counsel can leverage this tool to manage diverse client portfolios with ease.
Informed Patenting Decisions
The tool must make certain predictions to help innovation officers make informed patenting decisions, for instance:
Likelihood of allowance
End-to-end patenting cost estimations
Alerts on a case that is deviating from expected progress
Patent Family Tree Generator
The tool must generate intuitive visual representations of patent family trees, incorporating traditional and Gantt chart styles. This capability enhances the assessment of the robustness of any patent portfolio – whether it's your own or a competitor's – particularly about specific products or technologies.
Well Curated Offerings
The software should offer a free trial plan for evaluating its features. It should also include adaptable premium plans available monthly or yearly. The software should provide custom pricing solutions for larger enterprises with unique needs to cater to their specific user base.
Viima Alternatives to Checkout in 2023
Different innovation officers have diverse needs. While some may seek alternatives to Viima for patent tracking capabilities, others might prioritize facilitating open innovation. There might also be a preference for gamification features or patent analytics among some.
Recognizing these varying requirements, we've compiled a list of the top 5 tools, each with its unique offerings, to simplify your selection process:
Viima Alternative #1: The TIP ToolTM by Triangle IP
The TIP ToolTM is an intuitive drag-and-drop tool to facilitate enterprise-wide innovation capture & manage end-to-end IP life cycle for effective mining of patents.
Source – Triangle IP
Key Benefits Offered by the TIP ToolTM
The TIP Tool™ by Triangle IP emerges as a robust alternative to Viima, particularly for enterprises aiming to systematize their patent mining processes. Users often commend its role-specific dashboards and its capacity for fostering real-time collaboration, among other numerous advantageous features.
#1 – Capture Ideas Enterprise-Wide
In many companies, the ideation stage is often overlooked within the innovation funnel because of companies' instinctive desire to explore untapped markets.
However, this inclination is outdated – because innovative ideas can originate from anyone within the enterprise.
To foster a culture of idea sharing, the TIP Tool™ offers an idea submission platform that all employees can access throughout your enterprise.
The tool enables your entire enterprise to participate in the patent mining process while prioritizing the confidentiality of your intellectual property (IP) data.
#2 – Boost Engagement with Innovators
The TIP ToolTM encourages participation from innovators by using a short idea-capture form.
The tool allows downloading the idea-capture form in Word and Excel formats, which can be seamlessly imported back once they fill out the form.
Users can customize the forms to align with their enterprise's specific requirements – such as modifying fields and adding or removing information.
Innovators can easily monitor the patenting process, including idea-capture, vetting, patent drafting, and filing, and share their views inside the dashboard.
Also, check this video where Thomas Franklin, founder of Triangle IP, shares how to make innovators fill the invention disclosure forms?
#3 – Drag-And-Drop Ideas With Ease Across Different Stages
The TIP ToolTM's intuitive drag-and-drop feature allows users to seamlessly move ideas between stages (idea capture, internal vetting, patent drafting, and filing), keeping all stakeholders informed of updates and changes.
#4 – Filter Ideas Based on Tags
The TIP ToolTM's tag-based filtering allows users to categorize and sift through ideas using specific tags or keywords. These tags relate to technologies, business units, project stages, or other relevant themes. Users can efficiently review and manage ideas by filtering for specific tags, enabling targeted evaluation of ideas based on their relevance to a particular interest or responsibility.
#5 – Collaborate in Real-Time for Thorough Idea Vetting
The TIP ToolTM empowers your team members and subject matter experts to collaborate effectively, just as they would in person.
Similar to working with Google Docs, the tool enables real-time collaboration, allowing stakeholders to edit idea summaries, add comments, and tag each other for questions, thoughts, or feedback.
With the tool's tracking capabilities, you never miss any changes, ensuring transparency and accountability for each user's contributions.
#6 – Keep a Tab on Idea and Patent Pipelines
The TIP ToolTM provides a comprehensive overview of ideas, inventor and manager activity, filed applications, and patents.
Get a consolidated view of ideas submitted and patents filed by your team.
Identify promising inventors & managers, who submitted the most ideas or filed the most patents.
Pay attention to ideas that remain in the ideation, vetting or patent prosecution stages longer than expected, signaling potential bottlenecks.
#7 – Manage restricted access with role-specific dashboards
Each participant must access specific information sets to align effectively with their KPIs in the patent mining process. It's also crucial that the broader view of IP creation remains exclusive to top leadership. The TIP Tool™ seamlessly meets these requirements, ensuring appropriate access and visibility for all relevant stakeholders.
#8 – Make Informed Patent Decisions With the Patent Analytics
The TIP Tool™ delivers extensive patent analytics, facilitating data-driven patent decisions. It enables you to:
Derive vital insights into the patentability of your idea
Predict the expected allowance timeline
Get estimates on end-to-end patenting costs
Stay in sync with USPTO status updates
Also, check this video where Thomas Franklin, shares how to reduce dependence on outside IP counsel in patent related matters?
Pricing
The TIP ToolTM offers a free tier for up to ten users with no time limit. Additionally, it provides a premium tier priced at $50 per month or $495 per year. The TIP ToolTM also offers a custom tier for those seeking custom options. To explore further details, please visit the pricing page.
Customer Review
TriangleIP boosts an impressive "likelihood to recommend" score of 9/10, indicating high customer satisfaction. Here's a screenshot of a review from their database.
Viima Alternative #2: Wazoku
Wazoku is a collaborative idea management software that allows enterprises to gather, evaluate, prioritize and select the best ideas from contributors.
Wazoku's typical customers are large enterprises. Wazoku key users include Innovation Managers, Innovation Officers, Strategy Officers, HR Directors and Heads of Innovation.
Source – Wazoku
Key Benefits of Using Wazoku
Wazoku provides an integrated enterprise innovation platform, including idea management software, an open innovation marketplace, and innovation consulting.
Let's discuss a few more worth noting benefits:
Helps you create private groups and forums within Wazoku's platform to gather ideas from internal contributors and external audiences and allow commenting, voting and suggesting.
Unlock the potential of your business with features like – Idea Spotlight. Users find it a mature product that captures, filters and prioritizes the ideas generated within a business or community.
Evaluate and discuss shortlisted ideas and select which to develop and implement with Wazoku's Review Boards.
Helps you visualize and evaluate activity with the Wazoku's dashboard and reports, which can be further exported for analysis.
Pricing
Wazoku provides customized packages based on your unique business needs. Contact them here to get your customized price.
Customer Review
Here's a screenshot of a Capterra review, and to explore more reviews, click here.
Viima Alternative #3: Aha!
Aha! is a cloud-based idea management solution. Teams can collaborate, capture ideas, define product strategies, manage agile development, and deliver innovative capabilities.
The platform facilitates idea collection, work prioritization, scheduling, workflow customization, and stakeholder collaboration.
Key Benefits of Using Aha!
Aha's platform helps product managers set strategy, connect it to their teams, create visual roadmaps, manage releases, prioritize operations, and catch ideas.
Aha! helps you to crowdsource ideas and customer feedback in a central ideas portal. Analyze trends and engage with customers to find what they need — so you can prioritize what to build.
Aha! facilitates collaborative thinking by offering an expert notebook designed specifically for product managers. Users can effortlessly create visually appealing notes and whiteboards with guided templates to capture insightful ideas.
Aha! has an exceptional customer support team. With Aha!, you can expect answers to your queries, engage in meaningful email conversations with named representatives, and avoid getting lost in a complex ticketing system.
Helps you to inspire collaborative thinking. Utilize an expert's notebook for product managers to craft beautiful notes and whiteboards with guided templates, capturing insights and ideas.
Pricing
Aha! has two pricing plans – "Essentials" and "Advanced".
The essential package is $39. It starts per user/month (minimum three paid users). The Advanced package is $59. It starts per user/month (minimum three paid users).
Customer Review
Look at this G2 review screenshot and click here to explore additional reviews.
Viima Alternative #4: Miro
Miro is an online collaborative whiteboard platform that empowers teams to collaborate effectively and work together. It offers a range of functionalities, from brainstorming with digital sticky notes to planning and managing agile workflows.
From product and design to sales and marketing, Miro empowers hybrid teams to work better together.
Source – Miro
Key Benefits of Using Miro
Miro's online collaborative whiteboard platform can be used as an idea management solution to capture, evaluate and implement ideas from different stakeholders.
Let's discuss some important benefits of implementing this innovative solution:
Most customers say Miro's template library (which helps you instantly innovate your next meeting, workshop, course or session by giving you activities or a structure to facilitate) is exceptional, and a user-friendly interface makes navigation incredibly simple and intuitive.
Allows you to create notes and designs, move things around, and communicate through embedded video calls or online chats.
Offers ample space to accommodate thoughts and ideas. It helps you to design dashboards that consolidate all the information, enabling users to grasp the bigger picture while still attending to important details.
Helps you to communicate in real-time, discuss projects and ideas in board chats, leave tagged comments, and use voice and video calls.
Pricing
Miro offers a free trial. The premium plan starts at $8 per member/month, billed annually or $10 monthly.
Customer Review
Here's a screenshot of a G2 review. However, if you want to read more reviews, click here.
Viima Alternative #5: Idea Drop
Idea Drop is an idea management platform for medium-sized businesses and large enterprises. Idea Drop empowers businesses to crowdsource ideas, allowing their employees to provide comments and feedback on innovative suggestions.
Source: Idea Drop
Key Benefits of Using Idea Drop
Idea Drop offers a comprehensive end-to-end process for idea management. Idea Drop's intuitive social features make sharing and collaborating with ideas fun, allowing businesses to solve problems faster with fresh insights and perspectives.
Includes an automatic real-time scoring feature that ranks the most promising ideas based on their potential.
Provides filtering tools that allow in-depth examination of ideas data, analytics, and key performance indicators (KPIs). The tool also offers extensive reporting options, with the convenience of exporting data to .csv format for further analysis.
Helps you with an exceptional onboarding process and remarkable customer support. Many customers say the platform is user-friendly and has received excellent pre and post-launch support.
Enables individuals, teams, and groups to share business ideas and feedback while automatically applying real-time scoring to prioritize the most promising ideas.
Pricing
Idea Drop has three pricing packages – Starter, Professional and Enterprise. However, they did not display their pricing publicly. You may contact them here to know more.
Customer Review
Here's a screenshot of a G2 review. However, if you want to read more reviews, click here.
Check this video where the founder of Triangle IP shares how IP management software can impact your innovation process?
The TIP ToolTM – A Promising Viima Alternative
Your motivations for exploring alternatives to Viima will be dictated by your enterprise's distinct needs. In our thorough review, we've strived to accommodate diverse requirements by considering a range of product offerings. We hope you find this information beneficial.
We've built the TIP ToolTM intending to democratize the patent creation process. Hence it allows you to:
Boost invention disclosures with its straightforward idea-capture form.
Stay on top of ideas and patent pipelines.
Get a glimpse of the patent portfolio in one click.
Facilitate real-time idea brainstorming akin to Google Docs collaboration.
Offer role-based dashboards for controlled access to IP information and ideas.
Make informed IP decisions.
Make the most of the tool through the helpdesk.
Enjoy flexible pricing.
Level up your patent mining process with the TIP ToolTM today by registering on the tool right away.
Disclaimer: The information in this article/review is sourced from the internet and may not be entirely accurate or up-to-date. We recommend visiting the respective software websites for the most current and reliable information. The opinions expressed here are those of the author and may not reflect the views of Triangle IP. We are not liable for any consequences that may arise from relying on the information provided in this article/review.