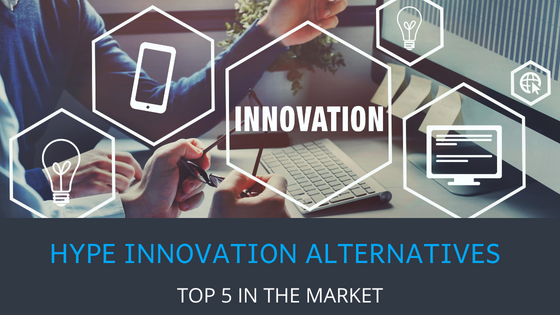 According to McKinsey 84% of CEOs believe innovation is essential for businesses to thrive in today's fast-paced market. But managing innovation can be complex and challenging, especially without the right tools and resources.
Many companies have turned to HYPE Innovation, a popular software tool for idea and innovation management, to help them navigate these challenges.
However, if you are here, you are looking for an alternative to HYPE Innovation.
Fortunately, plenty of HYPE Innovation alternatives & competitors are available that businesses can use to manage innovation more effectively. We evaluated and compiled a list of the top 5 HYPE Innovation alternatives to pick the best option to assist you in the patent mining process.
What to Look For in a HYPE Innovation Alternative?
There are several reliable HYPE Innovation alternatives worth exploring, but the initial step is determining the criteria for evaluating a replacement for HYPE Innovation.
Outlined below are five points to consider when replacing HYPE Innovation:
Hype Innovation: Alternatives to Checkout in 2023
We're here to assist you in exploring and choosing the best innovative solution that not only enables efficient employee ideation through crowdsourcing but also reduces your dependence on external intellectual property advisors for patent-related issues, resulting in decreased expenditures on legal services from outside sources.
Hype Innovation Alternatives #1: The TIP ToolTM by Triangle IP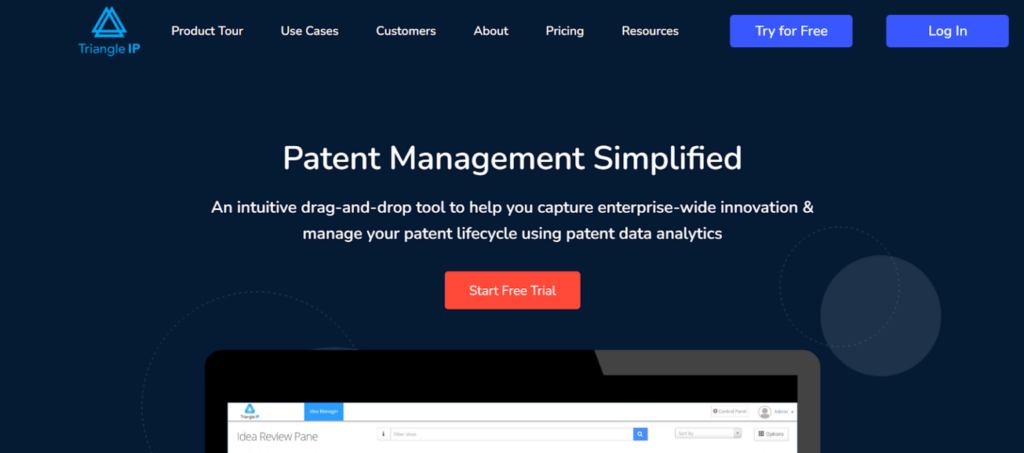 The TIP ToolTM by Triangle IP is a drag-and-drop tool that simplifies complex IP management and patenting processes by providing smart data and analytics. The tool makes patent mining open and accessible to all stakeholders.
Key Benefits Offered by the TIP ToolTM by Triangle IP
#1 – Elevate the Quantity and Quality of Invention Disclosures
The TIP ToolTM provides an easy-to-use invention disclosure form that appeals to innovators across your company. The idea submission portal is accessible to all, making it more straightforward to collect various creative ideas.
Organizations can customize the invention disclosure form to meet their unique requirements by adding, editing, deleting, or hiding fields. The TIP ToolTM allows users to display only relevant fields for a specific stage, such as removing prosecutor information during the innovation capture stage.
The TIP ToolTM allows for enterprise-wide participation in innovation management while safeguarding the confidentiality of IP-related data.
Users can tag patentable ideas with specific technology-related keywords, product categories, or business functions, facilitating easy idea filtering. Furthermore, innovators can attach supplementary materials, such as documents or slide decks, to better illustrate their innovations.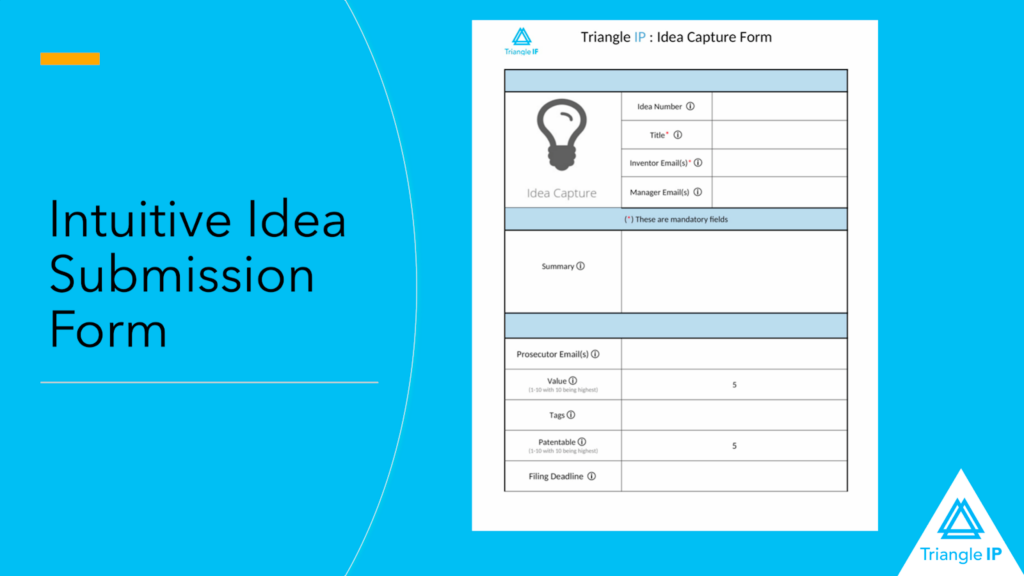 #2 – Visualize Various Stages of Your Patent Pipeline
The TIP ToolTM lets users keep track of the progress of their ideas as they move through the different stages of the IP lifecycle: idea capture, internal vetting, patent drafting, and filing.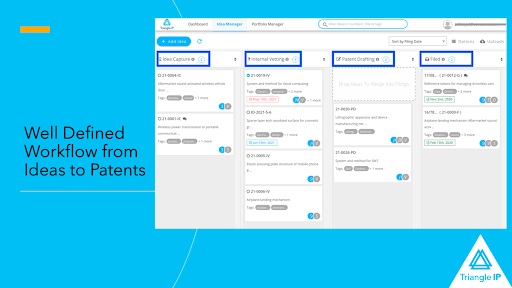 The tool makes sure that users always know what is going on with their ideas, whether they are being reviewed or are on their way to a patent attorney for drafting or filing.
The drag-and-drop feature of the TIP ToolTM also makes it easy for users to move their ideas through the different stages of development.
#3 – Collaborate With Stakeholders in Real-Time to Brainstorm Ideas
The TIP ToolTM enables real-time collaboration and brainstorming among inventors, prosecutors, and managers in remote locations. The tool facilitates a comprehensive vetting process that guarantees the selection of the most innovative concepts for patenting.
To capture the finest ideas within the company, collaborators can utilize the TIP ToolTM during online meetings to brainstorm patentable ideas, revise idea summaries, add tags, and examine comments. Using the tool is as simple as working with Google Docs.
Furthermore, the TIP ToolTM tracks all changes made to the idea summary, including who made them.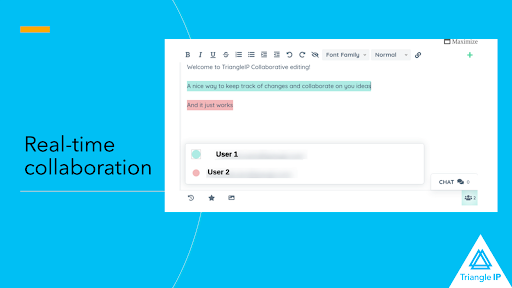 #4 – Optimize Your IP Budget Allocation
The TIP ToolTM offers patent analytics to help users with budget allocation for patenting. With the tool, you can calculate the likelihood that a patent will be approved and the related expenses, such as filing, legal, and maintenance fees.
Such insights help you to allocate your IP budget based on anticipated patent expenses and only use patents to protect your most important inventions.
Moreover, the TIP ToolTM analyzes millions of applications. It uses actionable intelligence to ascertain the possibilities of success at the patent office, allowing you to concentrate on concepts more likely to be accepted.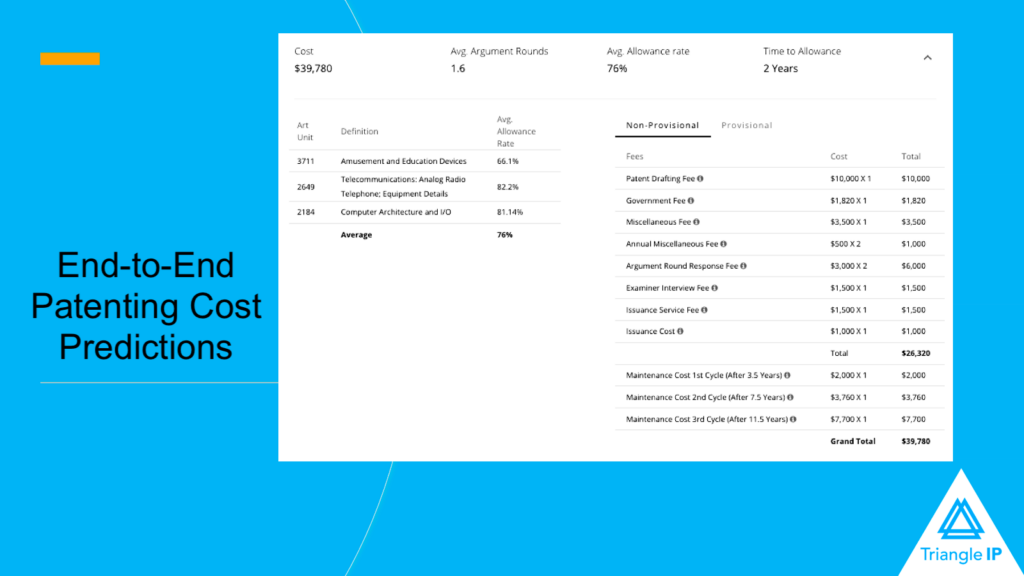 #5 – Receive Automatic USPTO Status Updates
The TIP ToolTM automatically lets users track published and unpublished patent application status at the USPTO. So you are no longer required to consult outside legal counsel to stay current with the USPTO.
The TIP ToolTM instantly notifies users of any required action from the USPTO. Additionally, the Private PAIR scraping feature allows you to obtain patent applications submitted to the USPTO that still need to be made public. But don't worry – all your data and Private keys are secure and confidential and no one at Triangle IP has access to it.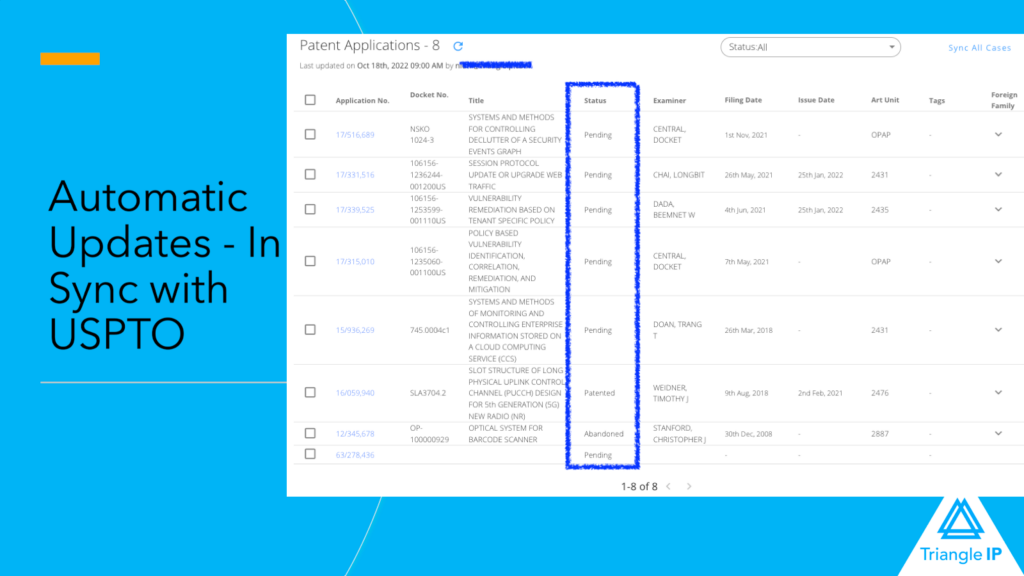 #6 – Accelerate Your Patent Prosecution
The TIP ToolTM offers statistics on the patent attorney and examiner working on your case. The USPTO assigns an examiner when you file a patent application to determine if your claimed invention satisfies legal requirements.
With the help of the TIP ToolTM, you may follow and keep an eye on your patent counsel's progress through this process.
You can use the tool to estimate the expense and complexity of the prosecution procedure by using statistics like allowance rates and the typical number of argument rounds.
The TIP ToolTM also offers patent analytics that compare your case to others in the same art unit, under the same examiner, or represented by the same law firm. Such insights from the tip tool help you to have a more productive conversation with your patent attorney.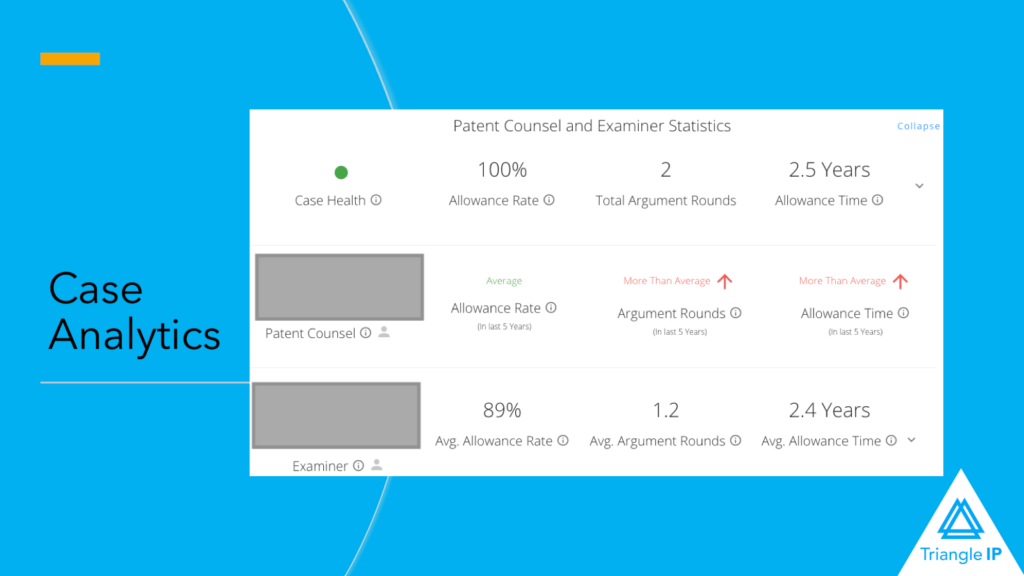 #7 – Visualize Your Idea and Patent Pipeline with a Holistic View
The TIP ToolTM's user-friendly dashboard enables you to monitor the development of your team and keep up with all submitted ideas and patent applications.
The dashboard offers a summary of your innovation pipeline, emphasizing manager and inventor participation and any potential bottlenecks.
This summary makes it simple to see where your team can benefit from additional assistance.
For instance, you can instantly identify the bottleneck and take appropriate action if an idea spends too much time in the brainstorming and vetting stages.
Inventors and managers can also benefit from role-specific access, which enables them to properly monitor their IP activities and keep them in line with their key performance indicators.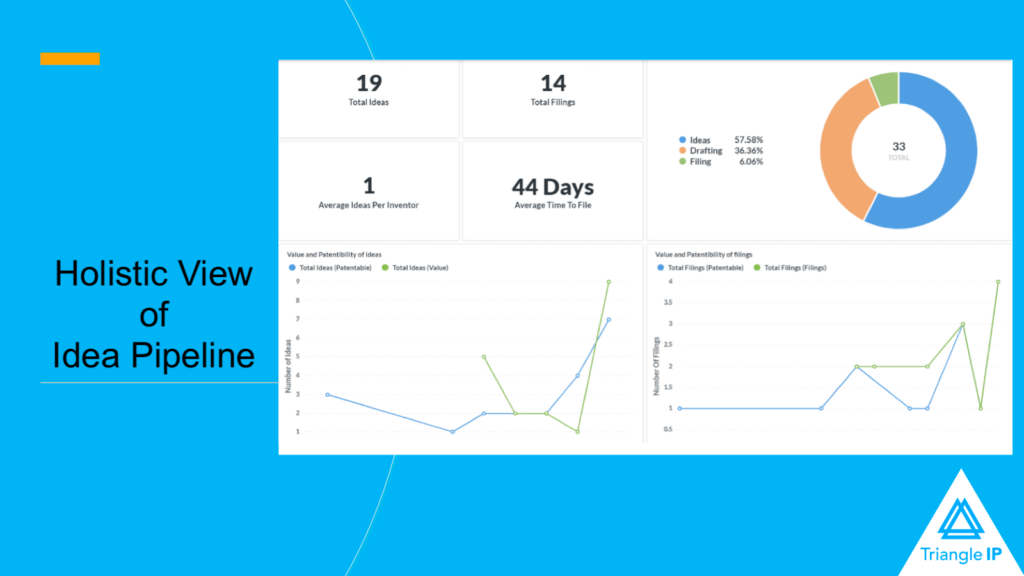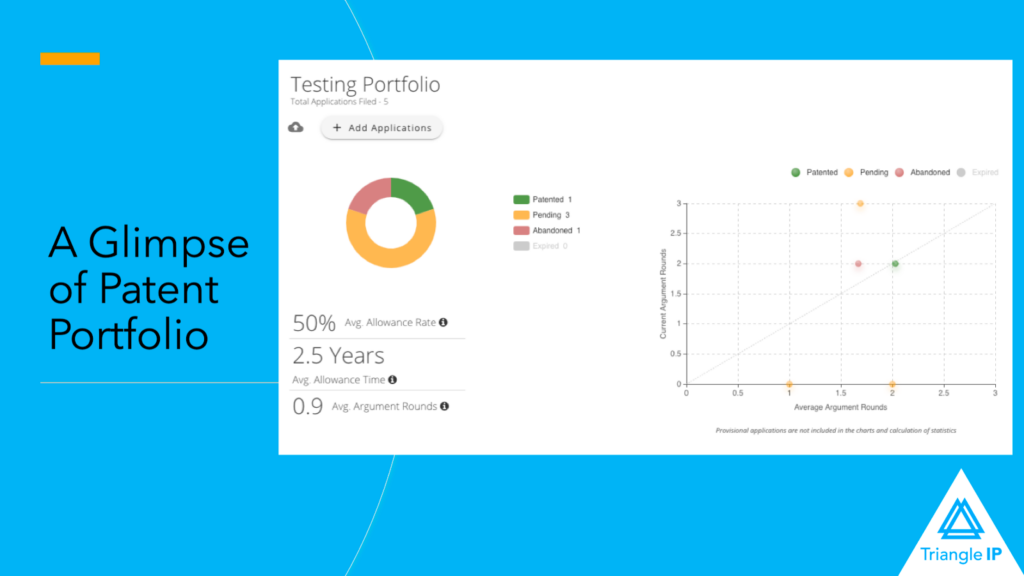 Who Is This For?
The TIP ToolTM is helpful for startups, individual creators, small to medium-sized businesses, and patent attorneys.
Pricing
The TIP ToolTM provides a free tier (forever, up to 10 users). Its premium tier costs $50 per month and $495 per year. The TIP ToolTM has a custom tier as well. To learn more, visit its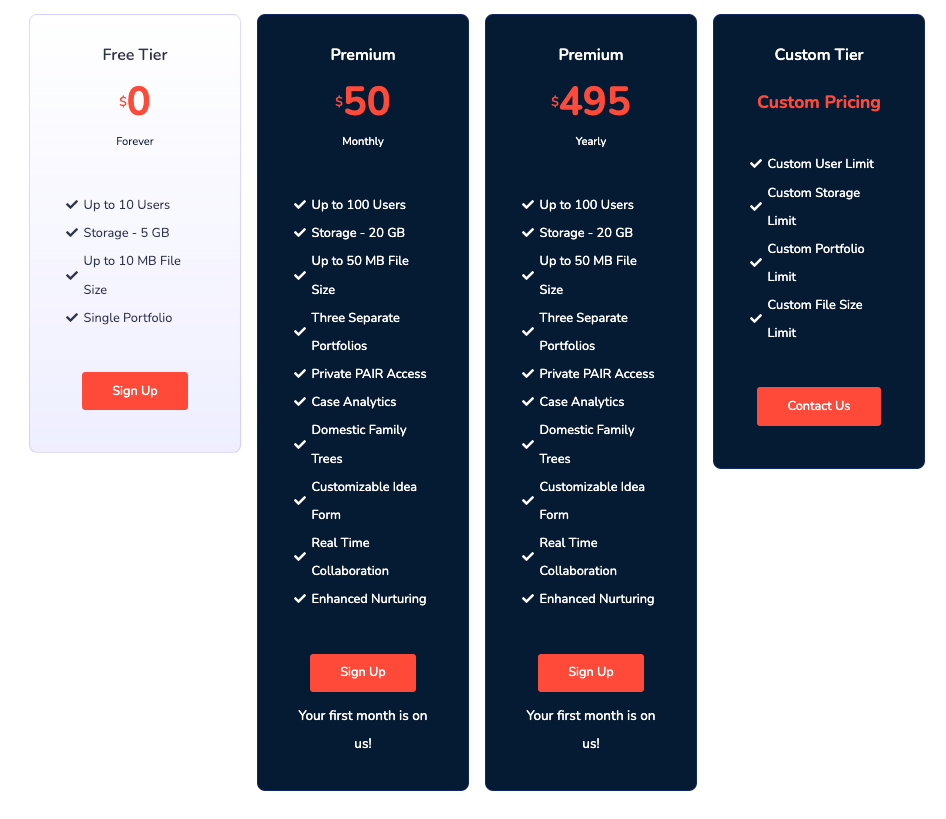 Customer Review
According to a review, the TIP ToolTM is a wonderful innovation capture tool.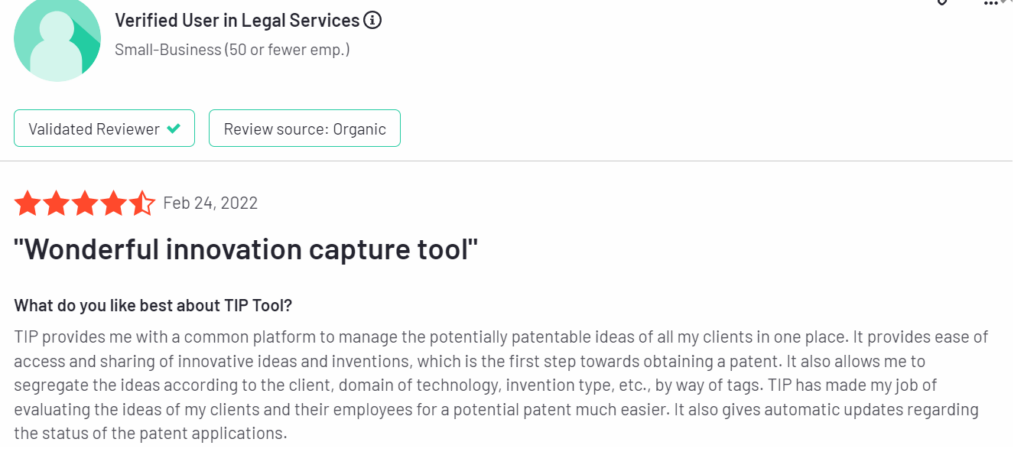 Website:
To explore further, check the TIP ToolTM by Triangle IP
Demo
Sign up for an interactive product demo to experience the TIP ToolTM's features.
Hype Innovation Alternatives #2: IdeaBridge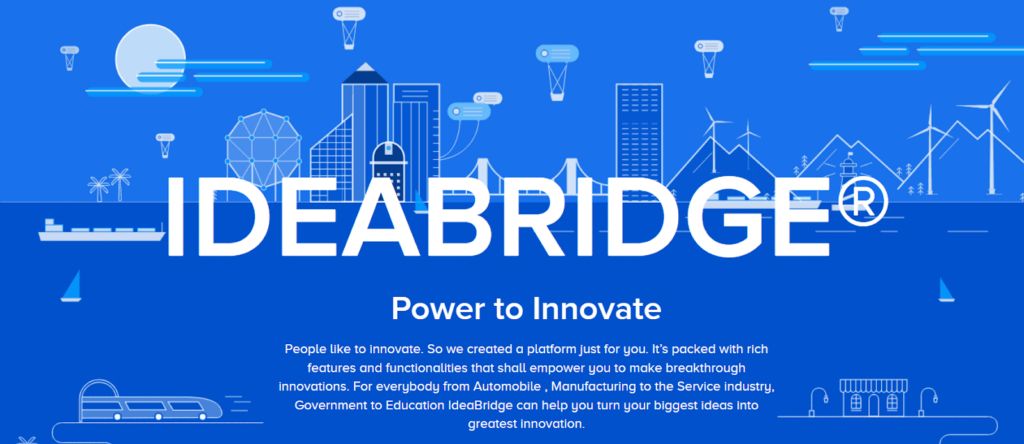 Plus Innovations' IdeaBridge is a leading software that enables businesses to effectively manage costs, innovate new products or services, and enhance employee engagement levels throughout the organization.
Additionally, IdeaBridge assists users in utilizing Hackathons to promote collaboration among employees and diverse teams.
Key Benefits Offered by IdeaBridge
#1 – Enhance Savings
Ideabridge predicts ROI for their customers by assessing the revenue, cost, and timeline of ideas.
#2 – Adapt with Ideabridge
Ideabridge enables users to adapt more easily to changing markets and consumer behavior.
Who Is This For?
Large businesses, MSMEs, the government, the pharmaceutical and medical industries, education, finance, creative design and digital agencies, etc.
Pricing
Pricing is unavailable-contact Ideabridge for more details.
Customer Review
Here's a screenshot of a Capterra review, and to explore more reviews, click here.

Website
To learn more about Ideabridge, click here
Demo
Click here to book your demo
Hype Innovation Alternatives #3: ITONICS Innovation OS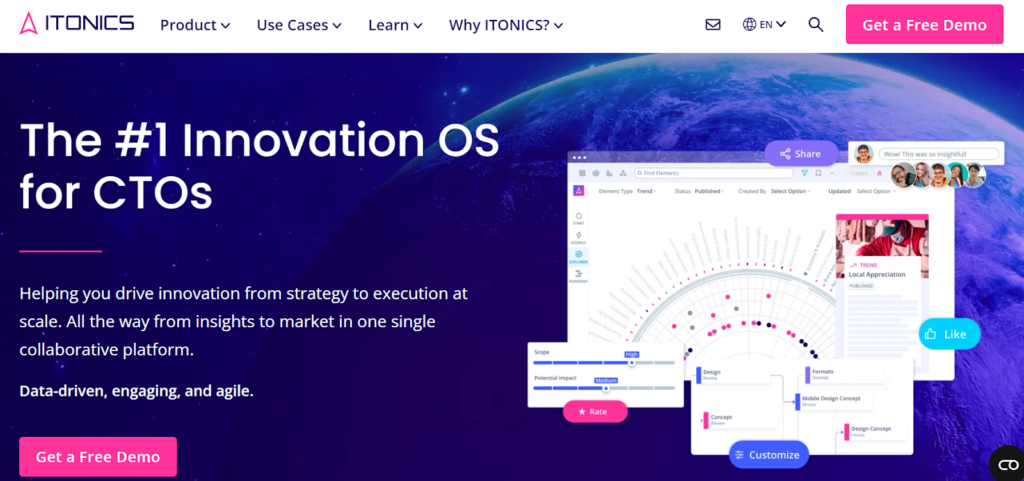 ITONICS is a comprehensive innovation management SaaS platform that operates on a distinctive AI-based infrastructure, which promotes teamwork and delivers a single source of reliable information to establish and execute successful strategies.
Key Benefits Offered by ITONICS Innovation OS
#1 – Customize Software Modules Easily
The software modules are adaptable and help users to customize it to suit their organization's requirements and established best practices.
#2 – Connect Strategy and Innovation
The ITONICS methodology and tools, which can also be managed by a small team, connect strategy, innovation, and execution.
Who Is This For?
Automotive, Chemicals, Consumer Goods, Defense, Energy, Engineering & Manufacturing, Finance & Insurance, High-tech & Electronics, IT & Telecommunication, Life Science & Healthcare, Oil & Gas, Pharma
Pricing
Pricing is currently not provided -please inquire with ITONICS.
Customer Review
Here's a screenshot of a Capterra review, and to explore more reviews, click here.

Website
To explore further click here
Demo
Click here to get started with a free demo
Hype Innovation Alternatives #4: Planview IdeaPlace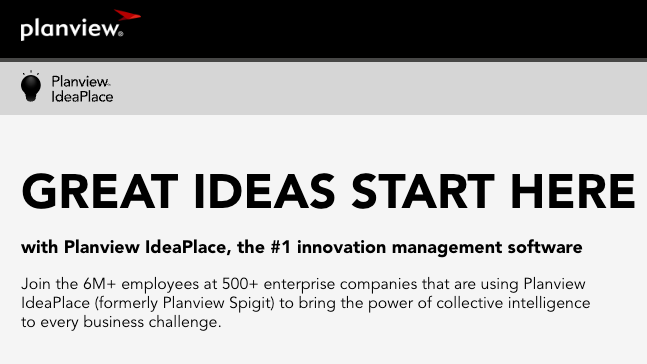 Planview IdeaPlace lets users crowdsource ideas for new markets or products, streamline operations, increase employee engagement, and improve consumer experiences.
Key Benefits Offered by Planview IdeaPlace
#1 – Planview IdeaPlace Dashboard: Forecast Outcomes and Gauge Success
Forecast potential outcomes, costs, and the worth of crowdsourced ideas with Planview's dashboards, which also enable enterprises to gauge the success of their challenges by comparing performance to industry benchmarks.
#2 – Eliminate Bias in Concept Selection with Planview's Algorithms
Planview offers unique algorithms that remove bias and subjectivity from selecting concepts. This is achieved by leveraging user estimations related to idea implementation costs, time, and potential revenue.
Who Is This For?
Built to scale for every enterprise. (Large Enterprises, Mid Size Businesses, and Small Businesses)
Pricing
Price is unavailable-contact Planview IdeaPlace for more details.
Customer Review: Customer Review: You can find a G2 review screenshot below, and to access additional reviews, please click here.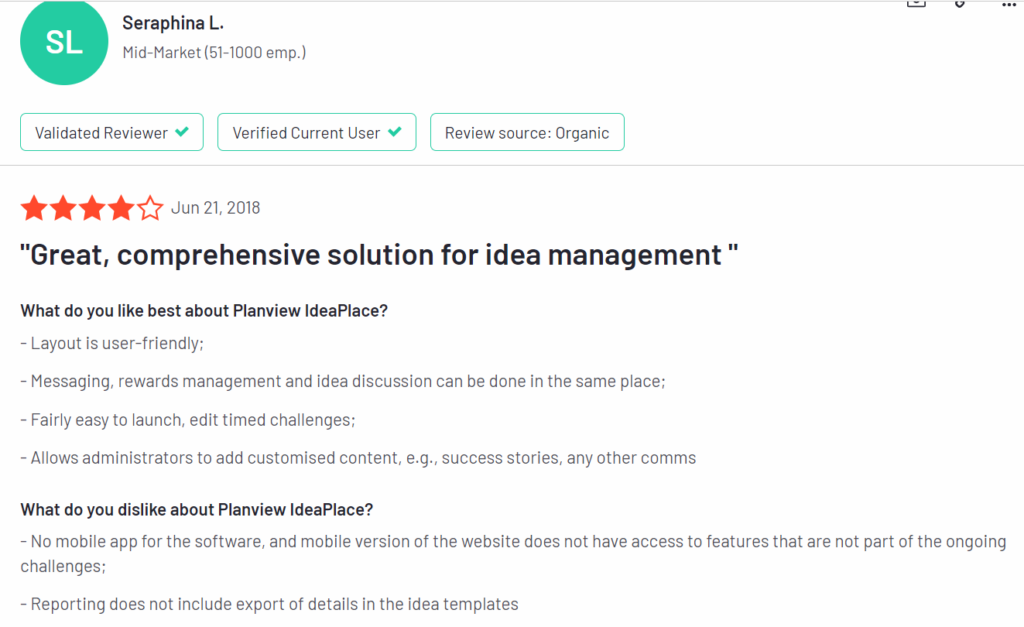 Website
To explore further about Planview IdeaPlace, click here.
Demo
Request a demo through this form
Hype Innovation Alternatives #5: InnovationCast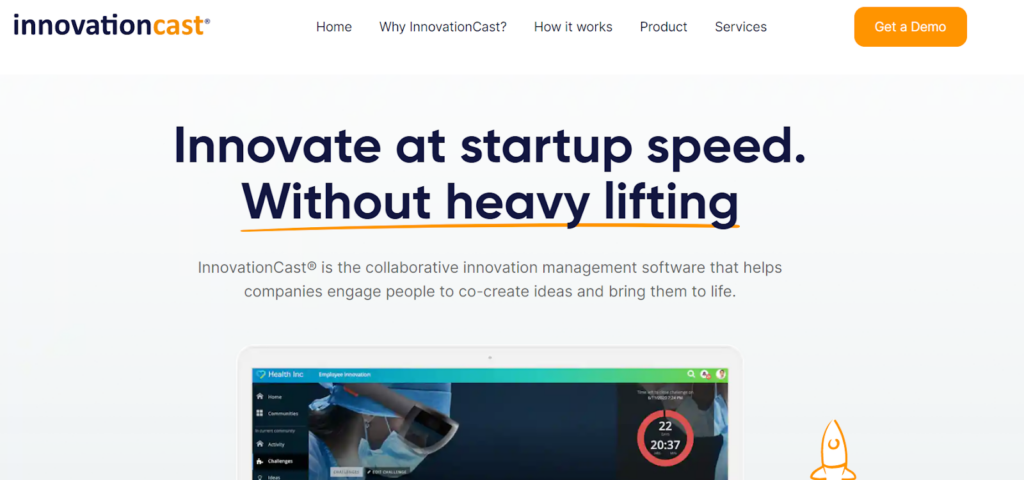 InnovationCast is a platform for collaborative innovation management that assists users in creating and implementing ideas. The platform's cloud-based capabilities include an innovation radar, engagement and recognition, analytics, opportunities, and projects.
Key Benefits Offered by InnovationCast
#1 – Monitor Metrics in Real-Time
Innovation Cast offers an analytics module that provides real-time insights on various metrics, including adoption, engagement, collaboration, reactions to content, active demographics, projected vs actual performance, and more
#2 – Analyze Competitive Environment
InnovationCast makes it possible to monitor and analyze the environment – this provides valuable insights on various topics, including competitor behavior, industry trends, and other relevant factors.
Who Is This For?
Large Enterprises, Mid Size Businesses, Non-Profit, Public Administrations, Small Businesses
Pricing
Price starts at $2499.00/ per month and goes up to $5999/per month
Customer Review
A screenshot of a Capterra review is shown below; if you want to read additional reviews, follow this link and scroll down.

Website
Click here to learn more about InnovationCast.
Demo
To schedule a demo, fill up this form.
Quick Wrap Up
A patent mining process is broken without software that streamlines the journey of ideas to patents. Selecting the best patent management software isn't simple. However, a suitable software solution must:
Provides an invention disclosure form that offers a streamlined process for innovators to submit their ideas, minimizing potential friction.
Enables seamless collaboration among subject matter experts to improve an idea by facilitating simultaneous editing of the idea summary, adding comments to the summary, and tracking modifications made to ideas.
Provides dashboards tailored to the needs of your inventors, managers, and patent practitioners – giving them a comprehensive view of ideas, inventor activity, management activity, filed applications, and patents.
Offers patent analytics to make informed IP decisions.
Encourage innovation by rewarding staff for coming up with new ideas.
About Us
The TIP ToolTM from Triangle IP is an easy-to-use drag-and-drop tool that helps you manage the whole IP process, from ideas to patents. The tool uses algorithms for deep learning to assist you in fine-tuning your patent prosecution strategy for the best results – taking patent mining in your business to the next level.
There are several dummy sets of pre-existing patents and ideas that come with the tool. These patents and ideas are made up to show how the tool works and give people a chance to see what the tool has to offer.
Additionally, with the TIP ToolTM, you can quickly and effectively check the statuses of your published and unpublished patent applications thanks to its automatic syncs with the USPTO.
The tool puts you in charge of your IP cycle by giving you a kanban view of the whole process.
Register for TIP ToolTM today to make patent handling easier, more transparent, and more efficient.
Disclaimer: The information in this article/review is sourced from the internet and may not be entirely accurate or up-to-date. We recommend visiting the respective software websites for the most current and reliable information. The opinions expressed here are those of the author and may not reflect the views of Triangle IP. We are not liable for any consequences that may arise from relying on the information provided in this article/review.